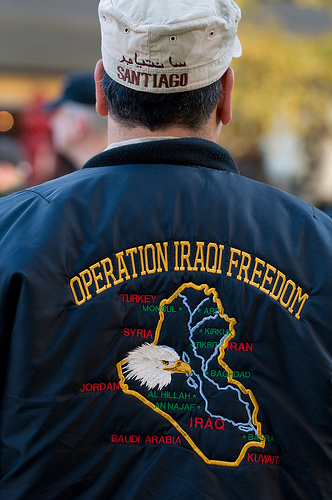 The latest scandal out of Washington -- revelations that VA hospitals may have suppressed information about long waiting lists -- serves as another reminder that much work remains when it comes to providing adequate care, including mental health and addiction services, to our veterans.
Thirty percent of military personnel deployed in Iraq and Afghanistan have a mental health condition requiring treatment. That is 730,000 men and women who served this country and returned with post-traumatic stress disorder, brain injuries, and major depression. Many have complicating alcohol and drug use problems.
Tousha Barnes was one of them. She served in the 82nd Airborne in Afghanistan. She is a smart, talented woman who assumed everything would fall right into place when she came home from deployment. But after four months of searching for a job, she was in despair. She was struggling and depressed, unable to make a new life for herself. She started experiencing anxiety attacks -- loud noises would send her searching for her rifle, even though she was "safe" at home in the Texas panhandle. Here is a woman who accomplished so much, but was reluctant to seek help and unable to tackle post-deployment challenges alone.
Tousha's story is all too common. Like so many of our veterans, she is strong and resilient. And she needed help to restart her civilian life. Fortunately, ultimately she received the care she needed. A close friend connected Tousha with the mental health services that helped pull her out of the dark place she had entered. With good professional help and supports she was able to find her calling as a support coordinator for other veterans.
Unfortunately, less than 50 percent of returning veterans who need mental health treatment receive it. Untreated mental illness among our veterans is a national tragedy: Approximately 22 veterans die by suicide every day, the vast predominance of them suffering from an acute mental or substance use disorder, or both.
That is why we write and add our voices to the campaign for Mental Health First Aid for Veterans. This program was recently launched by the National Council for Behavioral Health, in Washington, D.C. An incredible group of veterans and mental health advocates, including former Congressman Patrick Kennedy and Tom Tarantino from Iraq and Afghanistan Veterans of America (IAVA), have joined this campaign.
Mental Health First Aid for Veterans (MHFA for Veterans) is a pioneering program that gives everyone a tangible way to help those who have done so much for our country. Like First Aid or CPR, MHFA trains people to have the skills to help someone who is developing a mental health problem or experiencing a mental health crisis. The MHFA course uses role-playing and simulations to demonstrate how to recognize and respond to the warning signs of the common mental health problems our veterans experience. MHFA training creates understanding and compassion as well as helps others to engage with veterans and service members to support them and help them get the help that can rebuild their lives.
MHFA is not new: Since 2008, over 250,000 people have been trained in Mental Health First Aid. But this special focus on veterans is ground-breaking. Research has demonstrated MHFA's effectiveness in improving knowledge of mental disorders and substance use, removing fear and misunderstanding, and enabling those trained to offer concrete, useful assistance.
Sometimes when it comes to responding to someone in need, it's about knowing how to start a tough conversation, knowing the right words and the right way to raise the subject and support someone who needs help. Sometimes it's knowing how to help someone accept help and where to go to get it. Individuals trained in Mental Health First Aid have the skills and confidence to help those who have done so much for us. Tousha is now a Mental Health First Aid trainer herself; she is living proof that people can heal and recover.
The U.S. Veteran's Affairs Agency is working hard to improve what services it needs to provide. But there is no one thing, no single solution, in matters as complex and urgent as those our returning veterans face.
Mental Health First Aid for Veterans means to be a part, an important part, of a comprehensive solution. We all need to help and MHFA reaches into every community to find volunteers who want to train and contribute. Part of repaying our veterans for what they have given, and for their suffering the often invisible consequences of war, is being able ask the right questions and guide those in need to the care that can both save and rebuild lives -- for them, their families and their communities.
The measure of a society, our society, is how it cares for its vulnerable members. MHFA for Veterans is part of our society's measuring up.
Linda Rosenberg is President and CEO of the National Council for Behavioral Health, which runs the Mental Health First Aid program in the U.S.
Dr. Lloyd Sederer is Medical Director of the New York State Office of Mental Health and author of The Family Guide to Mental Health Care -- www.askdrlloyd.com (http://www.askdrlloyd.com). The views expressed here are entirely his own. He takes no support from any pharmaceutical, device or advocacy organization.