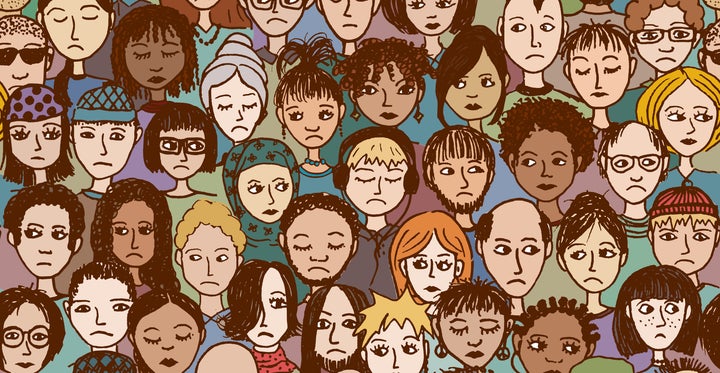 More Americans than ever before are experiencing mental health problems, yet access to treatment for those issues is becoming more difficult to receive, a new study has found.
Researchers from NYU's Langone Medical Center analyzed almost a decade's worth of data and found that more than 8.3 million Americans ― or an estimated 3.4 percent of the adult population ― suffers from a serious mental health issue. The latest data is a departure from previous reports on the CDC's survey, which estimated that fewer than 3 percent of American adults experienced serious psychological distress, according to the study's authors.
The statistics were pulled from surveys collected between 2006 and 2014. The report included more than 200,000 Americans between the ages of 18 and 64. Individuals were represented from all states and across all ethnic and socioeconomic groups, according to the study authors.
One of the more dismal discoveries from the report is that access to professional help for mental health issues is deteriorating. The study found the 9.5 percent of people surveyed in 2014 did not have health insurance that provided access to a psychiatrist or counselor, a rise from 9 percent in 2006.
Approximately 10.5 percent of people experienced delays in getting treatment due to insufficient mental health coverage ― a 1 percent increase from 2006. And almost 10 percent of individuals in 2014 could not afford to pay for necessary psychiatric medications, which went up from 8.7 percent in 2006.
The findings indicate there's a growing problem when it comes to mental health services. This could especially affect smaller communities. A 2016 report published by Mental Health America found there's a glaring shortage of mental health professionals in the United States, specifically in rural areas. Alabama, for example, has one worker per every 1,200 people. Nevada, another rural state, was ranked last in MHA's report, largely in part because of the state's lack of available mental health professionals.
What this means
There's a clear need for more emphasis on mental health in primary care facilities and hospitals across the country, according to Judith Weissman, lead study investigator of the CDC data and a research manager in the Department of Medicine at NYU Langone Medical Center.
"Among people with any type of illness, people with SPD are the ones experiencing the most disparities in terms of utilizing health care," Weissman told The Huffington Post. "It leaves people with SPD just spinning through the system and makes you wonder what's going on. Why isn't the health care system addressing people with mental illness?"
"Why isn't the health care system addressing people with mental illness?"
Weissman and her fellow researchers hypothesize that poor treatment or care rates could have to do with the limited number of mental health providers across the country.
"A lot of people with mental illness don't have coverage, but even if they do and even if there was the ability to pay for it, the number of providers out there to treat it is limited," Weissman said. "It's just a huge disconnect between the number of illnesses that really affect this population and the number of people who are able to treat it."
Weissman believes that the success of managing mental health in America won't come unless the treatment gap is closed.
"Until we begin to provide the resources and the mental health care providers, as well as screening and treatment, we won't curtail the tide of mental illness," she said.
Attitudes about mental health are a powerful factor
Studies indicate that prejudicial outlooks on mental health often stand in the way of people getting the help they need. Weissman says that also is apparent in this analysis and, because of that, they found people may self-medicate with substances as a way to manage problems.
Addressing the stereotypes surrounding psychological health is vital to increasing the number of people who get care, she added. And increasing care availability means encouraging insurance providers, physicians and even other people in society to take mental health as seriously as physical illnesses.
One of the easiest ways to do this, Weissman says, is for primary care physicians to start implementing behavioral health checks into their practice. This could be done by the doctor themselves or, if it's outside of their scope, having mental health specialists on site.
"Mental illness doesn't have parity with physical illness," she explained. "When a person goes in to get their blood pressure checked, they need to be screened for depression, anxiety and suicidal ideation. Mental illness needs to be viewed as something as serious as having a stroke or cancer."
"Mental illness needs to be viewed as something as serious as having a stroke or cancer."
Above all, she stresses that people with mental health issues are not alone in their experience and that treatment does help with managing the condition. Anyone who feels like they're experiencing chronic sadness, anxiety or other psychological health problems should talk to a physician about what they're experiencing.
"There's a lot of hope," she stressed. "When you feel like there's no hope, just understand that's the mental illness speaking. You can feel better."