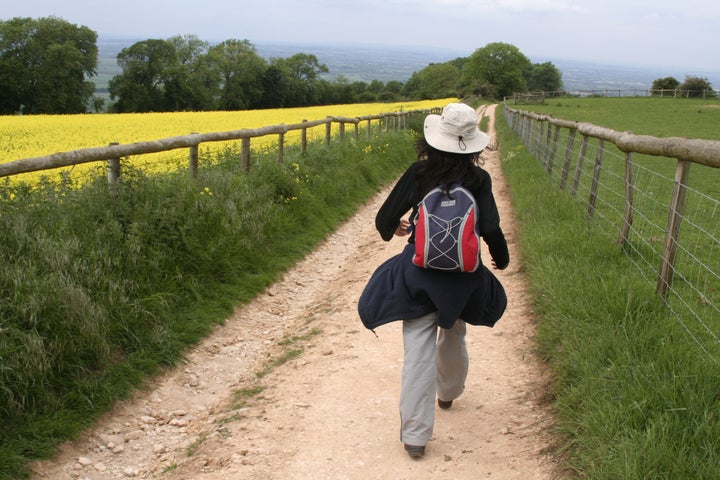 Some people are runners, others climb toward the heavens on the Stairmaster and a growing number participate in classes like Zumba or kickboxing. While the elliptical is great for a quick sweat and group classes are a fun and social workout, in my opinion there's nothing better than lacing up a pair of sneakers, grabbing an iPod and hitting the streets for a long walk.
The beauty of walking is that anyone can do it, no matter your fitness level. It's a low-impact, accessible and free form of exercise. Why invest in a costly gym membership when you can open your front door, step outside and take a walk? The Surgeon General says fewer than one-third of Americans get the recommended 30 minutes of physical activity a day, a scary statistic at a time when 68 percent of adult Americans are overweight or obese. While it may seem intimidating to step into a gym, anyone can start a basic walking program, during which the Mayo Clinic estimates the average person can burn 200-400 calories an hour, depending on speed and size.
Beyond simply breaking a sweat and moving my body, walking provides a much-needed mental break, especially at the end of a long workday. I leave the phone at home and spend the time chatting with friends, people-watching, planning the night's meal, listening to a fun podcast or daydreaming.
There's so much pressure to always go, go, go: get places faster, accomplish goals more quickly, cram as much as possible into one day. Walking is slow -- Olympic racewalking to the contrary -- and forces you to pay attention to your surroundings and be more aware. If you can burn a few calories and tone your legs in the process, all the better.
At lunchtime or mid-afternoon, I regularly take a 20-minute walk to clear my mind and rejuvenate for the rest of a day. Sure, a cup of coffee or Diet Coke might have the same effect but just those few minutes of fresh air provide enough energy to make it through the day without over-indulging in caffeine and sugar. It's also the best way to beat a case of writer's block or come up with new ideas while brainstorming. (In fact, in the spirit of disclosure, I wrote most of this post mentally while taking a midday walk.)
En route to dinner the other night -- a nice stroll that MapQuest says was exactly two miles -- I passed the White House, illuminated at night, with the Washington Monument glimmering behind it. A few minutes and several blocks later, the U.S. Capitol glowed up ahead. If I'd taken the six-minute Metro ride instead of the 40-minute walk, I'd have seen nothing but dark tunnels and a few poorly-lit underground stations, not some of the most beautiful sights in the Nation's Capital.
For me, walking has been a great way to explore the world in addition to my own backyard. From strolls with friends around the Scottish highlands to jungle hikes in Belize and 20-kilometer tramps along New Zealand's Tongariro Alpine Crossing, I've been able to get close to sites not accessible by bus, plane or train. The No. 1 travel tip I give people eager to explore a new city is to simply walk.
Once you live in a city where walking everywhere is de rigueur, walking a mile to work feels like a pleasant morning stroll. A three-mile walk home from dinner? Not so long when you're catching up on the latest gossip with friends. One of my favorite ways to get together with friends is to meet for walks around the neighborhood instead of dinner or drinks -- although somehow those walks always end up at a frozen yogurt shop.
So what are you waiting for? Lace up your sneakers, load up your iPod and go!