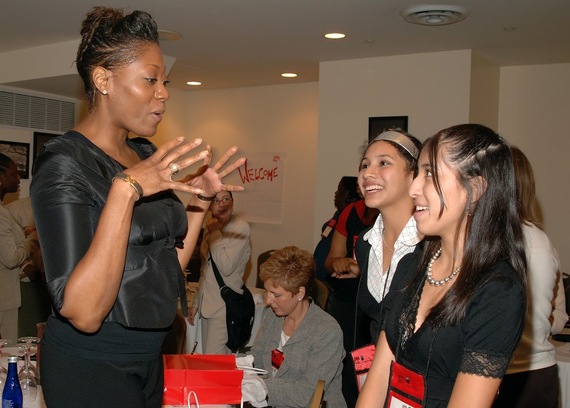 Who made a difference in your life? Who inspired you to do your best and dream big?
Growing up, I was fortunate to have an abundance of caring adults in my life, besides two loving and devoted parents. Nonetheless I, like so many girls, received stereotype messages that told me what I could not do because of my gender. I was that girl, talented in math and science, who was not encouraged to follow my Dad into medicine as my brother was. As a child, I never knew a woman doctor.
From an early age, I was sensitive to the inequality of condition, whether rooted in gender, economic, or social barriers. I pledged that I would find ways to devote myself to leveling the playing field. I've been doing so for all of my adult life and professionally for more than two decades, as past President and CEO of Big Brothers & Big Sisters and currently President and CEO of Girls Inc. Foundational to these efforts is mentoring, the subject I'm most passionate about.
January is National Mentoring Month, established to highlight and promote the positive difference mentors make in the lives of young people. Quality mentoring relationships are a critical asset for young people, providing them attention, support, and new possibilities.
Mentoring is the single most important factor in preventing risky behaviors in youth. The data tells us this as does my own experience. Mentoring connects young people to personal growth, as well as social and economic opportunity. Yet, one in three young people will grow up without a mentor. These youth will miss out on the support, encouragement, and positive experiences stemming from having a caring adult in their lives.
I became a Big Sister to Sherice in 2000, an intelligent and bright 12 year old, surrounded by limiting messages and few resources at home and school. She and I forged a 10-plus year mentoring relationship, which enriched both of our lives. I became a safe harbor for her, someone to talk with about the demands of growing up, and receive support and encouragement to plan a better future. In turn I gained from Sherice the sheer joy of seeing her blossom into remarkable young women and an appreciation of African American art and photography - and even hip hop music.
One memory of our time together has stayed with me. We were dining together one evening and Sherice shared that she had started a fist fight with her best friend the day before. She was quite upset and I knew she had mentioned it to no one. She let it all out, telling me how bad she felt knowing she could have seriously injured her friend. That evening I was there for her, to confide in, and -- I hope - to find solace.
From then on, Sherice never engaged in violent behavior. And while drugs, alcohol, and tobacco surrounded her, she stayed away from substance abuse and other negative behaviors. Sherice did not become a teenage mom, as many of her friends did. Instead, she graduated from high school and went on to complete a nursing program.
At Girls Inc., we know mentors play an invaluable role in the lives of young people. Whether urban, suburban, or rural, the majority of communities our girls come from exhibit low academic performance, high dropout rates, high unemployment and poverty rates, and limited community services. Because of these concerns and other systemic issues facing all girls, the young women we serve face high levels of stress and multiple risk-factors for unhealthy decision-making, substance abuse, and involvement with crime or violence, either as perpetrators or victims.
Formal mentoring and support programs meet these needs and have a positive impact on healthy development and long-term well-being. Our mentors build lasting, trusting relationships and create safe spaces for girls to take risk and push themselves. Girls Inc. mentors are there to support girls every day and every step of the way, helping to provide them with the skills and knowledge they need to counter stereotypes and obstacles and achieve their goals.
Women who serve as role models for girls can also be effective mentors. As leaders, entrepreneurs, and innovators, these women help girls see new opportunities for their futures that they may not have otherwise imagined. We are grateful for the support and participation of thousands of adult volunteers who believe in the inherent value of each girl.
As we celebrate National Mentoring Month, consider the difference you can make in the life of a young person.
REAL LIFE. REAL NEWS. REAL VOICES.
Help us tell more of the stories that matter from voices that too often remain unheard.