A few weeks ago, I was asked to participate in Mentoring Monday, a national initiative spearheaded by Bizwomen, an offshoot of Bizjournal. Mentoring Monday goes on simultaneously in 43 cities around the country and involves over 10,000 women. Bizwomen pairs women business leaders with women in their own communities through speed mentoring, specifically with a seven-minute time limit. Think: Speed Dating.
It sounded fun, and right up my alley as I am so keen on all-things-relationship. My main question was, what could we actually accomplish in seven minutes? I knew what we could do in 6th grade, playing Seven Minutes in Heaven. But a bunch of professionals?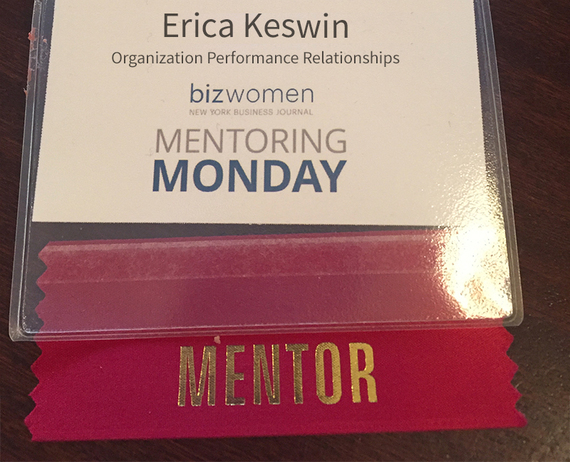 But I showed up to the Conde Nast Offices at One World Trade Center at 8:30 am on April 4th, and got settled into my chair. The bell rang and I was open for business. Over the next hour, I met with seven women of diverse backgrounds, ages, and professions. These women were all dealing with interesting, thoughtful, challenging work and life dilemmas. I met a woman who had recently become a Vice President at a Not-for-Profit who was struggling with work-life balance. She has two kids, but felt that in the first few months of this job she needed to be available 24X7 and it was beginning to take its toll.
We discussed strategies for managing both up to her new boss, as well as modeling sustainable work practices for her employees, which, research has shown, has a huge impact on the work satisfaction and well-being of employees. If she was having a hard time doing it for herself, why not try it on their behalf? The bell rang. I could not believe how much ground we covered in seven minutes.
Then, I met with a woman who was in her mid-to-late 20s. She wanted to discuss strategies on how to move laterally to a different department within her firm. We discussed the importance of taking time in her busy day-to-day schedule to think strategically about people in her firm with whom she would like to connect. A mentor? A peer? Someone in a different functional area?
Bottom line: She needed to invest time to build relationships in other parts of the organization. I suggested that she should see if her firm had a Women's employee resource group (ERG) or one for Millennials. These groups, which exist in many companies, are great platforms for connection. Again, as our seven minutes came to an end, I was amazed that she was able to walk away with concrete ways to move toward her goal.
Another woman wanted to hear about my company, research and findings and get insights into human resources and the future of work. One of my favorite topics. It turns out that she does consulting work for a pharmaceutical company that might be looking for thought leaders on the topic, so of course I gave her my card. My main takeaway from that seven minutes: you never know what can come out of a decision to take the time to get to know another person.
These types of conversations continued until the last bell rang. Something biological and magical happens when we women connect with each other. Our oxytocin (our feel-good hormone) goes up and our cortisol (stress hormone) goes down. This speed mentoring room was buzzing with good vibes and people stayed long after the last bell.
This got me thinking. Everyone talks about how busy we are, the so-called "time famine," the fact that we are too busy to look up from our phones when we cross the street. Too busy to focus on one thing at a time. Too busy to take a lunch break at work with our colleagues and get to know them.
But who doesn't have seven minutes?
So, I challenge you: Pick a good seven minutes a day to connect. That is 35 minutes over the course of the work week. Decide who you would like to get to know, in person. Poke your head into their office instead of sending an email. Grab a cup of coffee. Take a walk. You will be glad you did.
Then, send me an email at Erica.keswin@opr-consult.com and tell me what happens!
Calling all HuffPost superfans!
Sign up for membership to become a founding member and help shape HuffPost's next chapter