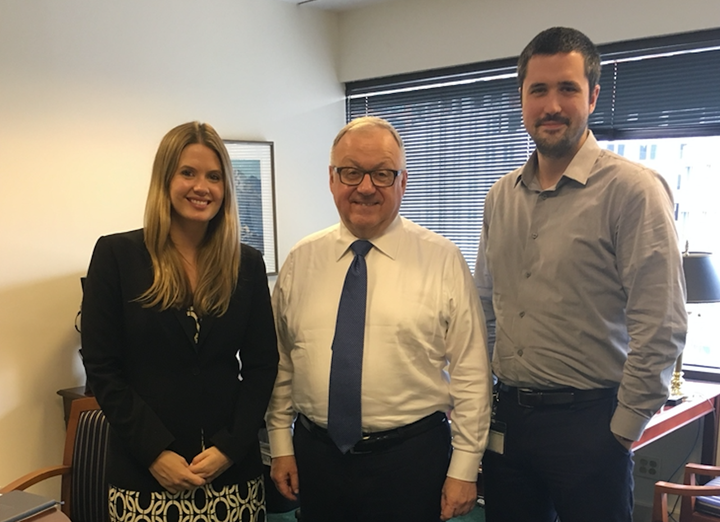 Today we caught up with Millennial mentors Kayla Flaten, a Vice President of Pershing a BNY Mellon Company and David Lake, Senior Associate. They shared how Millennials are mentoring the top leaders and what it was like for both of them to personally mentoring Mark Tibergien, CEO of Pershing Advisor Solutions who joined us with his experience as a mentee. Disclaimer: We kinda fell in love with this company, the team and their vision.
Julie@Twomentor: What was the challenge that led to you building the reverse mentoring program at Pershing in 2013?
Kayla: Some months back a Managing Director of Pershing sat in the Executive Committee meeting, looked around the room and realized that although the group was diverse in background that their collective ages averaged around 50 years old. With the influx of Millennials entering the workforce, at the time around 25 percent and growing, that executive thought that that we should be doing something to incorporate new and fresh perspectives at the top of the house. JamiLynn Cimino and I were asked to put our heads and come up with an idea. After a lot of research and head scratching we decided to follow Jack Welsh's lead and implement a reverse mentoring program at Pershing, calling it "Connect".
Twomentor: Kayla how did you and JamiLynn build. What was the basic infrastructure?
Kayla: "Connect" is a grass-roots Business Resource Group comprised of three core efforts; a Reverse Mentoring Program, Business Unit Ambassadors and the Client Experience Initiative, each led by two Millennials at the firm. For the reverse mentoring program, mentors are required to meet with their mentees at least once a month.
In addition to regular meetings with their mentees, the mentors have two meetings together each month:
1) Topic Meeting- Where the mentors are encouraged to raise topics that are important to them or anything requested by the mentee to the larger group.
2) Check-in Meeting- An opportunity to share any successes or challenges the mentors have faced with their relationship. For example, if someone is struggling with bringing up a hard topic or something that maybe sensitive for the mentee to discuss, then this is a good forum to raise that and get advice on how to handle that situation.
Twomentor: Can you speak to the Focus group topics... bi-weekly sessions
Kayla: We have always believed that our monthly topic meeting has been one of the keys to success of the program. The purpose of this meeting is to have an open and honest dialogue about different topics so that each mentor can bring back the group's collective feedback to their mentee in addition to their own. I think that feedback is stronger when it's more of what "we" think rather than what "I" think.
Topics run the gamut. In fact, many of the topics we discuss in these meetings come from requests from the mentee. For example, our CEO asked her mentee for some feedback on our annual conference and ideas on how to "bring the conference experience" to those employees who are not physically there. Discussions in our topic meeting eventually led to an idea of live streaming sessions and interviews to internal employees. Overall, the topics have been centered on workplace culture, attracting and retaining talent, leadership style, technology and more.
Twomentor: Kayla, who was your first mentee? How did it go? Was it hard to be the 'mentor' of a top exec?
I was fortunate enough to be paired with Mark Tibergien, CEO of Pershing Advisor Solutions as my first mentee! Mark and I developed a fantastic mentoring relationship which I believe was due to the fact that we set goals on what he wanted to focus on in the beginning while remaining honest and open in every conversation. Reverse mentoring is a two-way street. I have learned just as much, if not more, from Mark as he has from me. Early on in my career, Mark has given me a lens into the thought process of an extraordinary leader for which I am forever grateful. Sound bites from our conversations are now on my mind as I come across certain situations. My favorite of his is, "The worst thing you can do to someone else is underestimate them."
I think I can speak for all mentors in the program that it is difficult being a reverse mentor. There were a lot of doubts in the beginning that went through my head. Doubts like, "Will I provide value?" or "Is this a waste of time for him?" I was lucky that Mark not only embraced the program but he was a true advocate for it in the industry. He has also helped me to become more confident when dealing with Senior Leaders.
Twomentor: What are some of the metrics of impact from the program thus far?
Kayla: One metric that we're most proud of is the fact that we've seen a 96% retention rate of the 77 Millennials who have rotated through the program from 2013 to 2016. It's difficult to determine if the retention rate is directly because of the program. However, I think that those who have rotated through the program feel better connected to the organization, which may have influenced their decision to stay.
Twomentor: Mark you go around the country speaking. What is your advice for other companies in regards to mentoring strategies ... or specifically reverse mentoring?
Mark Tibergien (CEO of Pershing Advisor Solutions): I have a fundamental belief that every organization must be clear on how they define the nature of the work, the worker and the workplace. I often say that you cannot motivate people, you can only demotivate them. As a leader, your job is to create an environment in which motivated people will flourish. This reverse mentoring program contributes in a meaningful way to that environment. It builds bridges and opens lines of communication. It exposes you to people at a level you may not have imagined before. It also allows you to observe how others think and process information. Plus, it provides an opportunity for a transfer of knowledge and enables firm leaders to groom the next generation of leaders.
Twomentor: David Lake (Senior Associate)-- what's your advice for other Millennials that want to reverse mentor in a company that doesn't have a program?
David: Reach out to other Millennials and see if there is interest in setting up some sort of formal program. I'm not sure how well the reverse mentoring would work without an understanding of what is expected from both parties. Additionally, getting sponsorship and endorsement from all of the senior managers has given support and legitimacy to the program, which otherwise may be difficult to get. You may be able to have success just trying to reach out to a leader and set this up individually, but I think that would be very situational. Having a group of mentors to exchange ideas with and get advice from has been really helpful for me personally. Even if you start with a small group, I think that trying to do it all yourself, without any formal process and endorsement, would be tough.
Twomentor: David, Do you feel your fellow Millennial mentors feel more engaged, more part of the company, more loyal
David: Through my conversations with other Millennials, I've found this program to be an important factor in keeping them more engaged—even if they are not directly part of the program. Having our senior leaders open up themselves in this way creates the impression of them generally being more accessible to other people around the firm as well. A great example of this is when I was able to have Mark come and speak to a technology Millennial group of which I'm a part. Being part of this program allowed me to get him to come and talk to this broader group of Millennials, who until then only knew Mark as part of the company's org chart. This appearance allowed them to ask questions and get to know Mark, and, of course, Mark had plenty of questions for them too. It was a good learning experience for everyone—and it was a direct result of this program.
Twomentor: Kayla what's the biggest challenge you and JamiLynn have had managing the program?
Kayla: I'd say that one of the challenges has been to demonstrate the value of the program in hard metrics. So, we are constantly looking for ways to quantify the value. For example, one way we are doing that is by looking at the retention rates of program participants. Another is by looking at the actual output produced when mentees and mentors work on a specific project together, as well as by quantifying the ideas produced and the new initiatives implemented as a result of the program.
Twomentor: What are you each most proud of?
Kayla: From a program perspective, I am most proud of the young talent that we have at our firm as well as the leadership! It takes more than a grassroots effort to make something like this successful. The fact that our senior leadership, as well as our senior sponsor, embraced this idea shows that they are open to trying new ideas. I'm also amazed by how many younger employees want to get involved and be part of something bigger than their day job, which is what the program aims to provide.
David: Mark always keeps a notebook with him, to write down things that interest him. I always know I have a winning topic when the pages start filling up. The best moments are the ones where I can teach Mark something. I remember us talking about blockchain and bitcoin at one point, and I was teaching him everything I knew. At one point I could see it click, and he started thinking about it from a practical perspective and how it could , in theory, be applied to Pershing. Watching how he consumed a new idea, then started to immedietly put it to work was a really great moment for me.
Twomentor: So what's next.. will this program continue to scale?
Kayla: We're excited that Bank of New York Mellon, our parent company, now also has a Reverse Mentoring Program which is run through our Women's Initiative Network with a similar structure to ours. It's fun to see the idea taking off at our firm and also with some of our clients!
JamiLynn and I have recently "passed the baton" to two new leaders of the Reverse Mentoring Program to give others an opportunity to lead while giving the program a fresh perspective. We still remain involved by coordinating check-in meetings and offering guidance with the leaders of the three components (Reverse Mentoring, Business Unit Ambassadors and Client). We have had a total of 77 Millennials and 45 senior executives benefit from the program since 2013 and are excited to be expanding it again this Winter! Our hope for the program is that it will continue to have a positive impact on the firm. We always said that when we find that it's not providing value, we will stop it. However, in the past four years that hasn't been the case. Who knows, maybe there will be a program for "Generation Z" when the Millennials are older and need a reverse mentor.
Kayla Flaten is a Vice President for Pershing, a BNY Mellon Company. She holds the position of a Business Development Associate for Pershing Advisor Solutions, where she is responsible for assisting with new business development opportunities for Registered Investment Advisor and Family Office prospective clients in the tri-state area. She is also responsible for consulting on the technology needs of Pershing Advisor Solutions clients. Outside of her day to day responsibilities, Kayla co-leads Pershing's Millennial Reverse Mentoring Program, called Connect. She is also actively involved in advancing Financial Education in our youth through Pershing's "Adopt a School" program.
David Lake is a Senior Associate at Pershing, a BNY Mellon Company. He is leading a team that is responsible for business intelligence, reporting, and automation solutions for internal Pershing users. The team provides tools and dashboards for enhancing daily activities for our associates and enables data driven decision making for Pershing's senior management. He also helps to manage the portfolio of projects focused on technology cost savings efforts, working with teams from around BNY Mellon to reduce our technology expenditure and reduce risk by retiring end of life systems. Beyond his day to day responsibilities, David helped to found the Technology Millennial group and is actively involved in the Connect program and Reverse Mentorship program.
Mark Tibergien is Chief Executive Officer of Pershing Advisor Solutions, a BNY Mellon company. Pershing Advisor Solutions is one of the country's leading custodians for registered investment advisors and family offices. Mark is also a Managing Director for Pershing and a member of its Executive Committee and BNY Mellon's Senior Leadership Team.
#pershing #reversementor #BNYmellon #Marktibergien #kaylaflaten #davidlake #twomentor #Millennials #mentoring #employeeengagement #employeeretention
Related
Popular in the Community