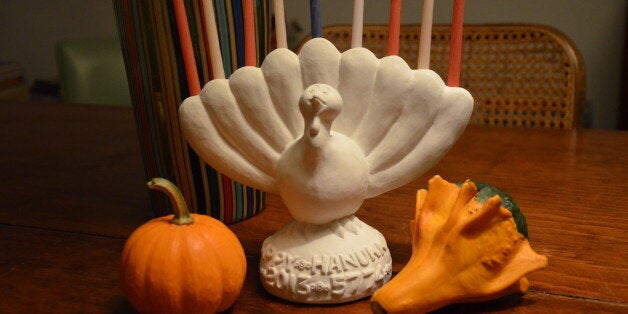 Like any kid, Asher Weintraub has little patience for questions from strangers. But he's getting a lot of them.
That's because the 10-year-old New Yorker's Thanksgivukkah-themed invention, the Menurkey, is selling like hot potato pancakes.
"It's exciting, but it's also annoying," Weintraub said of the attention he's been getting from reporters over the past few weeks.
Weintraub said he came up with the idea for a Menorah, or ritual candelabra, shaped like a turkey when he was driving to Florida with his parents and his mom told him that Hanukkah and Thanksgiving fall on the same day this year -- a rare occurrence. "It's cool because it's both of the holidays together," Weintraub said.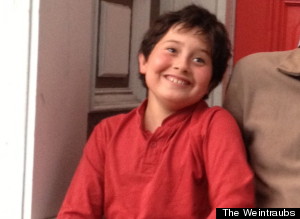 " />
Asher Weintraub (in red) and his family.
Apparently other people agree. Weintraub and his parents have sold somewhere between 6,000 and 7,000 Menurkeys so far, according to his father Anthony. In fact, the product is so popular that the elder Weintraub had to put a notice on their website several days ago warning shoppers that they could no longer guarantee delivery by Thanksgiving.
"It really just caught this head of steam and almost like we couldn't keep up," Anthony, 48, said. "It was just one of those classic stories of supply and demand. This was kind of a seasonal item on drugs or on hyper drugs."
Anthony set up a Kickstarter page, featuring a 3D design of the Menurkey created by Asher, with the goal of raising $25,000. They hit that target in about 10 days and ended up raising a total of $48,000, the elder Weintraub said. Once they had the seed money, the Weintraubs found a few Jewish museums and Judaica stores eager to sell the product.
"We didn't know that this Thanksgivukkah thing was even a thing," Anthony said. "Our son just came up with something functional that was funny. Of course I should have anticipated the commodification."
Luckily, the product's runaway success has yet to go to Asher's head, Anthony said. The 10-year-old plans to donate 10 percent of the proceeds to a variety of charities. "Everything kind of hit at the right time where he's nonplussed. I think it's getting a little old for him."
Indeed, Asher said the invention hasn't really changed his life -- or the way he plans to celebrate the invented holiday -- too much. "We're just going to do the same thing we do for Hannukah and Thanksgiving every year except this time we're doing it in one day," he said.
Calling all HuffPost superfans!
Sign up for membership to become a founding member and help shape HuffPost's next chapter
BEFORE YOU GO
PHOTO GALLERY
Thanksgiving 2013 Store Hours