Shouldering in a new restaurant in the City of Big Shoulders is never easy, but the Sandoval brothers have not only found some space on Kinzie Street for Mercadito, but they're widening their stance. (Never mind the one-star review by the Chicago Tribune, this place is bouncing and delicious.) Patricio, Alfredo and Felipe Sandoval recently opened the Chicago version of their acclaimed New York restaurant in River North, and when you've got New York Magazine awarding you the "Best Fish Tacos in NYC," expectations here are even higher.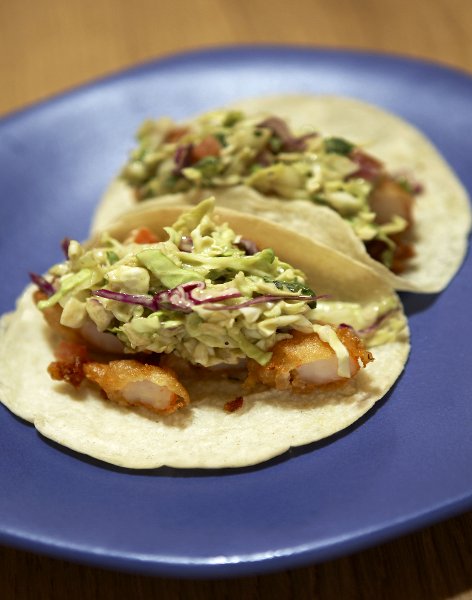 Chef-owner Patricio Sandoval, a graduate of the French Culinary Institute and former child of Mexico City, puts his own spin on tacos, guacamoles, botanas and ceviches, a trade he picked up from watching his own father run a restaurant. The cocktails have been molded and literally set on fire by the Tippling Brothers, and the atmosphere is clean, sexy and cantina-inspired with a tequila lounge and a secret bar downstairs.
Another brother (and owner), Alfredo, recently answered some question about the impetus to foray in the competitive scene of Chicago dining.
Claire Bidwell Smith: First off, welcome to Chicago. You've got three Mercadito locations in New York and another under construction in Miami; what made you choose the Windy City as your newest locale, and say not Milwaukee or Denver? The competition in other cities may not be as fierce as it is in Chicago right now.
Alfredo Sandoval: Thank you, I have spent a lot of time in Chicago over the past few years as director of operations for SushiSamba, and I believe Chicago is a great restaurant city. I am well-aware of the competition in Chicago, but I feel that with great food, great service, great ambiance and great design, we can succeed.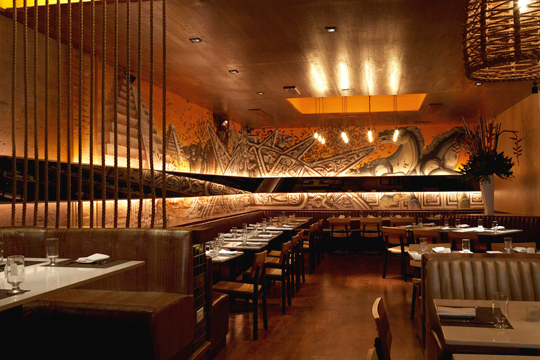 CBS: If a loyal Mercadito diner from New York stopped in the Chicago restaurant, will they see anything different on the menu? Anything on Kinzie Street only happening on Kinzie Street? And are you using any local ingredients?
AS: The food menu is essentially the same as the New York restaurant, but the beverage menu is different here. We have made the beverage program more complex - it is more sophisticated than New York's. Yes, we are offering daily specials incorporating local ingredients - for example, marinated shrimp with carnitas with tangerine, key lime mojo and local brussel sprouts and radicchio.
CBS: The Mercadito fish tacos have won a lot of accolades, including being named "Best Fish Tacos in NYC" by New York Magazine. Can you tell us what makes them so good?
AS: We use Modelo Especial beer in the batter and we toss the coleslaw with a homemade chipotle aioli.
CBS: The menu at Mercadito is mostly a tapas-style menu. Do you think this is something more restaurants are leaning toward in general, or do you think it works especially well with Latin foods?
AS: I absolutely believe small plates is not only a trend or only works well with Latin foods, but I think it is the way of the future. People realize you can have a much better meal when you try seven or eight different dishes as opposed to an appetizer and an entree. If you are only trying two things and one of them isn't great, then your experience is average, whereas if you are trying seven or eight dishes and a couple aren't your favorite, you still feel as though you had a great dining experience.
CBS: If you're sitting down for dinner at Mercadito, what four or five things are you going to order? And which cocktail is going to be standing above your plate?
AS: Guacamole tasting (mango-chipotle, pomegranate and mole); queso fundido with rajas; tacos (estilo baja (fish), carnitas (pork) and camaron (shrimp) ) and the Pollo a las Brasa (whole adobo marinated organic chicken, three corn pico de gallo, chile de arbol salsa). For a cocktail, definitely a Smoky Pablo (Cien Anos Reposado, mango, chile mortia and blueberry float).
CBS: How does a Mexican-American restaurant like Mercadito compare to something you'd find in Mexico City?
AS: It doesn't. Most Mexican restaurants in Mexico are very traditional. Mercadito draws from very traditional Mexican food, but with a signature modern twist.
CBS: Your father owned a successful restaurant in Mexico. How often did you work for him and what was that like, growing up in the restaurant business?
AS: My father's business partner had lunch in our house almost every day, so you could imagine what the conversations were like during lunch (which is a big meal in Mexico and normally takes about two hours). We also lived a block from my father's biggest restaurant -- in business for 30 years -- so we when were bored, we would go to the restaurant and hang out.
CBS: Was it intimidating to follow in his footsteps?
AS: Definitely not. Even when I was very young, he always took the time to explain how a restaurant functioned. I knew how to read a balance sheet and profit and loss statements by the time I was six years old.
CBS: Almost as striking as the food on the plates are the murals on the wall. How did they come to fruition? Did you already have the artist in mind while designing the space, or did you go on a major search?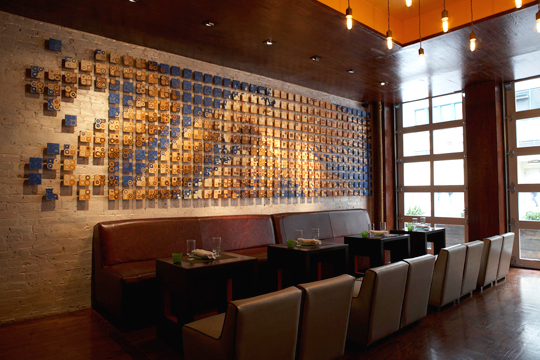 AS: I met the artist, Erni Vales, when he was working on a mural for another restaurant. One day, we were discussing our favorite restaurants and he told me Mercadito in New York was his favorite -- he didn't know I owned it! I told him we would work together when I opened my next Mercadito restaurant.
CBS: A food critic for the Chicago Tribune recently gave Mercadito a one-star review based almost entirely on his wait time and miscues with the hostess on an extremely busy Saturday night. How did you react to that? You guys change any protocol after that review came out?
AS: Of course you always want to get great reviews, but you can't let a bad review bring your morale down. At the end of the day, the only thing that matters is what our customers think of our food, service, ambiance and design. We are more strict with our reservations now. Typically, what will cause long waits is when reservations arrive late or when people are having too good of a time and stay at a table for more than two hours, the amount of time we allot tables.
CBS: I know there's a Miami location in the works but what else is next for you guys?
AS: Yes, Mercadito Midtown is opening in January, and then we are opening a Mercadito Taqueria and a Mercadito gastropub in South Beach next summer.
Popular in the Community