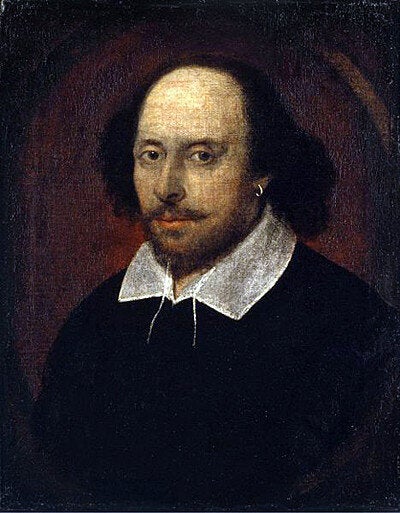 "Fun" is not usually a word that comes to mind when William Shakespeare's The Merchant of Venice comes up in conversation. In fact, I have always found every single character in this play to be utterly despicable. However, after seeing Theater Breaking Through Barriers' production, now playing at Theatre Row's Clurman Theatre, I am starting to reconsider that stance. In a production that embraces every nuance of the word "play," TBTB presents a thoroughly entertaining show that directly challenges a great many assumptions people have about Shakespeare and theatre in general.
TBTB is a unique kind of theatre company, as their mission is "dedicated to advancing actors and writers with disabilities and changing the image of people with disabilities from dependence to independence." Thus the seven actors that play all of the parts in The Merchant of Venice are an integrated group of able-bodied and disabled theatre artists.
The overall aesthetic of the production, directed by Ike Schambelan, makes no distinction between the various physical abilities of the actors. In fact, I would go as far to say that, through a great many instances of actors in drag and actors playing multiple characters, the actors' bodies become completely transparent. In other words, the actor's own body is noted, but then fades into the background as the character's words and affect define them.
This also leads to another of my favorite aspects of this production, which is the way it embraces its own metatheatricality. This play never attempts to convince you that it is realistic, which seems to take off a certain amount of the pressure I have seen in a great many Shakespearean productions. I have often noticed that contemporary productions of Shakespeare, especially those that choose modern-dress, are under the impression that making the play accessible means making it "realistic."
TBTB takes a decidedly different approach, inviting the audience to enjoy the blatant theatricality of the play. The fact that each character plays multiple roles is the first obvious experience of this simple pleasure. The audience laughed as an actor would exit as one character only to emerge after a simple quick-change as another character a moment later. The company played this up throughout the show, and once the audience settled into the idea that we were allowed, and indeed encouraged, to enjoy these changes, the laughs got bigger and bigger.
The actors all earn these laughs, and also our sympathy at more serious moments. Each and every cast member had strong moments, and the company worked well as a whole. Melanie Boland played male roles for the entire show with a grounded and dignified presence which stands out particularly in her scenes with Gregg Mozgala's simply charming Bassanio. Another pairing presents itself in Pamela Sabaugh's simultaneously clever and witty Portia and Mary Theresa Archbold's jack-of-all-trades performance as Nerissa and several others. Stephen Drabicki also plays a plethora of characters well, and David Harrell's fantastic timing is well-showcased through characters like Gratiano. Though the most interesting multiple casting comes from Nicholas Viselli's solid performance of Shylock side by side with the other minor characters Viselli picks up along the way.
As I said, I have trouble with this play in general, but perhaps there is no better play for TBTB to do. The program mentions that they choose to have Viselli play Shylock, a Jew, as well as characters identified as Muslim, Hispanic, and blind emphasizing various types of marginalized characters. The difference here is that there is something wholly likeable about this production. Perhaps this is caused by the repeated reminders that we are watching a play that causes the disagreeable nature of the characters to be seen as a separate entity than the actor portraying them.
Whatever the cause, the result is that this is by far the most enjoyable production of this play that I have ever seen. Another reason for this is certainly the deft cuts that have been made. Scenes such as Shylock's raving in the street after he finds Jessica has left with his jewels and ducats and some of the scenes with Jessica herself are gone, leaving a more streamlined and still narratively sound play.
Of course, the production is not perfect. There were some line stumbles and a few of the representations of "the other" walked a fine line between comic stereotypes and racial stereotypes. However, overall the spirit of the production won me over and I was completely engrossed for the entirety of the show. For a play that includes a great deal of discussion about a pound of flesh, it took TBTB to actually flesh out The Merchant of Venice for me.
Related
Popular in the Community