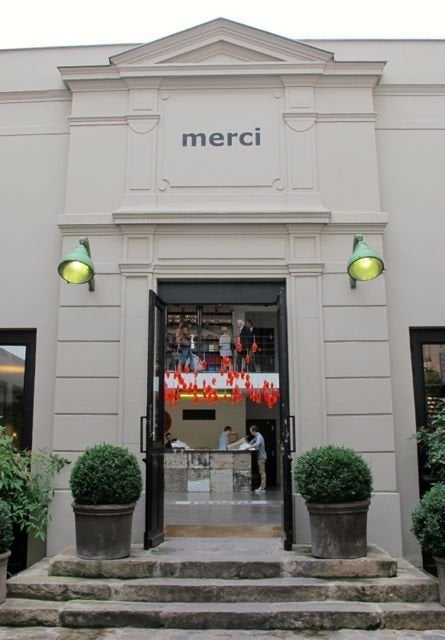 Not only is Merci ("thank you") one of the most fabulous stores in Paris, it's a store with a heart... all profits from their 16,000-square-feet of designer products go to charity.
Bernand and Marie-France Cohen, having had great success with their luxury children's clothing brand, Bonpoint, decided to develop a way to "pay it forward."
And so they asked themselves these questions: Give, but how? How is it possible to generate funds in a sustainable manner without calling for donations or charity? Could a store combine luxury consumerism with philanthropy?
In March of 2009, with the opening of the Parisian concept store, Merci, the answers were found. All profits of the store (beyond operating costs) go to a foundation that will help underprivileged women and children by providing them with learn skills they can use to improve their quality of life.
In an 18th-century building on Boulevard Beaumarchais, in the hip Marais neighborhood of Paris, the store is a masterful contemporary space that holds several levels of décor, furniture and fashion, in addition to a bookstore, a florist, several cafés and a garden. The setting for the stylish enterprise is a stunning environment of concrete, wood and steel, furnished with a combination of antique and handcrafted furnishings, and lit with tall windows and skylights.
Merci is a mecca of cutting-edge design, so it's pretty effortless to find something to help the cause. Fashion designers including Isabel Marant, YSL, Chloé, Stella McCartney, Marni and Paul Smith have pitched in by offering unique pieces at a 30 to 40 forty percent below their usual prices, and by foregoing their share of profits. High-end brands are balanced with basics, as well as unusual artisan-crafted merchandise.
Let's hope that others will be inspired by the Cohens' noble and generous contribution to the world. They have given us the opportunity to provide happiness for others, simply by shopping for ourselves. Magnifique.
A quote by French author, Jean Giono, appears on the Merci website:
"J'ai ce que j'ai donné." I have, what I have given.
Let's take that message into 2013.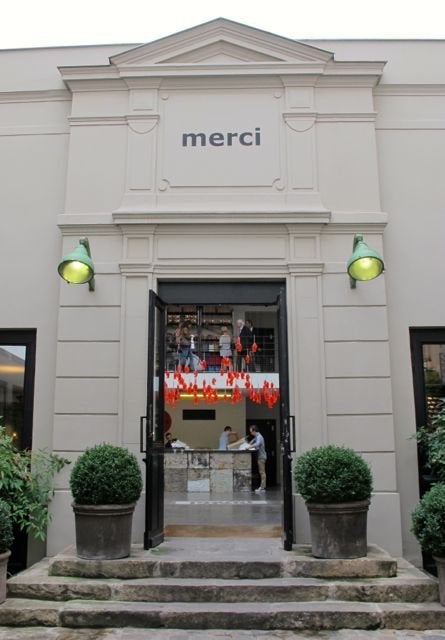 Merci in Paris
Merci
111 Boulevard Beaumarchais
75003 Paris
+33 1 42 77 00 33
Métro Saint Sébastien-Froissart
Check out my blog for more unique shopping opportunities around the world.
Related