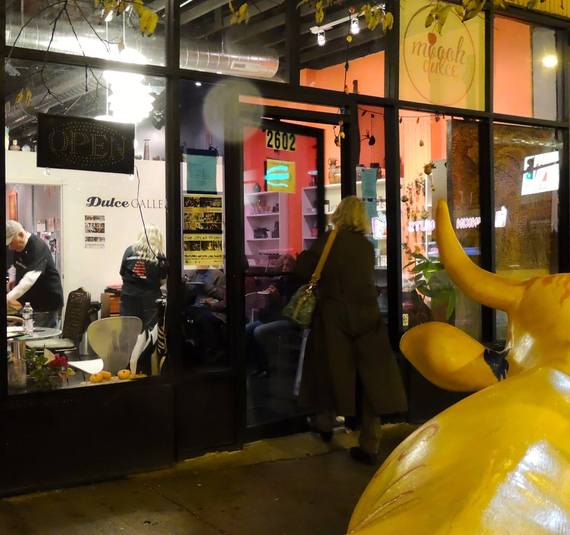 Actor Michael Milligan calls it the invulnerability gene. That belief that health insurance isn't a big deal. That illness is "somebody elses's problem."
But a series of events cracked Milligan's heart open. Among them, during a gap in health insurance, he suffered from an undiagnosed kidney stone. Accessing what he calls the medical concierge for every American, Web MD, he diagnosed himself as suffering from kidney failure. Running the cost/benefit analysis, he decided he couldn't take on the financial burden of a true medical emergency. Luckily he passed the stone and did not have kidney failure but the fear and anxiety changed his life and he felt he had to write about it.
Milligan, who will play lago in Chicago Shakespeare Theater's February 2016 production of Othello, has written a one act play called Mercy Strained that tells the story of Joe, a hard-working American, one of us, and what happens to him and his wife when they face a medical emergency under the current health insurance system. He's been performing Mercy Strained around the United States in support of Single-Payer Health Care and you have an opportunity to see it Nov 14 in Logan Square at 8:00pm at Mooh Dulce, 2602 West Fullerton.
My confession. I actually didn't understand what Single Payer Health Care meant until I spoke with Anne Scheetz, an MD who has taken on the job of being full time organizer for the Illinois Single-Payer Coalition.
She said to think of Single Payer Health Care as Medicare expanded and improved. As a self-employed, single person who makes a living in writerly ways with often modest pay, I've been happy that the Affordable Care Act (ACA) provides some relief from premiums that kept climbing no matter how hard I work at making money and being healthy. But increasingly, I'm seeing the ways that the ACA does not go far enough. Many of the deductibles are high and if you have to have any medical tests at all you can find yourself going into debt quickly.
Scheetz, who chairs the ISPC Legislative Committee and is active in Physicians for a National Health Program (PNHP), Illinois Chapter, found her way into single payer care when she saw most of her disabled patients could not afford the care they needed.
Sometimes complex topics like health care feel abstract and business-based. I've long said that the United States doesn't have a health care system. It has a health insurance industry. This play dramatically shows the truth of that. Scheetz and single payer advocates says "Health care is a human right." Milligan's Mercy Strained dramatically makes the case with power and grace.
Doors open 6:30 pm. Come early and enjoy a taste of Latin and Asian food prepared by the Chicago-based catering co-op Spice and Rice, available for sale before the show.
The performance is a benefit for ISPC. Priced by donation.
REAL LIFE. REAL NEWS. REAL VOICES.
Help us tell more of the stories that matter from voices that too often remain unheard.