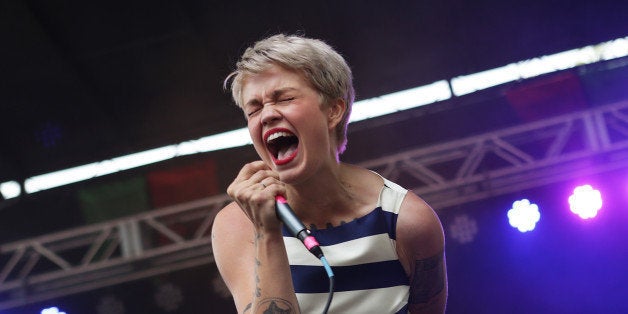 On being forced to prove an authentic love of culture or music:
Women are called upon every day to prove our right to participate in music on the basis of our authenticity -- or perceived lack thereof. Our credentials are constantly being checked -- you say you like a band you've only heard a couple of times? Prepare to answer which guitarist played on a specific record and what year he left the band. But don't admit you haven't heard them, either, because they'll accuse you of only saying you like that genre to look cool. Then they'll ask you if you've ever heard of about five more bands, just to prove that you really know nothing. This happens so often that it feels like dudes meet in secret to work on a regimented series of tests they can use to determine whether or not we deserve to be here. The "fake geek girl" test is one, door guys stopping female musicians carrying gear to make sure they're actually in the band and not just somebody's girlfriend is another. Big rock magazines that interview male musicians about gear and female musicians about sexual harassment -- that's up there too.
On the unfair gender-based expectations imposed on celebrities:
I feel weird about eating these days or leaving the house, or existing in a material form at all, because having a body that talks too much and sweats and makes mistakes is exhausting, and here's [Andrew W.K.] just standing around with dented hair and a Napalm Death shirt over sweatpants shorts and it's almost as if the whole world isn't scrutinizing what's in his cart at the grocery store, what he looks like without makeup on, how his gender affects his authenticity as a performer. I was looking straight at this spaced out, sweet-faced, charming guy, just standing there, calm and existing.
But when a female musician is in any way fake, she's denied creative agency, written off as uninventive and talentless. Beyoncé is accused of lip-synching, even when she isn't. Music rags run articles exposing pop stars' real names, highlighting Lorde, Lady Gaga, Nicki Minaj, Miley Cyrus. But being that these are the most successful female artists in the world, one has to assume that their fakeness -- or, as we should be calling it, "reinvention" -- is necessary for women to succeed in the music industry. It's the basic principle of survival, period: adapt and evolve, or die.
Popular in the Community