Jewelry designer Meredith Kahn launched her line, Made Her Think, in 2004. Her cutting edge designs mix punk-inspired heavy metal, chains and studs with feminine detailing and the occasional spray of diamonds. Kahn, who is well-versed in the style history of bygone eras, is also skilled at infusing traditional, time-worn styles with a thoroughly modern twist.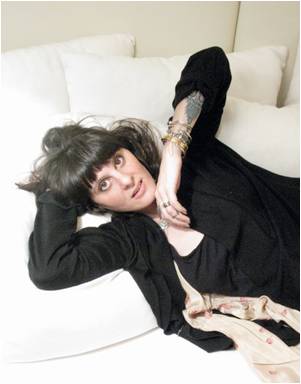 Meredith Kahn, image provided by Made Her Think
With a fine jewelry collection, a more affordable costume jewelry line and a collaboration with Club Monaco that is going on now (not to mention a belt and leather handbag line and a men's jewelry collection), Kahn's design dance card is full.
Suzanne Singer, a regular contributor to The Inside Source, eBay's online style magazine, recently caught up with the designer to talk all things jewelry - including her inspirations, from the Art Deco to Steampunk. The following is an excerpt of that story. To read the full article and more interviews with fashion insiders, visit The Inside Source.
The Inside Source: What is your design process? How do you come up with a new collection for each season?
Meredith Kahn: I do most designing at night, right as I'm closing my eyes to go to sleep. It's the moment that I can clear my head and open up my mind. I dream up a lot of them too. I see them so perfectly and get sad that they aren't mine...then I wake up and realize it was my dream and they are all mine! A lot of the pieces also give birth to one another. I like to take a nice signature style that has performed and see where else I can take it.
The Inside Source: Do you have a personal philosophy on jewelry?
Meredith Kahn: Always give it away or pass it along at some point in your life.

The Inside Source: Do you have a specific time period that inspires your collections?
Meredith Kahn: I would have to say I really do love them all. All the way up to the one that's happening right now. I think the one that never fails to melt my heart is the Victorian Era. So much soul in what was made. We don't get that as much these days.
The Inside Source: What inspired you for your Fall collections of both jewelry and leather goods? What are the themes and trends?
Meredith Kahn: I don't usually pay mind to the trends; I just sort of do what I feel and see where it lands. This season, it kind of fell into the lap of a Warrior Gypsy--metal-clad, traveling around on a mission.

The Inside Source: Do you shop on eBay? What do you like to search for?
Meredith Kahn: O goodness yes. In fact, I just got the iPad--a leathal weapon for the eBay user. Beware the eBay App. I search for everything! Rick Owens pants, rose cut diamonds, Victorian mourning jewelry and the list goes on.

The Inside Source: Do you have a favorite eBay purchase you'd like to share?
Meredith Kahn: Hmmm, probably my $35 vintage Pendleton jacket.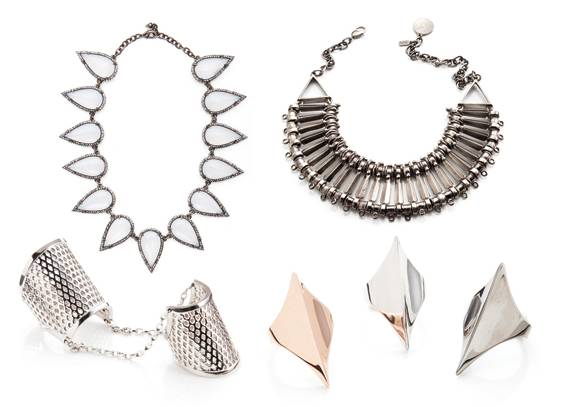 Made Her Think Jewelry, image provided by Made Her Think
To read more about what inspires Meredith Kahn's beautiful designs, click here.