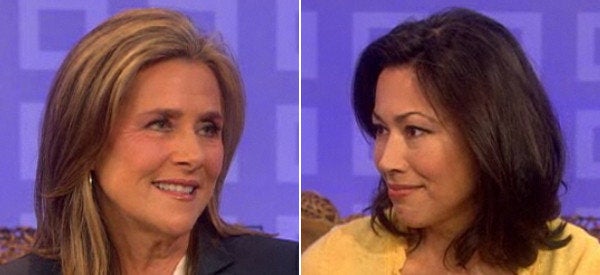 NBC announced Monday that "Today" show anchor Meredith Vieira will be leaving her position at the anchor desk in June. Longtime newsreader Ann Curry will take Vieira's place alongside Matt Lauer. In addition, Natalie Morales will take Curry's place as newsreader, and Savannah Guthrie will become a co-host of the third hour of the show.
An emotional Vieira also announced the news on Monday's show. Calling it a "difficult day," she said that, after "months of personal reflection" and conversations with her family and friends, she had decided to step down.
"Even as I say this, and I know it's the right thing, I'm really sad," she said. This has been my second home." She said she "really hope[d] to stay in the NBC family."
Vieira's co-hosts paid tribute to her. Lauer said she was "universally adored" by everyone on the show. Curry called her a "gift," and said, "if I could choose, you would not go."
WATCH:
In a statement, NBC News President Steve Capus said of Vieira, "While we will miss waking up with her each morning, we are working together on developing her next chapter at NBC News."
No totally new faces are being brought into the show, as happened when Vieira replaced Katie Couric in 2006. Instead, NBC News is giving three of its employees a promotion. The most relatively unknown face to the show is Guthrie. Currently a White House correspondent and a co-host of "The Daily Rundown" on MSNBC, she has been groomed for a higher position within the network for sometime, and has recently been filling in on "Today" much more frequently.
The move had been widely expected; Vieira was known to want to spend more time with her husband and her children—something she made clear during her announcement.
At a press conference on Monday, Vieira said that her last day on the show will be June 8. She said that she had first started thinking about leaving the show in January, and went back and forth repeatedly before deciding it was the right thing to do. But she criticized media reports that suggested she was stepping down to care for, in her words, her "poor invalid husband." In fact, she said, her husband, who has multiple sclerosis, is in good health.
"It diminished him, those articles," she said. "It diminished me."
Curry has been seen as Vieira's natural successor after about fourteen years as the show's newsreader. At the press conference, she said she was diving into her new role with "both feet," and will likely have to curb some of the globe-trotting reporting she has embarked on over the last five years. Still, she said, she will continue to push hard to report as many international stories as she can.
Lauer said he was incredibly lucky to be working with Curry, and he heaped praise on Vieira. "I've never enjoyed working with anyone more than Meredith," he said.
"Today" remains the top-rated morning show on television and the linchpin—financially, at least—of NBC News. It has generally weathered transitions extremely smoothly; the last one, from Couric to Vieira, left the show firmly in first place.
Popular in the Community