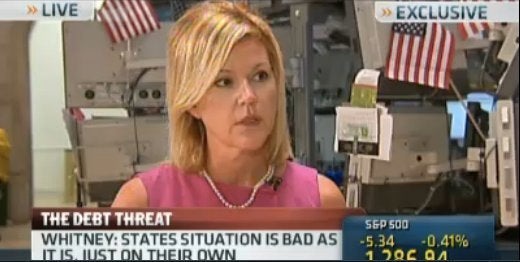 The debt ceiling debate has finally came to a close on Tuesday. Fears of the United States falling back into recession, however, are only heating up.
Meredith Whitney, founder and CEO of Meredith Whitney Advisory Group, told CNBC yesterday that the U.S. economy is sliding ever closer to dipping back into recession. The analyst, who famously predicted Citigroup's problems and now claims there will be 50 to 100 municipal defaults this year, says the economic landscape in the last weeks has become increasingly dire.
"I think you're getting increasing signs that we're at a risk for a double dip," Whitney told CNBC. "Our GDP number on Friday was an indication that states and local governments, which make up 12 percent of GDP, are really pulling back. We're certainly at a double dip of housing. That puts enormous pressure on the economy."
Watch Whitney's segment on CNBC here:
Related
Popular in the Community