Merida, "Brave's" red-headed heroine will be crowned Disney's 11th princess on May 11. And just in time for her royal induction, the animated character has received a head-to-toe makeover -- she's thinner, her eyes are wider and ... Is that miracle anti-frizz solution she's using? What is going on!?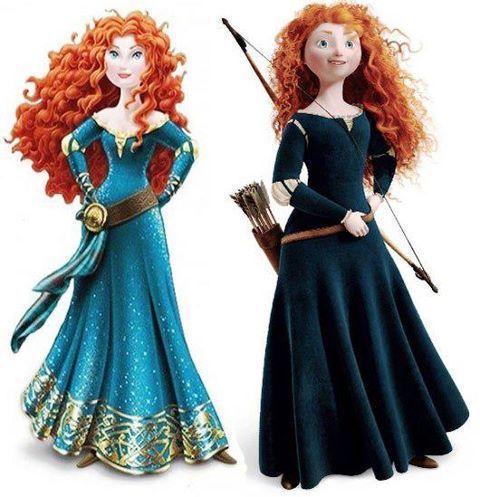 New Merida, left. Original Merida, right.
For parents who have been frustrated by the messages Disney princesses send to young girls (look pretty, find your prince, live happily ever after), introducing a character like Merida seemed to be a step in a good direction. As HuffPost blogger Kristen Howerton wrote when the film was first released, "'Brave' may be considered by many to be the first feminist princess movie. Merida does not pine for a prince to come to her rescue, and solves her own problems without the aid of a suitor." The character was independent, had a realistic body type, and succeeded sans prince charming. Unsurprisingly, messing with that by giving her a new look is causing an uproar.
A Mighty Girl, a female empowerment website, has launched a petition on Change.org to convince Disney to leave Merida alone. Clearly, she has a loyal fanbase -- the petition has almost 19,000 signatures.
The letter on Change.org reads, in part:
The redesign of Merida in advance of her official induction to the Disney Princess collection does a tremendous disservice to the millions of children for whom Merida is an empowering role model who speaks to girls' capacity to be change agents in the world rather than just trophies to be admired. Moreover, by making her skinnier, sexier and more mature in appearance, you are sending a message to girls that the original, realistic, teenage-appearing version of Merida is inferior; that for girls and women to have value -- to be recognized as true princesses -- they must conform to a narrow definition of beauty.
So far, there has been an outpouring of agreement. Peggy Orenstein, the author of Cinderella Ate My Daughter who is often at the forefront of discussions about how princess culture affects young girls, thinks Merida's makeover sends a terrible message: "In the end, it wasn't about being brave after all. It was about being pretty," Orenstein writes on her personal blog.
The Frisky's Sarah Gray has a better makeover suggestion. "If anything Disney should be looking to Merida's example, and mold the other Princesses in her image: confident, strong and Brave," she says.
Editor's note: In the video above, the host misspeaks in describing Merida as "raven-haired"; she is, of course, a redhead.
Related