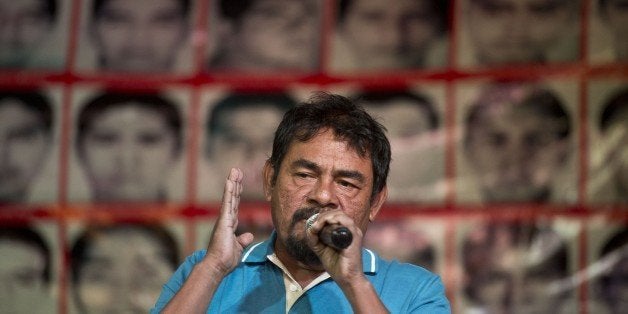 Felipe de la Cruz received a call from his son, Angel Neri, the night of Sept. 26, saying he and fellow college students were being attacked by police after stealing buses. De la Cruz urged his son to stay calm, thinking the cops would simply detain him. Instead, police in the city of Iguala killed three of Angel Neri de la Cruz's classmates from a teachers' college in the nearby town of Ayotzinapa, and abducted 43. Angel Neri survived the attack. The remains of only one of his missing classmates have been identified.
The Mexico attorney general's office says police handed the abducted students over to a drug gang, which killed them and incinerated the corpses. But families of the victims say the government has mishandled the investigation and doubt all of those responsible for the attack have been arrested. The mass abduction prompted nationwide protests, sinking Mexican President Enrique Peña Nieto's popularity to the lowest level for the presidency since the aftermath of the 1994 peso crash.
But Felipe de la Cruz isn't just looking to Mexico for accountability. On the six-month anniversary of the attack last week, he was in Washington at a State Department demonstration, where he and other activists demanded the U.S. rethink a $2.3 billion aid program called the Mérida Initiative, implemented in 2007 to help Mexico fight drug cartels.
"The Mérida Initiative is being used the wrong way," de la Cruz told The Huffington Post. Instead of stopping organized crime, he argued, the security assistance has helped Mexican officials perpetuate human rights violations. "It's being used to kill ordinary people."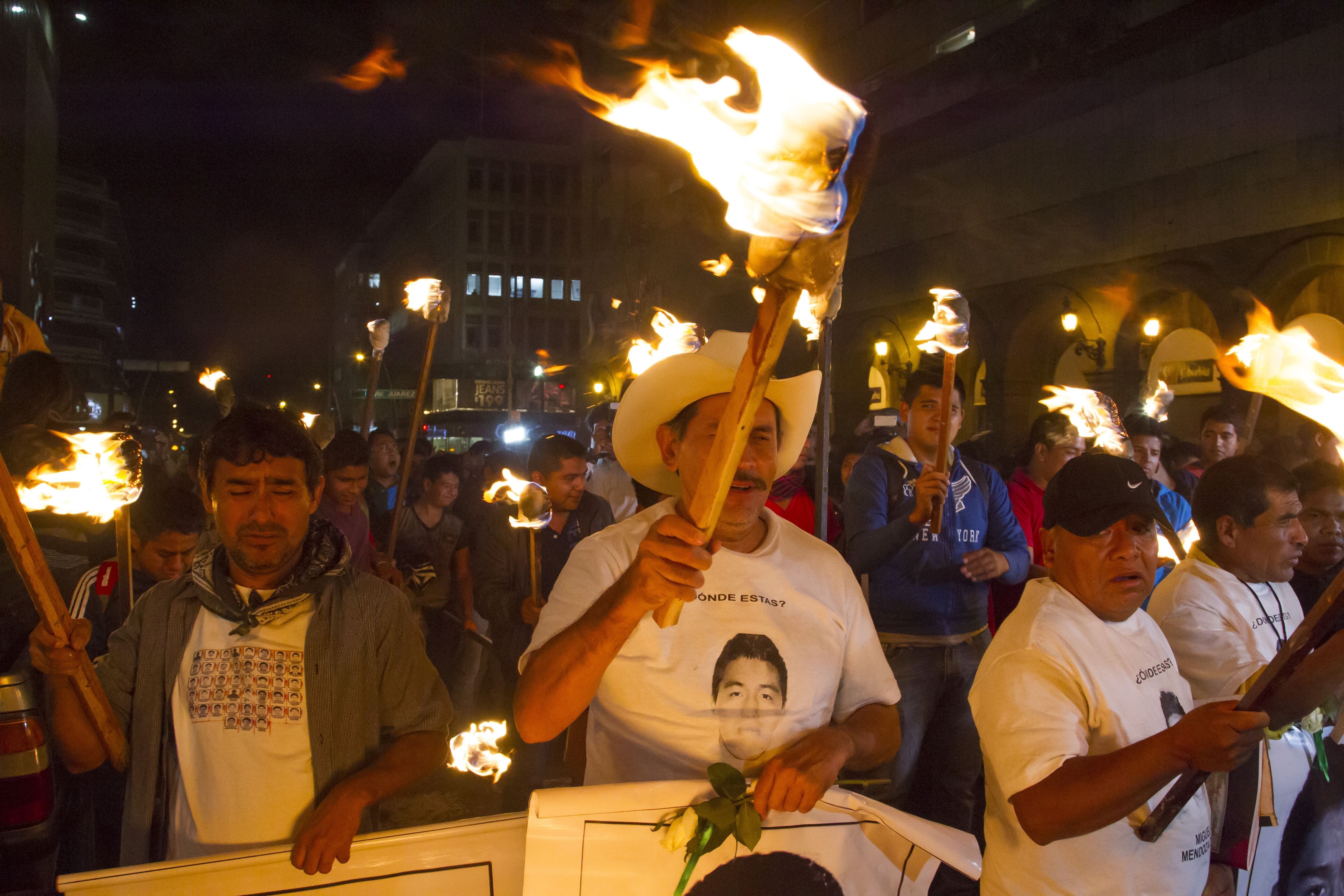 Students of the Ayotzinapa school and parents of the 43 missing students take part in a protest in Guadalajara City on Nov. 18, 2014. (Héctor Guerrero/AFP/Getty Images)

U.S. law requires the State Department to regularly assess the Mexican government's progress on human rights. Congress can elect to withhold up to 15 percent of the Mérida Initiative's funding based on that assessment.
Researchers at the Washington Office on Latin America, a group that tracks U.S. security assistance to Latin America, argue that the State Department's most recent "15 Percent Report," published last year, is grounds for once again freezing the Mérida funds.
"What's interesting about last year's report is that it basically said there was enough progress to allocate the funds," Maureen Meyer, an associate at WOLA, told HuffPost. "We, and several other organizations, beg to differ on that."
Meyer says it appears that Congress has yet to disburse all of the money that is contingent on the 2014 human rights assessment. A much larger portion of the security assistance is still held up from previous years because the Peña Nieto administration has reworked the security strategy of its predecessor.
The State Department did not answer requests to specify how much funding Congress has tied up.
The latest "15 Percent Report" acknowledges that Mexican officials face credible allegations of serious abuses.
"Criminal organizations remain significant perpetrators of killings and other abuses in Mexico," the State Department report says. "At the same time, there are credible allegations against Mexican security forces of human rights violations and other abuses -- including those involving arbitrary detention, disappearances, unlawful killings, mistreatment, and torture. Violence against journalists and human rights defenders -- including murder, kidnapping, and threats, much of it with involvement of criminal organizations and corrupt officials -- is of particular concern."
The report also notes, however, that the Mexican government had made some progress in prosecuting military officials and police for torture and other abuses.
Arturo Viscarra, advocacy coordinator for the School of the Americas Watch, which helped organize the demonstration in Washington, echoed the concerns about the Mérida Initiative.
"This is a failed strategy," Viscarra told HuffPost. "All it's causing is more death. At the very least, the U.S. needs to show some measures of success. They refuse to that because it just shows how failed the [drug] war is."
For activists and human rights defenders on both sides of the border, the case of the missing students has become emblematic of the Mexican government's human rights failures. Police forces coordinated the attack and abducted the students, authorities have said. Reporting by investigative journalists Anabel Hernández and Steve Fisher, based on leaked documents from the attorney general's office, claims that police and military officials tainted the investigation by torturing key witnesses.
It's not an isolated incident of violence. A report by a U.N. fact-finding mission last month says that, in its effort to crack down on drug cartels, Mexico's military and police routinely use brutal methods against suspects, including beatings, electrocution and rape. The courts convicted just five people for torture from 2007 to 2013, even though Mexico's National Center for Human Rights received thousands of complaints of abuse during that period, according to the report.
Despite the pressure from human rights groups, the White House has avoided publicly criticizing Mexican officials. Instead, President Barack Obama has offered sympathy to the families of the students and lamented, in general terms, the violence Mexico faces. But he has stopped short of criticizing the Mexican government itself, throwing his support behind Mexican president Peña Nieto and his predecessor, Felipe Calderón.
"Obviously, we've been following here in the United States some of the tragic events surrounding the students whose lives were lost," Obama said on Jan. 6 after meeting with Peña Nieto at the White House. "Our commitment is to be a friend and supporter of Mexico in its efforts to eliminate the scourge of violence and the drug cartels that are responsible for so much tragedy inside of Mexico."
That tepid response to the Mexican government's involvement in abuses doesn't sit well with human rights organizations and members of the protest groups rallying behind the missing students.
Marselha Gonçalves Margerin, Amnesty International's advocacy director for the Americas, said it's common for the United States to refrain from publicly criticizing allies, regardless of how dire the human rights situation.
"It's very frustrating," Gonçalves Margerin told HuffPost. "One would hope that they are making criticisms behind closed doors if they're not doing it publicly."
CORRECTION: An earlier version of this story's headline described Angel Neri de la Cruz as having been "abducted" rather than "attacked." In addition, an earlier version of this article misstated Arturo Viscarra's title at SOA Watch.
Before You Go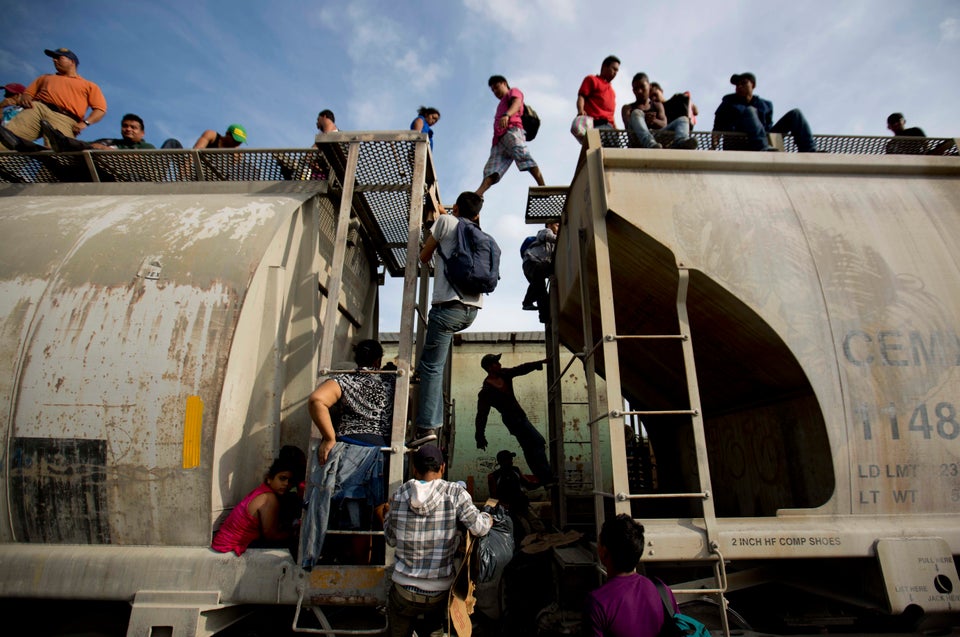 Why Latin Americans Really Come To The U.S.
Popular in the Community