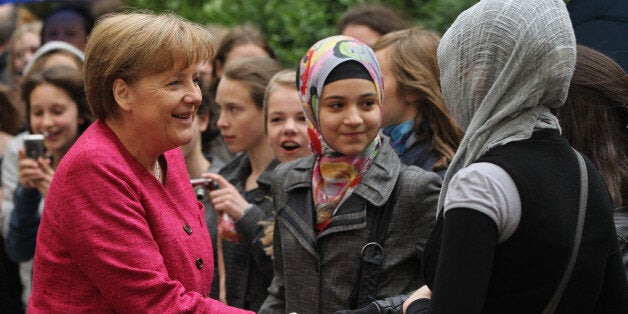 In his aim to expand Prussian power and territory, Frederick the Great, the
forged strong ties with the Ottoman Empire. In 1761 Frederick
trade relations with the Ottomans after courting them for two decades, and the following year the Ottomans
the Prussians with camels during Prussia's campaign against Austria in the Seven Years' War. Frederick also welcomed the Turks to Berlin,
while discussing the possible arrival of Turkish laborers, "If Turks come to Berlin, mosques must be built for them."
Johann Wolfgang von Goethe, Germany's greatest literary figure, was a true renaissance man who wrote prose, poetry, scientific pieces and many other influential works. Goethe developed a particular fondness for Islam and the Muslim world and his poem the "West-Eastern Divan" evokes Hafiz, the famous Persian poet. Goethe's comments on Islam have led to speculation about the extent of his commitment to the faith, for example, in the
: "If Islam means, to God devoted/ All live and die in Islam's ways."
Some no doubt will enquire about the position of that most monstrous and evil of men who murdered millions of people and almost destroyed Germany, Adolf Hitler, regarding the soft spot theory. In his case, we can also see evidence of the theory. Hitler voiced his admiration for Kemal Atatürk whom he
"a star in the darkness" and "the greatest man of the century." Hitler fancied himself, like Atatürk , a brilliant military general and a successful nation builder. Like Atatürk had done with Turkey, Hitler dreamt of forging Germany into a state based on a dominant ethnic group. Hitler even speculated about the possible consequences in history if Charles Martel had not stopped the Arabs at Tours, France, in 732 AD. The Germans, he then
, may well have converted to Islam and "would have conquered the world." During World War II, Nazi radio broadcasts to Muslims
the English and the Jews as "the common enemies of the Arab-Muslim world and of Germany" and popular songs honoring "Hajj Hitler" were composed in both rural and urban areas in North Africa. Hitler counted among his allies
the grand mufti of Jerusalem, and Hitler presented the blonde and blue-eyed mufti with a certificate
him an "honorary Aryan." But the Hitlerian contempt for non-Aryan peoples was difficult to suppress as Hitler is on record referring to Arabs as
I last met Professor
, the famous German scholar of Islam, when she came to have lunch with me in Sibi, Pakistan where I was a government commissioner in the late 1980s. Nothing about the speaker was ordinary and neither was this statement. She was widely loved in the land and was particularly inspired by
, the national poet of Pakistan. Both she and Iqbal are great bridges between German and Muslim culture, and in our fieldwork across Europe we had especially visited the sites in Heidelberg and Munich associated with Iqbal.
Popular in the Community