By Noah Barkin and Karolina Tagaris
ATHENS, Oct 9 (Reuters) - German Chancellor Angela Merkel flew to the heart of Europe's debt crisis on Tuesday, braving protests by angry Greeks to take a message of support -- but no new money -- to a near-bankrupt nation fighting to stay in the euro.
Europe's most powerful leader can expect a hostile reception by a people worn down by years of recession and austerity. Many Greeks blame Germany for forcing painful reforms on them in exchange for two EU-IMF bailout packages totalling over 200 billion euros.
Police have banned protests in most of central Athens and readied 6,000 officers, including anti-terrorist units and rooftop snipers, to provide security during the six-hour visit, Merkel's first since the euro zone's crisis first erupted in Greece in late 2009.
"Merkel should go home. Why is she here? She's hurt us enough," said Mina Botsi, 50, an unemployed mother of two. "The only thing she wants is more and more austerity. We can't take it anymore."
The German leader has several reasons for coming now. She wants to show support for Prime Minister Antonis Samaras, a fellow conservative, as he struggles to impose more cuts on a society fraying at the edges after five years of crippling recession.
At a joint news conference in the afternoon, Merkel is expected to confirm her desire to keep Greece in the euro zone, after members of her government flirted with the idea of an exit earlier this year.
With a year to go until Germany holds an election, Merkel also hopes to neutralise opposition criticism that she has neglected Greece and contributed to its woes by insisting on crushing budget cuts.
"Her visit to Athens is primarily about political positioning, and the opportunity to clarify her position on Greece," said Alex White, an analyst at J.P. Morgan.
He said the German chancellor was taking a "significant political risk" by travelling to Greece now.
Teachers, doctors and other public employees will stop work on Tuesday in a gesture of protest, while trade unions and opposition political parties said they would take to the streets, risking confrontation with police.
Demonstrations in Athens have a habit of turning violent, hijacked by radicals armed with petrol bombs and rocks ripped from the streets. German sites, including the embassy and Goethe Institute were under special protection.
One the eve of the visit, thousands of trade unionists rallied on Syntagma Square outside the Greek parliament building, waving national flags. Among banners were slogans that included: "Don't cry for us, Angela" and "Angela, you are not welcome."

Greece is locked in talks with its "troika" of lenders - the European Union, European Central Bank and International Monetary Fund - to secure the next tranche of a 130-billion-euro ($170-billion) loan package, its second bailout since 2010.
Without the 31.5-billion-euro tranche, Greece says it will run out of money by the end of November.
But many Greeks say they cannot take more of the wage cuts and tax hikes that have left a quarter of the workforce jobless and slashed the country's economic output by a fifth since the crisis started.
"I know that Greece is not going through an easy time at the moment," Merkel acknowledged on Monday.
Ties between the two countries run deep. Thousands of Greeks came to Germany there after World War Two as "guest workers" to help rebuild the shattered country and more than 300,000 Greeks currently reside there.
But relations are also clouded by the atrocities Greeks suffered at the hands of the Nazis during World War Two.
Samaras' own great grandmother committed suicide when she saw Nazi tanks rolling down the streets of Athens after Germany occupied Greece, flying the swastika flag from the Acropolis.
Greek President Karolos Papoulias, whom Merkel will also meet on Tuesday, fought against the German Wehrmacht as a teenager, before fleeing to Cologne to escape persecution by the Greek military dictatorship.
The crisis has revived long-dormant animosities, with Greek protesters burning effigies of Merkel dressed in Nazi gear and German media playing up images of lazy Greeks keen for German cash.
Relations between Berlin and Athens hit a low early this year when Merkel's finance minister, Wolfgang Schaeuble, likened Athens to a "bottomless pit" and proposed imposing a European "Sparkommissar" on Greece to control its finances.
Merkel is scheduled to meet Samaras, Papoulias and representatives of Greek business. Samaras, who won power in June, will greet Merkel at the airport.
The timing of the visit, showing Merkel very publicly with the new premier, suggests growing trust in the Greek leadership under Samaras, after a litany of broken promises and stalled reforms under the previous administration.
But she is not expected to offer him any concrete promises of aid or other concessions before the "troika" publishes its latest assessment of Greece's reform progress in late October or early November.
"The average German voter is irritated at the thought of dispatching more taxes or savings to feckless southerners, yet is desperate for the respect and goodwill to Germany that comes from public displays of magnanimity," said David Marsh, chairman of think tank OMFIF. "When Merkel flies to Athens, she's showing she's in charge, and she cares.

Related
Before You Go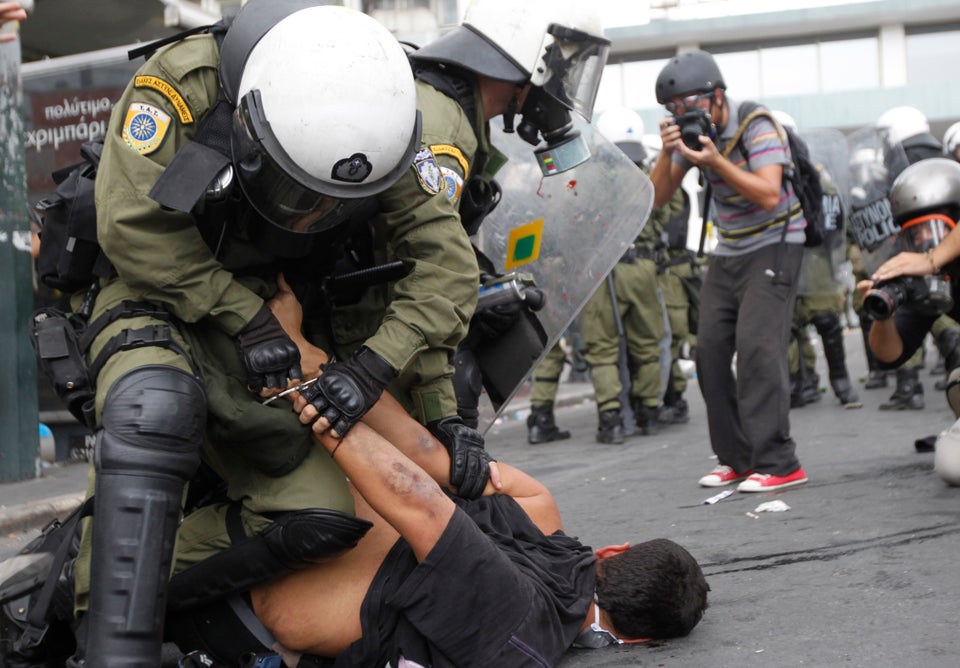 Greece Protests
Popular in the Community