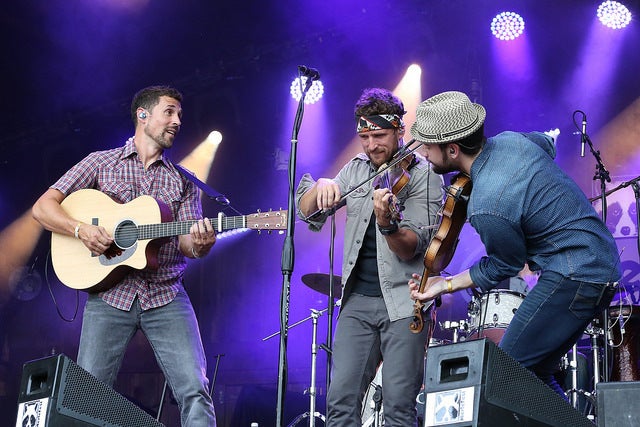 The good people at MerleFest on Sunday night released a piece about the North Carolina festival, which ended that day.
The well-written, in-depth story talked about how more than 100 acts performed in celebration of Doc Watson and his music. About how some 74,500 people attended the venerable event, now 29 years old. How the great John Prine played 40 extra minutes, because he was having so much fun.
It's a wonderful story. Well written and well reported.
But for those who were there — at Wilkes Community College this past weekend — the story wasn't completely necessary.
"MerleFest moments," they're called. Things that last forever, tucked away for safekeeping but there when you need them.
A Scythian fiddle song playing in your head. Warm and bright.
Humming to Jerry Douglas and his dobro. Soothing, soulful, unforgettable.
MerleFest, the news release says, has become the primary fundraiser for the WCC Endowment Corporation, paying for scholarships, capital projects and other educational needs.
Scythian brought me to MerleFest. I've never left.
For years my wife pleaded with me to attend. Wasn't my thing, I told her. Sorry, not interested. Several years ago she returned from MerleFest, opened the door, walked in and handed me a CD — Scythian's "American Shanty." Listen to this, she told me. I did, eventually, and I was immediately enthralled.
Scythian is Celtic and old-world rock finished with a splash of bluegrass. A double-shot of energy and high-proof rhythm, from a group of the most genuine people one would ever meet. Watch the band live and try to sit still. I dare you.
To get to MerleFest, says Scythian's Dan Fedoryka, the band "crawled through the kitchen window." The festival, many years ago, didn't book Scythian. But the band played anyway.
Outside the gates, as people lined up for shuttles to cars and campsites. Scythian now — for several years running — plays several shows at each MerleFest, and this year the band introduced us to We Banjo 3, an Irish quartet transcending even the best of superlatives.
Everyone who attends MerleFest probably misses a great performance. But they surely hear about it.
As I sat on a steep hill awaiting another incredible Album Hour from The Waybacks, I overheard a man talking about how he used to volunteer for the festival. He doesn't anymore. The allure of the Album Hour lies in its inherent mystery, amplified by a series of vague clues leading up to the show. The band plays an album — start to finish. They just don't tell you what it is.
That year, the man said, The Waybacks did Jimi Hendrix. He heard so many great reviews he decided he would never miss another Album Hour. This year The Waybacks reprised "Their Greatest Hits" from the Eagles, a set that also paid tribute to — like Glenn Frey — great artists who are now gone. The band — joined by Nicki Bluhm, John Oates, Jim Lauderdale, Sam Bush and others — finished the set with Prince's "Purple Rain."
Yes, it was that good. Better, actually.
In a rare moment during this festival my wife and I found a free minute to explore. To find a new band. We found Shinyribs featuring Kevin Russell playing to a huge crowd at the Americana Stage. Think Frenchmen Street on a Friday night.
On Saturday we watched rising stars the Will Overman Band pack the Plaza Stage for a three-song set as part of the MerleFest Band Competition, won by Asheville's "newgrass" Fireside Collective.
Fedoryka says MerleFest, simply put, is a family of 80,000 people.
"For a musician, this is the one festival where I feel I'm not at a festival; I'm in someone's living room," Fedoryka said. "This is our festival, our family. Let us show you a good time."
We thank you, from the bottom of our collective hearts.
See more from John Trump at halfwaysouth.com. Email him at halfwaysouth@gmail.com.
Popular in the Community