It's no secret MerleFest fans have made the annual trek for the past 29 years to North Carolina's Wilkes Community College during the last weekend of April to hear their musical folk heroes perform live.
What's less obvious is the musicians themselves look just as forward to the annual event honoring the music of the late, great Doc and Merle Watson because it gives them the chance to rub elbows, possibly jam or even get discovered by their own musical heroes.
"This is ground zero for music," said David Howley of We Banjo 3, a popular Irish quartet that played MerleFest 2016 for the first time thanks to a little help from their friends, Scythian. "This is where it all goes down, this is where new tunes are written, new songs, new friendships happen, and new bands are discovered. This is like creative heaven."
It's also where Doug Seegers, better known by the moniker "Duke the Drifter," experienced a shock of a lifetime, while attending and performing at his first MerleFest.
"I was having dinner at a local restaurant and my tour manager ... said Peter Rowan wanted to meet me and record one of my songs today," he said during a press conference. "I was in shock. I went up that hill and met Peter Rowan for the first time. I never dreamed of chance to have him sing harmony on one of my songs. I thought: 'Did I die and wake up on another planet?' "
Seegers explained Rowan had been one of his idols since back in late 70s. He sang one of Seegers' gospel tunes, "Will You Take the Hand of Jesus." "What a treat, what an honor. It was just a wonderful, wonderful experience," Seegers added.
John Oates, yes that Oates who more than occasionally still performs with the TV star of "Live at Darryl's House," was also new to MerleFest. He credited his friend and mandolin virtuoso Sam Bush (who hasn't missed a MerleFest) with helping him finally get to play there. "It's been a long journey," said Oates, who played with Doc a few times in Oates' hometown of Philadelphia in the 70s. "It's a festival I wanted to play for a long time and thanks to Sam, I am here."
And Bush, also known as the father of "Newgrass," who's played with just about everyone on every stage over the years, added, "Right here at MerleFest I've gotten to play with people I'd never thought I'd meet and I want to keep meeting new musicians here."
Oates was "thrilled" to play with The Waybacks on this year's Hillside Album Hour tribute to The Eagles Greatest Hits 71-75. After jamming with The Waybacks' James Nash on "Witchy Woman," Oates said, "What a great band, James Nash is so talented, so clever ... I was just happy to do it. I hope I get invited back."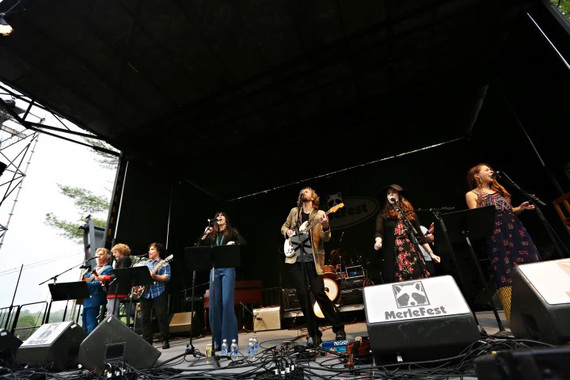 Scythian members and brothers Dan and Alex Fedoryka have been playing at MerleFest for a decade. "This is our festival, this is our family," Dan explained during a press conference.
Scythian asked the festival to let their buddies, We Banjo 3, join the family this year. And Howley and his bandmates are more than thrilled to become members.
"We're so thankful to MerleFest for giving us this opportunity," Howley said. "The bands are not competing with each other. We are all family and we help each other out and I think that's what's really special about this place."
There is such a high level of musicianship at MerleFest it can be overwhelming to stand on the Watson Stage where so many greats have played before, Howley added. "You're standing on stage where 100s of other amazing musicians have played and you realize some of them are listening to me and it's terrifying."
The Fedoykas credit some of those musicians with changing the musical trajectory of Scythian. "When we came here, we were playing primarily Irish tunes," Alex explained. "The whole spirit of jamming was foreign to us. We were so blown away by the different styles and we knew we wanted to play more Americana music. We were jamming around campfires, staying up all night and meeting random fiddlers. It's such an electric atmosphere."
Dan added, "One of the most charming aspects of MerleFest is that it makes festival attendees feel like owners. We took the MerleFest model and applied it to our own Appaloosa festival. It's from the roots up. It's built on family and it's very organic."
Indeed. All of the bands that come to MerleFest "are like family to us," explained Chelsea Kilgore, while eating lunch backstage with her husband and son. The 23-year-old is Doc's great-grandaughter, Merle's granddaughter and Richard's niece. "It's like a family reunion for us because they share all of their memories with us."
Old Crow Medicine Show leadman Ketch Secor's credits Nancy Watson bringing her dad down from his home in Deep Gap to hear the band play outside of Boone Drug as the biggest break OCMS ever had. "I don't think we would have made it if we hadn't met Doc and played MerleFest," he says.
His bandmate of nearly two decades, Critter Fuqua agrees. "Meeting Doc was the real lynchpin and the key. Meeting him and seeing him it was something supernatural. We wouldn't have been the band we are now. I would have been a manager at Subway in Boone."
I also felt something almost supernatural as I watched Dan Fedoryka talking intently with Secor outside the artists' tent on Friday shortly before OCMS would take the stage and tear it up to the packed festival grounds. It was one of those MerleFest moments you can only experience there. Dan Fedoryka told me later while he had met Secor briefly before, he was so grateful for the opportunity to get to actually talk to one of his idols one-on-one for the first time. Doc would have loved it.
Popular in the Community