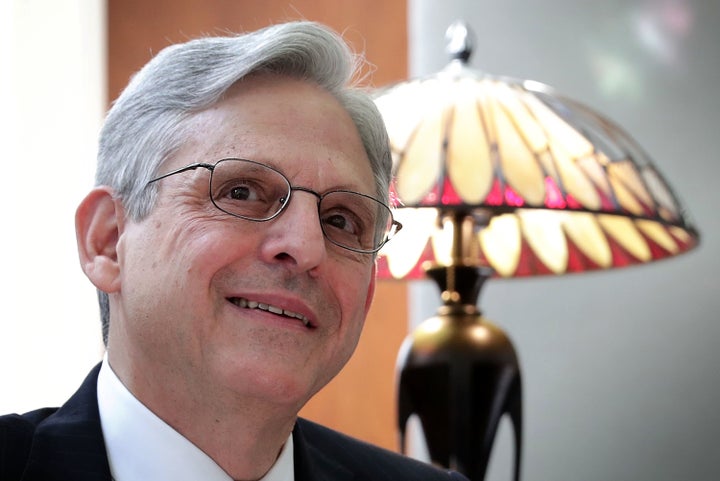 WASHINGTON -- Two prominent civil rights organizations just released their evaluations of Supreme Court nominee Judge Merrick Garland's record this week and agree that he's highly qualified for the job, though both would like to hear more about his judicial philosophy.
"Judge Garland is, without doubt, highly qualified to serve as a justice of the Supreme Court," the Legal Defense Fund's report states. "He maintains a steadfast respect for the doctrinal and technical contours of the law, forges narrow, carefully reasoned opinions, and builds consensus."
The Lawyers' Committee believes Garland to be "exceptionally highly qualified." Along with its report, the group addressed a statement, signed by the 150 members of its board of directors, to Senate Majority Leader Mitch McConnell (R-Ky.) urging the Senate to "fulfill its constitutional role and grant Judge Garland fair consideration and a full Senate floor vote." 
On the topic of employment discrimination, the Lawyers' Committee noted that Garland does not "evidence an ideology tending to favor either employees or employers," but that he allows the plaintiffs to be heard on their merits.
The Legal Defense Fund pointed to the 1999 case of Anderson v. Zubieta, in which Garland ruled against an employer accused of wage discrimination against U.S. citizens of "Panamanian and Hispanic descent."
Though Garland has had few opportunities to rule on matters of housing discrimination, his record shows that he has supported tenants facing what is called "source of income" discrimination. In the 2008 case of Feemster v. BSA Limited Partnership -- a case highlighted by both groups -- the judge ruled that a landlord violated D.C. and federal housing laws in refusing to accept Section 8 vouchers as a form of payment.
"Section 8 tenants' right to stay in their homes and pay with vouchers was secure unless and until their tenancies were validly terminated under local law," Garland wrote in that ruling.
The two civil rights groups expressed some concern about the influence that Garland's history as a prosecutor and Justice Department official may have on his decision making.
According to the Legal Defense Fund, that "professional experience and perspective as a longtime former federal prosecutor are apparent" in how he approaches criminal cases. The Lawyers' Committee noted that he "very rarely votes to reverse criminal convictions" and that in his "many opinions affirming criminal convictions and sentencing, Judge Garland frequently emphasizes the strength of the prosecution case against the defendant in finding alleged errors to be harmless."
Among other criminal justice issues, Garland has repeatedly sided with the government when it is accused of overstepping the limits of the Fourth Amendment, which protects citizens against unreasonable searches.
In the 2002 case of United States v. Bookhardt -- mentioned by the Legal Defense Fund -- he upheld the constitutionality of a defendant's arrest, while agreeing that the defendant was arrested without probable cause, which is a constitutional requirement. He reasoned that the arrest was justified on other grounds.
Despite these issues, both civil rights groups called for an "immediate" and "prompt" hearing on Garland's nomination in the Senate. But so far that lawmaking body remains determined to wait for the next president to weigh in.
Calling all HuffPost superfans!
Sign up for membership to become a founding member and help shape HuffPost's next chapter