WASHINGTON ― Going on vacation doesn't make all your problems go away, as Congress will find out as it returns from its seven-week break. The budget is still set to run out, Zika is still spreading and the Supreme Court is still missing a ninth justice.
And on Wednesday, supporters of Merrick Garland will make sure that the public remembers Congress has work to do as senators try to awkwardly look the other way.
Senate Minority Leader Harry Reid (D-Nev.) took to the floor Tuesday morning and said Democrats will prevent committees from fully functioning until Republicans agree to move forward on Garland:
To show the American people's absolute disgust with how Republicans have treated Merrick Garland's nomination, starting today, I'm objecting to committees meeting for other purposes until the Judiciary Committee schedules a meeting to consider Judge Garland's nomination.

If the Republican leader thinks there is a committee that needs to meet because of extraordinary circumstances, I would be pleased to consider his request. But in the meantime, as of today, we're objecting to committees meeting, in line with the rules of the Senate.
As The Hill notes, Senate rules require unanimous consent for committees to meet after the Senate has been in session for two hours or after 2 p.m. That consent is normally granted without any controversy. So Reid won't be able to block all committees from meeting, but he will be able to significantly restrict the time in which they can do so.
"Hard to complain about obstruction or things not getting passed or nominees not being confirmed when you're slowing down the work of the committees though, right?" said Don Stewart, spokesman of Senate Majority Leader Mitch McConnell (R-Ky.). "And it inconveniences the Democrat members of the committee just as much as Republicans; Democrat-called witnesses as much as GOP."
"It's not an effective or sustainable position," he added.
President Barack Obama first nominated Merrick Garland, the chief judge of the D.C. Circuit Court of Appeals, to the Supreme Court on March 16. Garland still has not received any hearings before the Senate Judiciary Committee. Republicans have vowed to block him not because of his qualifications but because they say Obama shouldn't get to choose the replacement for the late Justice Antonin Scalia. They instead want the next president to choose, hoping that Donald Trump wins the election.
A group of Garland's former clerks will hold a press conference Wednesday morning at the Supreme Court, pressing for a vote. The event is organized by We Need Nine, an advocacy group pushing for Garland's nomination.
The clerks will then hold meetings on the Hill, including with the offices of Sens. Bob Casey (D-Pa.), Kirsten Gillibrand (D-N.Y.) and Pat Toomey (R-Pa.). Sen. Kelly Ayotte's (R-N.H.) office declined to meet with them. Her spokesperson did not return a request for comment.
The events will be part of an effort to renew the push for Garland, even as Republicans like Sen. Chuck Grassley (R-Iowa), who chairs the Judiciary Committee, say they won't budge on giving him a vote.
McConnell "has been crystal clear for the last seven months," an aide to the senator told Reuters. "The next president will select the nominee."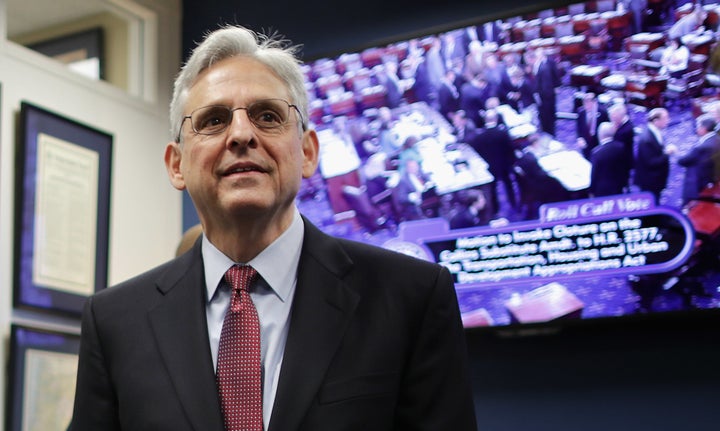 This sort of political obstinance is sad and frustrating to Garland's former clerks, who say they can't imagine someone more qualified to be a justice. They will try to show Wednesday why those who know the judge best believe this is such an important issue. Temple University law professor Craig Green, who clerked for Garland from 2000-2001, called the delay "dangerous and disgraceful."
"I think you can expect the Garland nomination to be brought up in any future scenario in the fourth year of a presidency not to confirm a justice for purely partisan reasons," Green predicted. "Again, the thing I just keep coming back to is, you never need a Supreme Court until you do."
"He's just not getting a fair hearing and an opportunity for the American people to hear more about his story, to hear him answer any questions that senators may have," added David Zionts, who clerked for Garland from 2008-2009 and is now a lawyer at Covington and Burling. "It's unfortunate that someone who has given back so much to the country and who has really been a model judge can't get a hearing on the merits and can't have his record considered on its own."
Garland has engendered deep loyalty from his clerks. Sixty-eight of his former clerks signed a letter in April urging the Senate to confirm him. The only three who withheld their signature did so because they're currently clerks for Supreme Court justices.
"You never need a Supreme Court until you do."
Erin Murphy, a law professor at New York University who clerked for Garland from 1999-2000 and helped organize the clerks' letter, said the judge goes above and beyond in mentoring the people who work for them, keeping in touch and hosting an annual reunion for all the clerks at his house. She rescheduled the class she teaches Wednesday in order to travel to Washington to help her former boss.
"In his professional career, his good judgment is evident, [as are] his thoughtfulness and his carefulness and his care and his humanity, but it's also true for his personal judgment," she said. "So a lot of us look up to him as someone who's made the kind of life for himself that we aspire to both personally and professionally."
All three clerks couldn't believe that a man who has worked so hard to separate himself from politics has been caught up in this firestorm. Garland is widely known as a moderate, centrist judge ― which was a bit of a disappointment to some progressives who were hoping Obama would nominate someone more to the left.
Green said he remembered Garland as one of the only people he knew not rooting for a side when the Supreme Court was deciding Bush v. Gore after the 2000 elections.
"He was as attentive as the rest of us," Green said, "but it didn't really strike me until later that he didn't follow it with the same sort of attitude that I and most everybody I knew followed it with ― that kind of rooting interest."
"To see a judge who we know embodies all of the best values of the judicial branch ― the impartiality, the deep respect for the constitution, the deep respect for the rule of law, the commitment to those principles above all other things ― to see him dragged into this kind of muck," Murphy added, "is heartbreaking."
UPDATE: 10:25 p.m. ― The Reid announcement was already having an effect Tuesday night. The Senate Foreign Relations Committee announced that its hearing on the Comprehensive Nuclear Test-Ban Treaty originally scheduled for 2:30 p.m. Wednesday would now be at 10:00 a.m. A spokesman confirmed they moved it because of Reid's new policy.
UPDATE: Sept. 7 ― Reid is no longer holding up committee hearings. His office said "it had the intended effect ― it got McConnell's attention and McConnell is now offering us paths forward on our priorities. We'll take it on a case by case basis moving forward."
Reid also told reporters Wednesday, "Quite frankly we kind ofgot what we wanted. ... We wanted to make sure we got something on Zika. We've been given that, McConnell's word, that's what he's going to do."
Republicans have not yet budged on giving Garland a hearing.
Popular in the Community