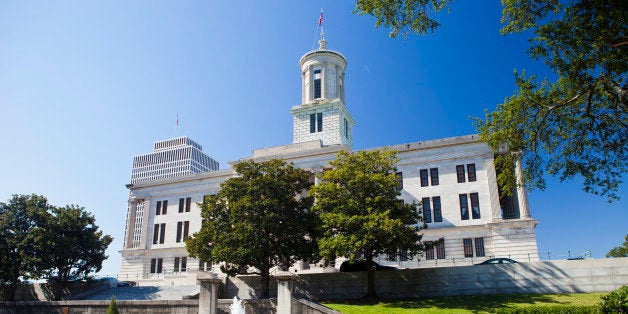 State Sen. Stacey Campfield (R) hasn't been able to identify a specific instance in which the words "Merry Christmas" or "Happy Hanukkah" have been imperiled in Tennessee, but he isn't taking any chances.
Earlier this week, Campfield pre-filed a bill for the next legislative session designed to ensure that "traditional greetings" about "winter celebrations" are protected this winter.
"This stops all these silly lawsuits that say you can't say 'merry Christmas' or 'happy Hanukkah' or have a Christmas tree," Campfield told the Knoxville News Sentinel.
Campfield suggested the ACLU would make an issue out of the holiday greetings. The ACLU suggested Campfield was wrong.
"Sen. Campfield is envisioning a problem that does not exist," Hedy Weinberg, executive director of the Tennessee ACLU, told the News Sentinel. "As Gov. [Bill] Haslam (R) has said, legislators should not be filing legislation just to be wasting paper, and this seems to be one of the things that would be in that category."
Concerns about the so-called war on Christmas prompted similar legislation in Texas earlier this year. Like the latest version, that bill allowed public school teachers to say "Merry Christmas" or "Happy Hanukkah" and display Christmas trees, nativity scenes or menorahs, as long as such winter displays represented more than one religion or included secular symbols.
Campfield has a flare for controversy. He's the Republican behind Tennessee's controversial "don't say gay" bill, a proposal that he's introduced multiple times designed to stop teachers from discussing sexuality with their students. Earlier this year, Campfield also introduced a bill to tie welfare benefits to the school grades of would-be recipients' children.
Calling all HuffPost superfans!
Sign up for membership to become a founding member and help shape HuffPost's next chapter
BEFORE YOU GO
PHOTO GALLERY
SAY WHAT?! The Strangest Bills Of 2013