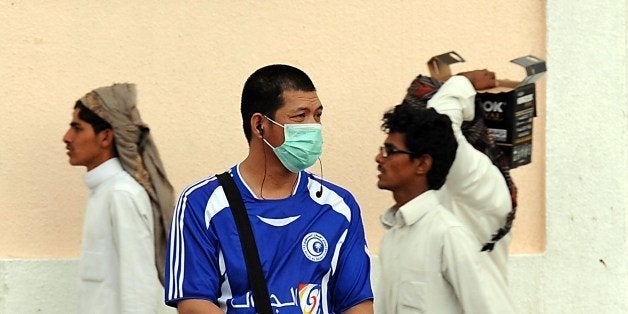 A recent spike in a deadly virus that has swept across much of the Middle East, prompting fears of a global pandemic, was likely the result of a seasonal uptick and poor health care procedures by the government of Saudi Arabia, the World Health Organization reported on Wednesday.
"The upsurge in cases can be explained by an increase, possibly seasonal, in the number of primary cases amplified by several outbreaks in hospitals due to breaches in WHO's recommended infection prevention and control measures," WHO said in a statement. "There is no evidence of sustained human-to-human transmission in the community and the transmission pattern overall remained unchanged."
The conclusions, made after a five-day investigative visit by a team of public health experts to Jeddah, Saudi Arabia, come as a reassurance to many who had watched as confirmed cases of the virus, which is known as Middle East Respiratory Syndrome, or MERS, rose dramatically. In April alone, the number of cases exceeded the previous two years of testing, bringing the total number of sick patients to around 500. About a third of all people infected with the disease die, according to the Centers for Disease Control, and there is no known vaccine or cure.
MERS, which was first identified in 2012, has remained relatively contained because it is difficult to spread between humans, and some observers speculated that the spike in April might be associated with a mutation in the virus that made it more contagious.
But experts cautioned that a spike in cases could also be explained by a number of other factors, including a demonstrated tendency of the virus to be more active during the early spring, and a higher vigilance for testing.
"It doesn't appear to have done that," Dr. Michael Osterholm, the director of the Center for Infectious Disease Research and Policy at the University of Minnesota, told HuffPost last week of the possibility of a deadly mutation. "If it had, we might expect to see more efficient human-to-human transmission, including in areas outside of Saudi Arabia."
This was reinforced by WHO's new study, which stated, "Current evidence does not suggest that a recent increase in numbers reflects a significant change in the transmissibility of the virus." It suggested that much of the spike was also due to infections caught directly from camels, the animal that is believed to have introduced the virus into humans.
But doctors say that isn't the end of the road for MERS. With every new infection, the danger of a deadly mutation increases, along with the possibility that the next season's outbreak will be much deadlier than the one before. And as long as Saudi health care measures are lax, the risk of a further outbreak linger.
"With a virus like this, you have to view this as a journey, not a yes or no event," Osterholm said. "This is a very fluid situation. Don't be surprised if we suddenly start to see it go away -- just be aware that it will come back next spring."