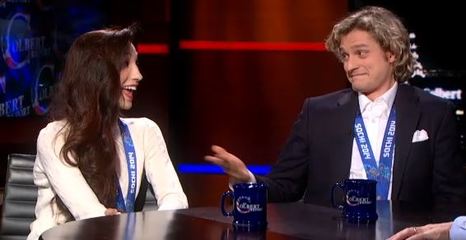 Okay, I'm sorry. Even Stephen Colbert couldn't help fawning over these two the other night --neither can I.
If you could bottle whatever it is Meryl Davis and Charlie White have that makes them such a joy to behold... it still probably wouldn't work for anyone but them. Kinda like Charlie's bionic blond hair.
They arrived at just the right time, not just during the Olympics, but also for this country, I think. The Olympics didn't pan out anything like we expected -- Shaun White, Shani Davis... just... the whole feel of the thing was dicey. Like we weren't totally "in it" this time.
And of course, Putin had already slammed Obama for saying that Americans were "exceptional." In his OpEd piece for the New York Times, he's quoted as saying, "It is extremely dangerous to encourage people to see themselves as exceptional, whatever the motivation." Granted he was talking about American foreign policy, not... ice dancing. But when I look at these two both on and off the ice, I think, "Yeah, but... we have young people like this, though, dude."
If they're not exceptional -- especially after earning the highest score for ice dancing, ever, at the Olympics -- I'm done.
And here's the thing. I'm not one of those people always harping at the press for not reporting any "good news." Far from it. I tend toward a more cynical world view -- the "dark side," decidedly.
But as Colbert said, there were grown men tearing up over that gold medal performance. And I was right there with them, biting my nails and watching Charlie's hair do things that just didn't seem humanly possible while they were both doing things that didn't seem humanly possible in that routine.
We "bonded" that night, many of us, watching that performance -- not just with the two gorgeous young things twizzling around the ice but with each other. I think we sometimes feel guilty, Americans, when we feel unabashed pride in moments like that. It's corny, it's... jingoistic.
But it's also good for us, every now and then, to see something that speaks well of us. Something that says that in spite of all our obvious problems here in America, there are parents raising wonderful children who perform with poise and dignity in almost any situation -- go watch them charm crazy Colbert. They're always like that.
They giggle and guffaw, they tease and tell stories. And they answer questions gracefully and thoughtfully -- even the one that everyone just cannot help asking. You know the one:
"C'mon, you're a couple, right? You hugged her and told her you loved her on in front of millions of people that night -- c'mon! You can't fool me!"
Colbert asked it several times. They denied it several times. Laughing, not smirking. It's as if they've agreed that if the world needs to believe "The Fairy Tale," so be it. They know who they are and how they feel about each other -- and that they are, for now, media darlings who will just have to be patient with us for a while longer.
But mostly, they're just a coupla ridiculously talented, infectiously happy and almost impossibly beautiful people who really do look like a Disney prince and princess as has been said probably too many times. I'm not a fan of Disney movies, either, really, but they almost make that whole Prince Charming thing -- the one that tricks so many of us women into believing The Fairy Tale -- feel real.
Watch Stephen Colbert gush -- the link's there. Click it.
Don't be scared. This is a bona fide American feel good story. Wallow in it while it lasts.
Image credit: Author screenshot/The Colbert Report, February 26, 2014
REAL LIFE. REAL NEWS. REAL VOICES.
Help us tell more of the stories that matter from voices that too often remain unheard.