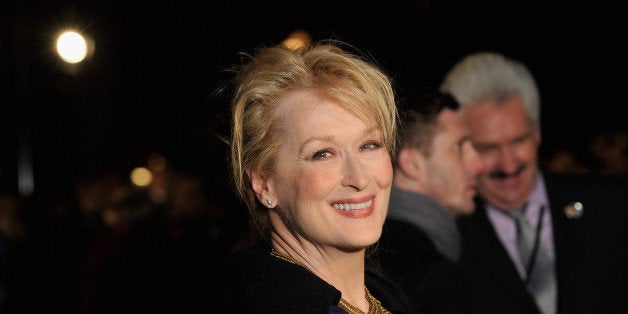 Happy birthday, Meryl Streep! Hollywood's indisputable sweetheart is 65 today and we can't believe it. Not only is she looking fantastic, but the woman is on fire. Over 35 years since her first Oscar win as a newcomer to Tinseltown, Queen M was a nominee for the 18th, yes, 18th, time at this year's Oscar's for her performance in "August Osage County," making her the most nominated actress in history. And though she's a bit older than the average Hollywood actress, she's defying all odds, still being one of the industry's most sought-after actresses with several upcoming films in the works.
We get it, Mer. You're unstoppable. Here are nine reasons Meryl will always be the woman of our dreams. (Is there anything she can't do?)
1. She's one smart cookie.
She's played a prime minister and an Editor-in-Chief on screen, but Streep would have been just as successful if Hollywood hadn't come knocking. She attended both Vassar College and Yale's School of Drama. In fact, she reportedly had applied for law school, but ended up oversleeping the morning of her interview and took it as a sign that she was destined for something else.
2. Her many accents.
From a sassy Southerner, to British iron lady, to a straight-talking nun in the Bronx, the
-made actress can pull off any, we mean
any
, accent like a native. Here's the proof.
3. She's charitable.
Her enviable designer duds from "The Devil Wears Prada" were auctioned off for charity at her suggestion. She donated her entire salary ($1 million) from "The Iron Lady" to the National Women's History museum. And recently it was uncovered that Streep and her husband, Don Gummer, have donated around $1 million to a variety of causes, including Meals On Wheels and the Coalition for the Homeless, quietly through their charity, the Silver Mountain Foundation for the Arts. Saint Meryl?
4. Her body confidence.
There's nothing sexier than confidence and well, Meryl just wears it well. "I wasted so many years thinking I wasn't pretty enough and why didn't I have Jessica Lange's body or someone else's legs?" Streep said in a 2009 interview. "What a waste of time. Now I'm enjoying the tatters of what's left and I'm very happy. Part of it is having beautiful strong daughters and hearing them whine about what's wrong with them. I'm like, 'Shut up! You're lovely!'"
5. She's grounded.
You won't see any diva-like behavior here. "I try to lead as ordinary a life as I can," Streep has been quoted as saying. "You can't get spoiled if you do your own ironing."
Perhaps it was her humble start that keeps her so down to earth. Streep waited tables in her 20s and once didn't even have a place to sleep at night.
"On my very, very first trip to London I went around busking to earn a few pennies to afford some food and overnight accommodation," she told Closer Magazine. "One night, when I hadn't made enough, I actually slept in the open in Green Park under a tree. The view from the park was of the Ritz hotel, and I vowed to myself that night that I was going to stay there one day -– and I have."
6. She has a kickass marriage.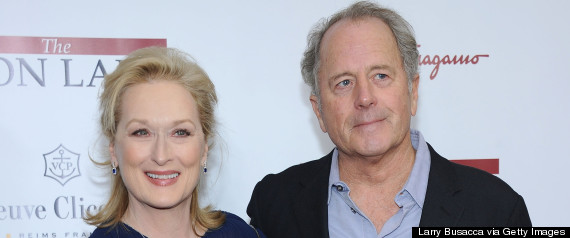 Streep has been married over 35 years to sculptor Don Gummer, avoiding the "Oscar Curse" many times. Streep has said the key to her marriage has been communication about everything, no matter how small and to embrace your differences. "I go to the theatre a lot," she told The Independent. "My husband doesn't care if he never goes to the theatre but I don't berate him because he doesn't want to go to the theatre ... we're different."
7. She's embracing aging, gracefully.
Streep has had some of her most challenging and memorable roles after turning 50, though the majority of roles in Hollywood are for younger women. "The good thing about getting older is that when they actually do cast you it's often something interesting," Streep said in an interview with Good Housekeeping. "You have to embrace getting older. Life is precious... each day is a gift."
Earlier this year Streep was honored at the Palm Springs International Film Festival and said, ""I feel like I'm an example now in my dotage of the fact that you just can't put those old gals out to pasture. We've got a lot of stuff still to say." You go girl!
8. She's a feminist. She's no doubt played some strong female figures -- Britain's only female prime minister Margaret Thatcher in "The Iron Lady" to culinary genius Julia Child -- but she still thinks women are underrepresented in Hollywood and beyond. "'It would be nice to have a woman President. I think half the Senate should be women, half of Parliament, half the ruling mullahs" she once said. It seems she's a big fan of Hillary Clinton too.
Streep has also been outspoken about the sexualization of women in Hollywood. Following "the period when a woman was attractive and marriageable or something—not 'marriageable.' F******* I guess is the word…they really didn't know what to do with you…" She said in an interview with Vanity Fair. Streep credits her success to not being pigeonholed in the same way.
9. She's perfectly comfortable in her own skin, and that's what makes her a great role model.
"For young women, I would say, don't worry so much about your weight. Girls spend way too much time thinking about that, and there are better things," Streep said after being awarded an honorary degree earlier this year. "For young men, and women, too, what makes you different or weird, that's your strength. Everyone tries to look a cookie-cutter kind of way, and actually the people who look different are the ones who get picked up. I used to hate my nose. Now, I don't."
Calling all HuffPost superfans!
Sign up for membership to become a founding member and help shape HuffPost's next chapter
BEFORE YOU GO
PHOTO GALLERY
Meryl Streep, Tommy Lee Jones and Steve Carell In 'Hope Springs'