Meryl Streep knows a thing or two about winning Academy Awards, owning the red carpet, and making movie history. But the mom-of-four also has a wealth of experience in the breastfeeding department.
During her appearance on BBC's "The Graham Norton Show" last week, the actress shared the story of a breastfeeding mishap she experienced at the Golden Globe Awards in 1980.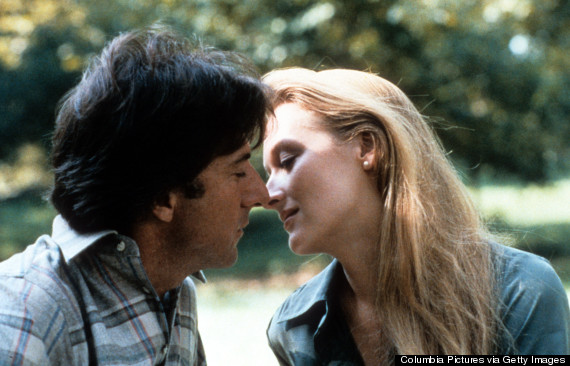 Dustin Hoffman kisses Meryl Streep in a scene from the film 'Kramer Vs. Kramer,' 1979. (Photo by Columbia Pictures/Getty Images)
"The first awards were very different," she explained. "It was a little afternoon event recorded on CCTV for the L.A. County area only. It started at lunchtime and went on forever." Sitting in one place for so long was a recipe for disaster for the new mom. Streep recalled:
"I was there for 'Kramer vs. Kramer' just after giving birth to my first child. In those days they didn't lend dresses and I didn't have any money to buy something so I wore my wedding dress. It was a perfectly nice white silk dress, but the luncheon went on and I was breastfeeding and two o'clock came, three o'clock came and 'boom,' I started to lactate! In a white silk dress!"
Remaining calm, the pro handled it as best she could -- even when, unsurprisingly, she won the award for Best Supporting Actress. "It was not good and I sat with my arms crossed over my chest," the actress continued. "They called my name and I walked to the stage with my arms crossed and accepted the award one-handed, while still covering my breasts. They must have thought I was so odd. It was so embarrassing. But only to L.A. County -- no one else saw!"
To lactating moms everywhere, Meryl understands your struggles!