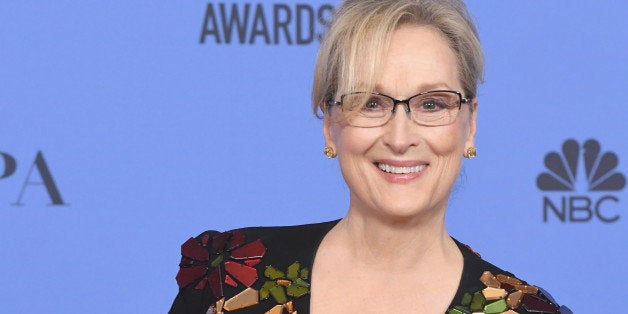 There's been a lot of discussion around Meryl Streep's speech at the Golden Globe awards. Without mentioning his name, she forcefully called out president-elect Donald Trump's conduct during the campaign, particularly what many perceived as his mocking of a disabled reporter. "Disrespect invites disrespect, violence incites violence. And when the powerful use their position to bully others, we all lose."
What's sad for me is that in this day and age, we have to look to the entertainment industry for moral guidance. They are filling a huge vacuum created by the deafening silence from the leaders of my church, and from other faith leaders.
Consider how the US Conference of Catholic Bishops (USCCB) mobilized to oppose the contraceptive mandate in the Affordable Care Act. They supported groups that took the administration to court, and launched their "fortnight for freedom," acting as if the church was under assault by requiring employers to not block a woman's right to birth control. (The ACA does not require churches to pay for contraception, just to agree to its availability via insurance coverage. But that was bridge too far for some Catholics.)
We Catholics heard about the "fortnight for freedom" and the crisis of religious liberty in the U.S. for a lot longer than two weeks. The mobilization began in 2012, and was still going strong in 2016. Here's how Baltimore archbishop William Lori framed it in 2013: This year's Fortnight occurs just weeks before August 1, when the administration's mandate coercing us to violate our deeply-held beliefs will be enforced against most religious non-profits. During the Fortnight the Supreme Court's decisions on the definition of marriage will likely be handed down as well. Those decisions could have a profound impact on religious freedom for generations to come.
During these "fortnights" there are Masses, special prayers, speeches, and activities in local dioceses. The bishops make a big deal about it.
Look, I don't agree with the bishops' opposition to the mandate, a moot point now that a new administration appears to be ready to disassemble the ACA.
But here's the real rub. Where were the bishops when one presidential candidate violated nearly every precept of the gospels? Why didn't they speak out equally forcefully when he threatened immigrants, sought to ban Muslims from this country, denied climate change, and routinely bullied people who disagreed with him? Why weren't their Masses praying for our country, and pushing the need for tolerance?
Why did they do virtually nothing to speak out against this rhetoric that invited hatred, and gave solace to racists and xenophobes? The bishops did not have to mention Donald Trump by name. But they did have an obligation to forcefully advocate for a far different set of values, and to be part of the conversation about those values in the public sphere.
A few Catholic leaders did speak out, but they were not the norm. Indeed the archbishop of Philadelphia found both candidates equally unsatisfactory
.
And the USCCB certainly did not organize a "Fortnight for Civility and Kindness" in response.
And now, when the campaign is over, the bishops continue to remain largely unperturbed. Yes, Los Angeles archbishop José Gomez forcefully took the side of immigrants in a sermon two days after the election. The bishops chose Gomez as vice president of the USCCB, a signal that they intend to fight the new president on this issue.
But otherwise, the bishops offer no sign that they will offer their moral commentary on the direction of the country, or its threat to fundamental values and our democracy.
At least other people are rising to the occasion. Thank God for Meryl Streep.
Popular in the Community