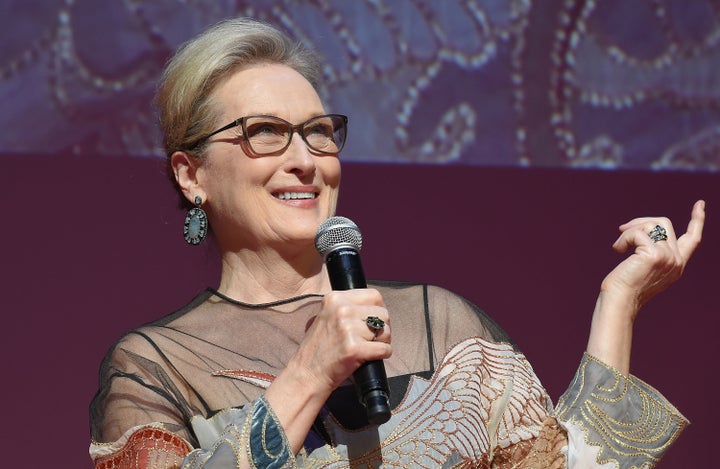 Meryl Streep will soon be able to add another prestigious award to her ever-growing résumé.
The Oscar, Emmy and Golden Globe-winning star will be honored with the Human Rights Campaign's (HRC) Ally for Equality Award, in recognition of her longtime support of the LGBTQ community, in February. The actress, who was last seen on the big screen this summer in "Florence Foster Jenkins," will be presented with the award at the 2017 HRC Greater New York Gala, slated for Feb. 11 at the Waldorf Astoria in New York.
HRC President Chad Griffin praised Streep, 67, for standing up for the LGBTQ community "throughout her phenomenal career" in a blog post on his organization's website.
"Whether through her iconic roles that raised the visibility of LGBTQ people, or by boldly speaking out for equality, Meryl Streep embodies the very nature of what it means to be an ally to our community," he said.
In August, Streep opened up about her connection to the LGBTQ community in an interview with PrideSource. "I just can't remember when [LGBTQ] people were not in my life," she said. "I've grown up with gay people and been in love with gay people."
Streep is no stranger to playing LGBT characters, too. In 1979, she played a lesbian in Woody Allen's "Manhattan," and was bisexual and shared a smooch with Allison Janney in "The Hours." Then, of course, there was her much buzzed-about onstage lip-lock with Sandra Bullock at the 2010 Critics' Choice Awards. And who could forget about her fantastical love scene in "Angels in America," in which an angel (played by Emma Thompson) brought her to orgasm while hovering over Manhattan?
For more information on the 2017 HRC Greater New York Gala, head here.
Popular in the Community