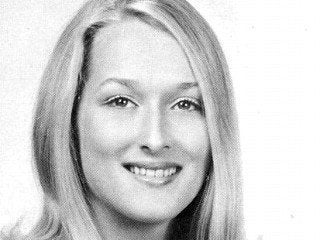 ABC News dug up Meryl Streep's old yearbook photos and sat down with her best high school friend and her graduate school drama coach to shoot a 'Before They Were Famous' segment to air on '20/20' Tuesday night.
"She was beautiful," said Susan Castrilli, a close friend and classmate at Bernards High School in Bernardsville, N.J. "Everybody loved to sit there and watch her with her short skirt jumping around. It was great."
Streep's teacher at the Yale School of Drama, Michael Posnick, tells ABC it was always clear she was cut out for a big acting career.
"Oh, crystal clear. I think -- I don't know if she had a choice," Posnick said. "That was the direction. There was no equivocation... She knew what she was doing, and she knew what she wanted to do. So, I really think in terms of her career, I think she was aimed like an arrow and was destined to do this."
'Before They Were Famous' airs on '20/20' Tuesday, March 2 at 10 p.m. EST.
WATCH:
Popular in the Community