 Society may let out a collective groan whenever a new celebrity couple "mashup" name is introduced into the American lexicon ("Kimye," anyone?). But recent data suggests the trend may be (sort of) catching on among non-famous folks: an increasing number of British newlyweds are opting to create their own combined monikers.
The Daily Mail reports that, in 2012, about 800 British couples meshed their last names -- meaning they combined parts of their last names to make an entirely new name -- according to new statistics released by the U.K. Deed Poll Service.
For example, a Mr. Pugh and Ms. Griffin are now Mr. and Mrs. Puffin, and Mr. Gatts and Ms. Harley became Mr. and Mrs. Hatts, according to the Daily Mail.
British television presenter Dawn Porter even got in on the trend, changing her last name to "O'Porter" in honor of her husband, "Bridesmaids" star Chris O'Dowd.
"I am lucky that I have the option to keep Porter prominent and take a tiny letter that, for me, expresses the unity with my husband that I am proud of," O'Porter told Britain's Glamour magazine.
In the U.S., the idea of name meshing began in the 1970s, though it didn't gain national attention until The New York Times published a wedding announcement for a name-meshing couple in 1992 (when Valerie Silverman and Michael Flaherty became Mr. and Mrs. Flaherman).
Recent examples include Geoff Werner-Allen and Suzanna Chapman, who became the Challens in 2009, and Bryn Hunt and Richard Palmer, who became the Huntpalmers in 2010.
Still, studies indicate that most women choose to take their husbands' names. In 2007, a U.S. Census Bureau study found that just six percent of women chose a "nontraditional" (i.e. hyphenated or maiden) name upon marriage.
Would you and your spouse ever combine your last names? What would your "mashup" name be?
Look at completely unfortunate and completely real last name combinations in the slideshow below.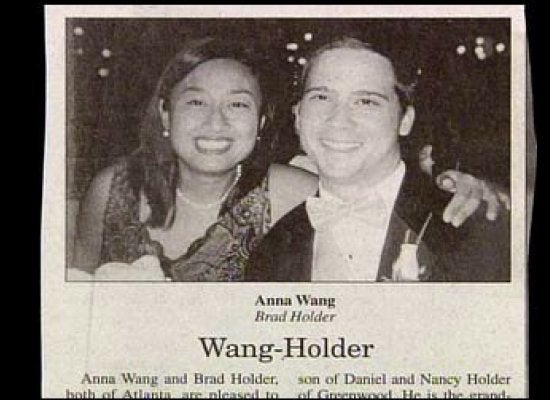 Last Name Fails
Related