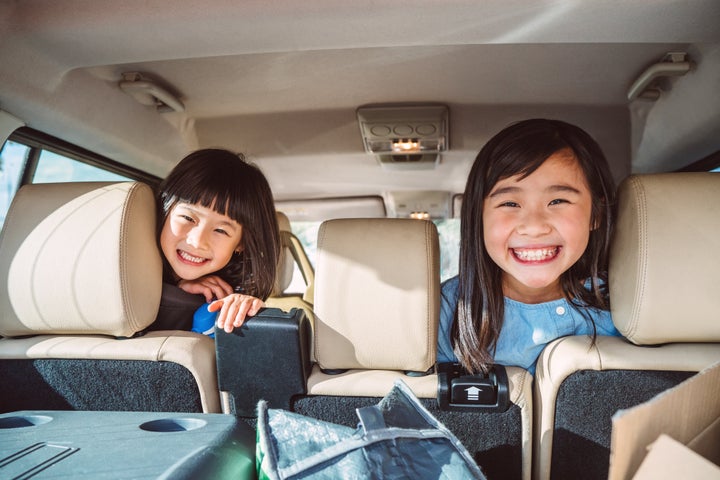 Traveling can be stressful, and doing it with young kids makes the experience that much more nerve-wracking. Finding ways to keep littles ones entertained for hours on end in a confined space is a challenge, to say the least.
And accomplishing this without leaving a huge mess behind or relying solely on screen time? Even tougher.
To that end, we asked parents to share their favorite no-mess travel activities to help prepare you for your next trip — whether you're getting to your destination by car, plane or train.
Responses have been lightly edited and condensed for clarity. Note the age recommendations on some of the toys mentioned below, as they may contain small batteries that can be dangerous if swallowed or parts that could possibly be a choking hazard.
1. Playing With Window Clings
"If you are able to get a window seat for your plane ride, bringing along a set of window clings can be a great activity to keep a little one busy. They come in various shapes, sizes, colors and themes, making them a fun way to brighten up any plane ride. Sticking them on and pulling them off allows your child to practice fine motor skills. The best part is they are easily removable, so you do not have to worry about them sticking to the windows after the trip." — Kayla O'Neill, developmental therapist
2. ... Or Window Spinners
"These toys are so cool! They have a suction cup on the back so that they will stick to an airplane or car window and allow a younger toddler to touch, feel, play and spin away! This toy is great for younger toddlers and infants but may get old quickly for older toddlers and young children." — Karen Gentile, certified nurse practitioner at National Jewish Health
3. Listening To Podcasts And Audiobooks
"Audiobooks like 'Harry Potter' are the perfect no-mess activity for kids of all ages. You can find many other kid-friendly long audiobooks to mesmerize and delight your children during a long car ride or flight. Try entertaining classic audiobooks like 'Charlie and the Chocolate Factory' or 'The Lion, the Witch and the Wardrobe.' Tip: Having a comfortable set of headphones that are also noise-reducing and made just for kids is the way to go." — Katrina Morrison, family travel expert and owner of Mocha Travel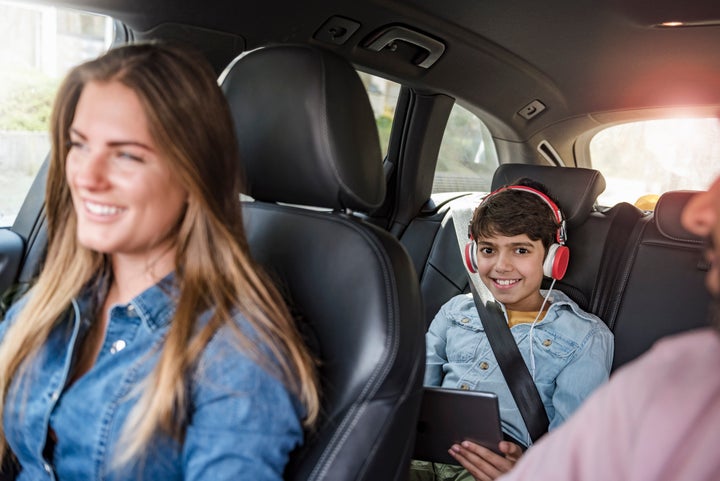 4. Playing Road Trip Bingo
"This one brings back nostalgia. I used to play the same game on long car rides as a kid. It keeps the kids off their devices and in the present moment, looking out the window to find different things along the road, such as a tractor, a railroad crossing sign, a motorcycle, etc. It's simple and fun for little kids, older siblings and parents alike." — Deanna Castro, flight attendant and founder of the Future Flight Attendant career center
5. ... Or I Spy
"Keeping kids occupied without resorting to devices while traveling has been a challenge as we have four kids from almost 2 to 14 years old, including one child with special needs. To keep them entertained, we had to modify the I Spy game. For our toddler in the rear-facing car seat with limited vision, he gets to cheat a little bit by pointing or saying something intelligible. For example, if the spy would say, 'I spy something red,' he can say banana or truck and still get a point.
For our daughter with special needs that include intellectual disabilities and Deaf/hard of hearing, we try to keep the same rules as for our typically developed children, but we allow extra time, and she can either speak, point at or sign her answer. When we play together as a family, regardless of the game, it not only makes the destination fun but the trip as well." — John Marshall, stay-at-home dad
6. Drawing On A Magic Sketch Pad
"Remember how awesome Etch A Sketches were? They're even better now. The Magic Sketch Pad uses a pen to let kids draw whatever they want. When they are ready to start over, or when dad starts drawing, one button erases everything. It's thin, light and easy to travel with. A staple of our travel bag." — Aaron Martin, writer and @stayathomedad on Instagram
7. Fiddling With A Fidget Ball Sensory Toy
"This is a non-magnetic toy that can change shapes and is highly colorful, too! It can be used as a fidget device or for creative play. The balls won't detach and roll away, and it can be packed easily in a carry-on bag. This toy is particularly great for kids with autism spectrum disorder." — Gentile
8. Rediscovering Pipe Cleaners
"Good old-fashioned pipe cleaners have been around for ages and are still extremely fun! They can bend them and shape them into animals, shapes, people, or bring a colander and have your child thread the pipe cleaner through the colander holes. Endless fun, super inexpensive and totally mess-free!" — Gentile
9. Digging Through A Travel Treasure Box
"When I traveled with my little ones, we'd packed a lunch box filled with an assortment of small toys: cars, dinosaurs and other random items we've gathered from the bottom of their toy box or bought from the dollar store the night before. The box was the perfect carrying case for little hands. Since we only used it for travel, they were surprised at what they would find in their box." — Morrison
10. ... Or Getting A "Drip Feed" Of Little Surprises
"A super easy trick for especially long car rides or flights is a 'drip feed' of dollar store toy surprises. This is something I remember doing with my parents growing up as well. Let's say your car ride is seven hours long. Buy seven dollar store toys, coloring books, etc., and every hour on the hour, a new surprise appears from the front seat for the kiddos! It's like an hourly Advent calendar during a car ride! It made our car rides so much fun growing up, I highly recommend giving it a try." — David Frank, content creator @Brave.Dave
11. Drawing Or Painting In A Crayola Color Wonder Book
"Crayola has a whole line of mess-free markers and paints designed to work with their special paper. Your little one can draw and paint in color on the special paper, but it won't mark up an airplane seat or car seat. Coloring is such a creative and therapeutic outlet for kids, plus these pack up really small for carry-on purposes!" — Gentile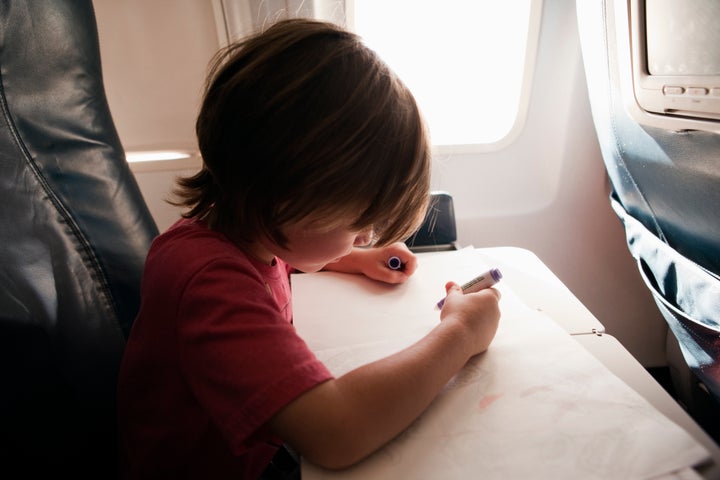 12. Playing Around With A Busy Board
"We keep a busy board in the car at all times! Even after 3+ years, my daughter still loves to play with this on drives. Each page has a different theme and motor skill activity that includes Velcro, snaps, buttons, zippers and strings. It's so fun to watch kids master these new fine motor skill activities! Warning: This activity may not be great for children who get frustrated easily. It can require a little patience and persistence." — Gentile
13. For Older Kids, A Penny Treasure Hunt
"If you have older kids and are looking for a car ride time killer without electronics, take $10, 20, any amount of dollars to a bank and ask for rolls of pennies. Certain pennies are worth good money, depending on the stamping, irregularities and print year. They range anywhere from being worth 10 cents, $5 or $500!
You can also participate with your smartphone, print off lists of valuable pennies or buy a coin collector's book to check for high-value pennies to search for. During the car ride, give them large amounts of pennies at a time, and they can check the pennies to see if they've hit the jackpot! It's a literal treasure hunt, right there in the car. I guarantee the first time they find a penny worth 5 bucks, they'll begin to take it a little more seriously. This one may seem a bit out there, but give it a try!" — Frank