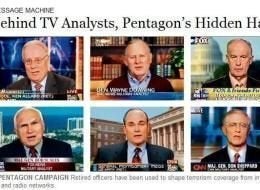 In the face of what these Politico reporters capture as a "deafening silence," Democratic Reps Rosa DeLauro (D-CT) and John Dingell (D-MI) have been joined by Senators Russ Feingold (D-WI) and John Kerry (D-MA), as well as FCC Commissioner Michael J. Copps, in calling for an accounting. DeLauro sent letters to executives at the networks named in the original New York Times storybreaker, to which only CNN and ABC have responded.
"We are in a time when stories can have a second life," said Tom Rosenstiel, director of the Project for Excellence in Journalism. A few years ago, if a story did not generate attention after a week, it could be considered dead, said Rosenstiel, who cited the instance of how bloggers revived the U.S. attorney firings story.

Rosenstiel's organization tracked the mainstream media for a week after the Times story and found that out of approximately 1,300 news stories, only two touched on the Pentagon analysts scoop -- both airing on PBS's "NewsHour."

Besides being "an important story," "NewsHour" executive producer Linda Winslow said that following up was necessary because of remaining concerns about information the public was given during the run-up to the Iraq war.

None of the analysts in the Times story appeared on "NewsHour," according to Winslow, but as Barstow reported, they did appear on NBC, ABC, CBS, FOX and CNN.

Andrew Tyndall, an independent television analyst who monitors the nightly newscasts, said the broadcast networks rarely do "self-criticism stories." However, he added, "this is really the sort of thing that all of the networks should have addressed online."
...One of the documents released is an audio recording of an April 18, 2006, meeting that several military analysts attended with then-Defense Secretary Donald Rumsfeld and Gen. Peter Pace, then Chairman of the Joint Chiefs of Staff. During the meeting, one of the attendees tells Rumsfeld, "[W]e get beat up on television sometimes when we go on and we are debating" and says that he would "personally love" for Rumsfeld "to take the offensive, to just go out there and just crush these people so that when we go on, we're -- forgive me -- we're parroting, but it's what has to be said. It's what we believe in, or we would not be saying it." The individual adds: "And we'd love to be following our leader, as indeed you are. You are the leader. You are our guy."
The relevant transcript is available here, along with a list of "confirmed participants." MediaMatters asks the obvious question: "Will media outlets try to determine if they have hosted the person who asserted that Rumsfeld was 'our guy' and suggested that he would 'parrot[]' Rumsfeld's statements?"
Popular in the Community