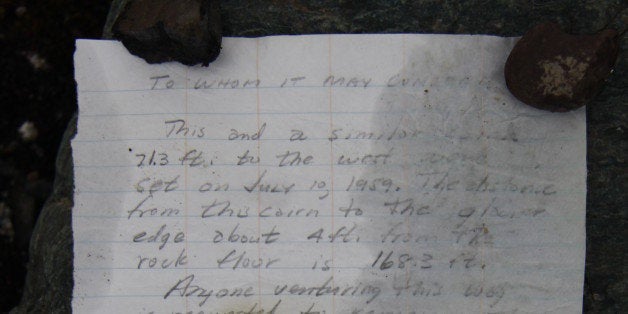 More than half a century ago, on July 10, 1959, American glaciologist and explorer Paul T. Walker was working in a remote region of the Canadian Arctic, the Los Angeles Times reports. In a quirky stroke of genius, Walker left a handwritten note to any scientists who might come behind him, and he stuck the message in a bottle under a pile of rocks.
"To Whom it May Concern: This and a similar cairn 21.3 feet to the west were set on July 10, 1959," the note states. "The distance from this cairn to the glacier edge about 4 ft. from the rock floor is 168.3 feet."
(Story continues below)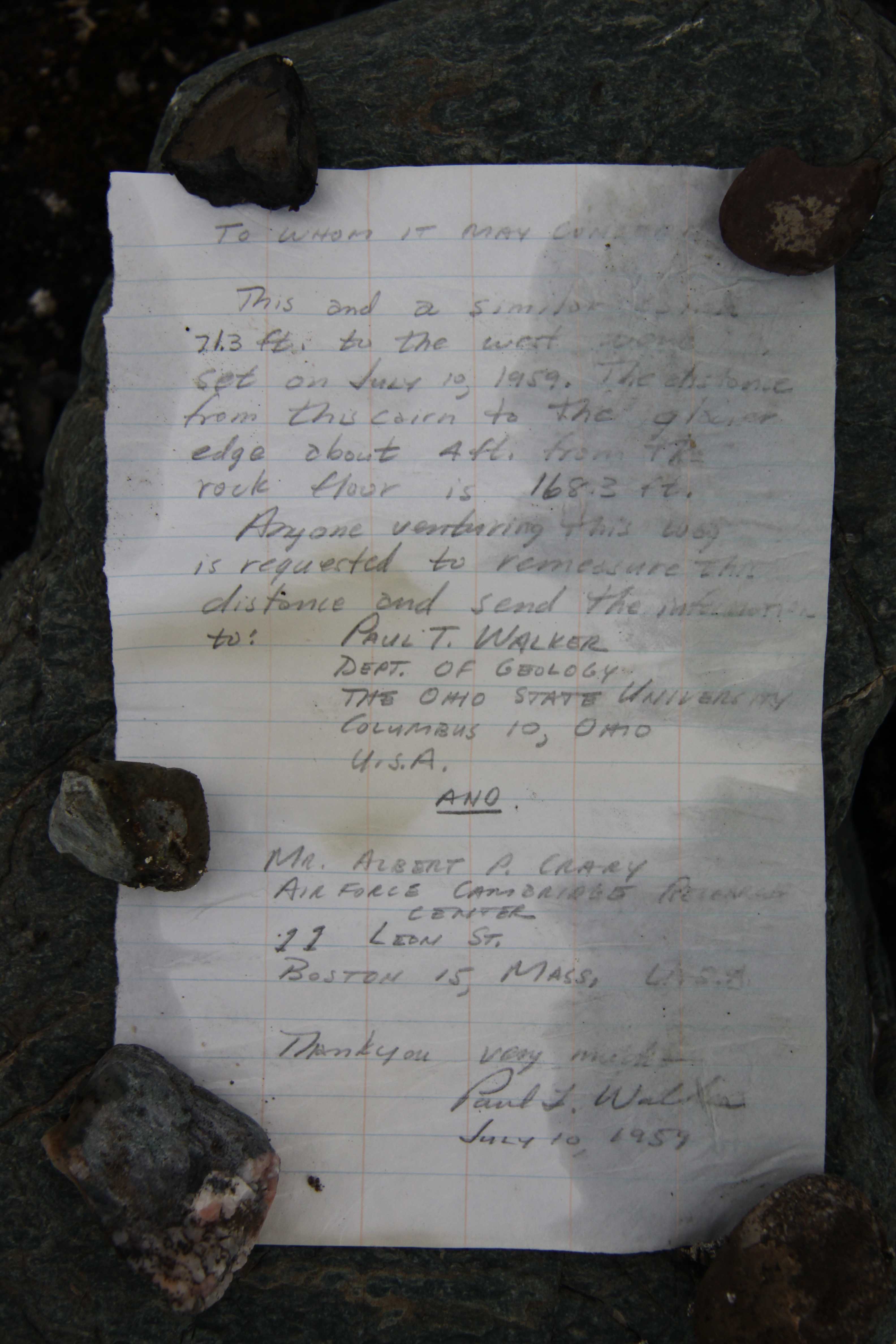 Walker hoped that anyone who found the note might take new measurements and send them to his lab at Ohio State University, the Times reports. Sadly, Walker suffered a stroke mere weeks after he left the note and died a few months later. But 54 years later, his scientific mission lives on thanks to researchers who uncovered the message in a bottle.
Dr. Warwick F. Vincent, director of the Center for Northern Studies at Laval University in Quebec City, revealed the find earlier in December and said reading the famous names of Walker and his colleague Albert Crary gave him goosebumps.
"It's a story about climate change, but it is also a story about the incredibly brave and strong men who worked in this extreme high Arctic environment in the 1950s—back before GPS and sat phone technology," Vincent told the outlet. "This is the most remote part of North America, and the coldest coastal zone (average temperature -18C). This also makes the evidence of substantial glacial retreat of great interest."
The pair carried out Walker's wish, measuring the distance to the glacier in question, just as Walker had done decades earlier. Vincent and Sarrazin's measurement revealed that the glacier had retreated 233 feet since 1954.
While the effect of global warming on glaciers is not a new concept, Vincent told The Huffington Post the discovery is still significant.
"The substantial retreat of the glacier, based on our measurement on 18 July 2013 relative to that by Paul Walker on 10 July 1959, is not especially surprising given that glacier retreat as a consequence of global warming has been well documented at many places around the world," Vincent explained via email. "But northern Ellesmere Island has one of the world's coldest coastal climates, with average air temperatures that are similar to coastal Antarctica (where I have worked previously), and glacial melting might be less expected in such a place of extreme cold."
Given the fact that there is still such noticeable loss in glacial ice, this special message should be heeded by scientists around the world, Vincent added.
"Paul Walker's message from the past is a wake-up call to how fast our global climate is already changing, and it signals much larger changes in the future that may affect us all," he said.
Calling all HuffPost superfans!
Sign up for membership to become a founding member and help shape HuffPost's next chapter
BEFORE YOU GO