 A Canadian teen's message in a bottle has been found on an island in Maine 12 years after it was first tossed into the ocean, the Welland Tribune reports.
In 2000, 3-year-old Taryn McKee was on vacation with her family in Letete, New Brunswick, when her mother suggested she write a note to send out to sea.
With her mother's help, McKee composed the message and the bottled note was tossed into the Atlantic Ocean. Neither of them expected to ever see it again.
But last week, Becky Lee of the Downeast Coastal Conservancy said she discovered the note in a plastic soda bottle as she and others cleaned up Tibbett Island off South Addison.
"I was under this tree with overhanging branches on a rocky shore, throwing garbage and debris back into the open," Lee, 31, told the Welland Tribune. "I saw the bottle and threw it back…when it landed it rattled, like there was something in it."
Looking inside, Lee discovered a folded piece of tattered paper.
Dated July 2000, the note described a little girl's holiday in New Brunswick: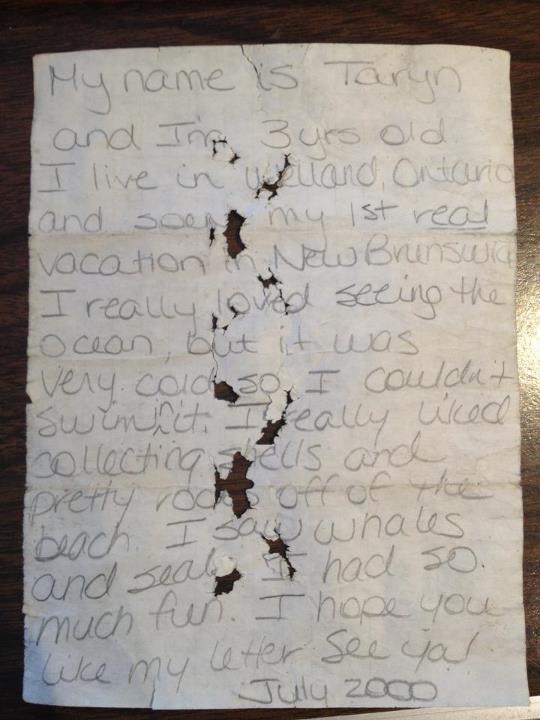 Before long, Lee's story was picked up by Canadian media and the photograph went viral on Facebook and Twitter. Eventually, a family friend contacted Taryn's mother, Cheryl.
Now 15, Taryn McKee, told the Welland Tribune that she doesn't even remember the note or the bottle, but she recalls parts of the family vacation like collecting seashells and getting seasick on a whale-watching boat.
The high schooler told the Toronto Star that she is keen to write another message in a bottle and intends to do so during an upcoming trip to Daytona Beach in Florida.
Related
Popular in the Community