Sending letters to the president is nothing new — in fact, people have been doing it since the age of Thomas Jefferson, the White House noted in a press release. But with the rise of Facebook Messenger, which hit 900 million users in 2016, the executive branch has decided to take advantage of the accessibility of instant messaging.
"Face-to-face time is a little harder to come by these days, but technology makes it possible for anyone with an internet connection to send a message to the President and his Administration," Jason Goldman, chief digital officer of the White House, wrote in the press release. It's "as easy as messaging your closest friends."
Here's how it works: Once you open a chat box to message the White House, the bot will greet you. After you hit "Let's go!" you'll be prompted for your message to the president. Once you compose your message and hit send, the bot will forward your message to the White House's Office of Presidential Correspondence.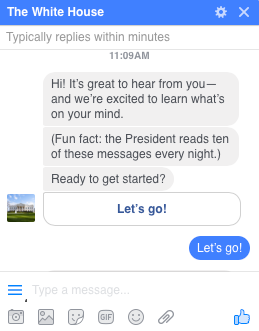 Unfortunately, there's no guarantee that Obama will read your message. But there is a small chance that it could be one of 10 the president plans to read each night.
The creation of the Messenger bot is just one of the many ways the White House has been using social media to connect with American citizens. The executive office runs accounts across multiple sites, including Facebook, Twitter and Instagram. The First Lady even created her own Snapchat account. 
On digital platforms, "people expect to have a conversation about the things that matter to them as opposed to just receiving press releases or just receiving talking points," Goldman said in a White House Q&A. "People expect more human moments, more conversational moments, less being talked to and more being talked with."
Of course you can still send handwritten letters to the Oval Office, but if you're averse to snail mail (or you just don't want POTUS to see your terrible handwriting), sending a message on Facebook might just be the most convenient way to get in touch with the president. And who knows, you might even get a response. 
Calling all HuffPost superfans!
Sign up for membership to become a founding member and help shape HuffPost's next chapter
BEFORE YOU GO