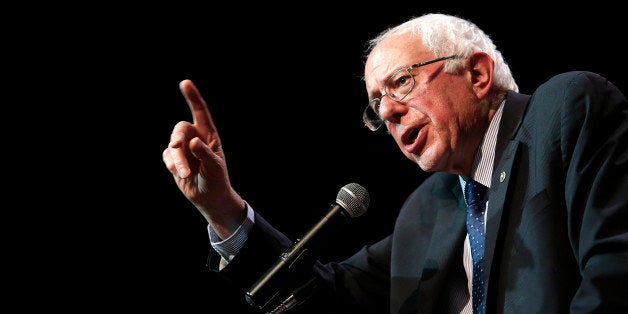 With polls tightening in advance of the critical Iowa Caucus, media outlets have sat up and taken notice of maverick insurgent candidate Bernie Sanders. With momentum on his side, the independent senator from Vermont might be able to replicate the unstoppable Obama coalition of 2008, yet in certain critical respects Sanders still lags. While Obama was able to attract educated whites, he also garnered significant support from minorities, including the increasingly important Latino bloc.
To date, Bernie has pulled out all the stops in an effort to court Latinos, but many are still unfamiliar with the left-leaning democratic socialist. If he wishes to solidify his support among Latinos, Bernie must broaden his definition of "political revolution" in an effort to prove that his candidacy has as much to do with building a popular movement as getting elected to 1600 Pennsylvania Avenue.
When people think about the growing Latino population in the U.S., they typically consider large cities such as New York, Chicago or Los Angeles. Yet in recent years, Latinos have spread out into rural areas such as Iowa. Indeed, from 2000-2014 Latinos grew a whopping 110% in Iowa, and they are projected to represent 13% of the state's population by 2025. Today, Iowa's Latino population, most of whom is Mexican and Mexican-American, numbers some 174,000.
Latinos have deep ties to Iowa as many helped to build the state's original railroad while others migrated to the area in search of farming work. Today, Latinos have helped to revitalize many economically stagnant areas of Iowa, and Des Moines now hosts its own "Little Mexico" neighborhood. National Journal remarks that "in many ways, Latinos saved Iowa." For many years, the publication notes, young people left Iowa's small towns in droves in search of employment in the big city. Then, the "Latino revolution" hit the state, and new arrivals acquired jobs in manufacturing and meatpacking plants.
Despite such historic trends, Latinos still have a long way to go politically. Even with their growing numbers Latinos still number only 6 percent of the state's overall population. Historically, Latinos have hardly represented a blip on the caucus radar, with fewer than a thousand people participating in the last 2012 contest. Today, 50,000 Latinos are registered to vote in Iowa, most of whom are independents with a third Democrat and a small number of Republicans.
Iowa has a grand total of 2 million voters, though turnout can be low so early in the electoral season with only about 200,000 people generally participating in the caucus. This year, however, organizers hope to increase Latino turnout to some 10,000 for both Republican and Democratic contests. That number would be quite small, though Latinos make up a critical swing vote in some legislative districts. Take, for example, the small meatpacking city of Marshalltown in central Iowa. The town used to be lily-white, but since the 1980s and the expansion of the meatpacking industry, Mexicans have moved in and today the city's population is one quarter Latino.
With the polling so close, Sanders must do his utmost to turn out every last Latino to caucus on his behalf. That may be a tough order, since the state's caucus system can be difficult to navigate for newcomers [for more on the mechanics of this process, see a recent report about Iowa Latinos which aired on MSNBC]. Moreover, despite their growing numbers Latinos aren't very politically active at the local level. Currently, there are no Latinos in the state legislature and they hold only a tiny number of elective offices. In some Iowa towns, community meetings are still dominated by white residents. Latinos are not only marginalized politically but also socially. Indeed, the poverty rate afflicting Iowa's Latinos is much higher than that of the rest of the state.
Galvanizing Iowa's Latinos
Despite such disadvantages, Latinos may be galvanized this year like never before. Local Republican Congressman Steve King recently alienated many when he remarked that young migrants have calves the sizes of melons from carrying drugs. Those comments, in addition to Donald Trump's incendiary rhetoric on the campaign trail, which linked Mexicans to "rapists" and "criminals," prompted hundreds of Latinos to protest the Republican frontrunner during a political event in Sioux City.
Just what are the issues which matter most to Iowa Latinos? To be sure, many are still disappointed with the Obama administration's failure to enact comprehensive immigration reform. Some in fact still smart from the memory of a 2006 immigration raid at Marshalltown's Swift and Co. meatpacking plant. As a result of the raid, dozens of workers were arrested and parents were abruptly separated from their families. Outraged over the authorities' high-handed approach, Latino youth at the local high school staged a walkout. Two years later, officials raided another meatpacking plant in the northeastern Iowa town of Postville, arresting a whopping 400 undocumented migrants. To this day, some Latinos worry that a routine traffic stop could result in deportation.
It would be a mistake, however, to pigeonhole the diverse interests of the local Latino population. While immigration is a key issue to many, other concerns top the list such as education. That's not too surprising given the specific characteristics of Iowa's Latino population, which is quite young in comparison to the rest of the state. In fact, the median age of Latinos is 22 compared to 38 for Iowa as a whole. In Des Moines alone, Latinos make up 23 percent of students enrolled in public schools. Even though they represent a growing segment of the population, Iowa's Latinos lag far behind other state residents when it comes to acquiring a university degree, and college affordability ranks as a key concern.
Meanwhile, students in Iowa's three public universities are reportedly going into debt at alarming rates. Beset with such escalating debt, many students at Iowa's public colleges are dropping out. The Iowa Press Citizen reports that the state "has the dubious distinction of ranking No. 8 in the country in average student debt, at just under $30,000. Iowa's community college students also take out loans at more than twice the national average, and most of the schools' students have a higher-than-average default rate."
Revamping the "Political Revolution"
With just a scant two weeks to go before the Iowa caucus, just where does this underlying context leave Bernie Sanders? To his credit, the Vermont Senator has done his utmost to engage with Latinos on many of the pressing issues of the day. Though his initial stance on immigration was somewhat convoluted and perplexing, Bernie has made great strides and has developed a progressive and forward-looking immigration platform. And on education, another key concern within the Latino community, Sanders advocates free tuition at public colleges. In fact, the democratic socialist even met with Latinos in the town of Muscatine to discuss his specific proposals.
So far so good, but Bernie has been extremely reluctant to expand the definition of his "political revolution." Ostensibly, the candidate conceives of his revolution as people coming together for the purpose of phone banking, canvassing and the like. In the event that he gets elected, Bernie might even marshal his supporters in advance of key votes in Congress. Yet as I've stated in previous columns, there's no rule stating that a presidential candidate can't call for political protest in the midst of a campaign. Adopting more radical and innovative tactics could be particularly relevant in Iowa, where the polls are razor thin and turning out the Latino vote could mean the difference between victory and defeat.
Thus far, Bernie has advanced many progressive ideas which will appeal to Iowa's Latino voters. The problem, however, is that some may still be unfamiliar with the maverick politician. Now that Bernie is enjoying some increased visibility in the media spotlight, he might want to take advantage of the attention by launching well-coordinated protests in Iowa or elsewhere.
On immigration, for example, Bernie might help to protest U.S. Immigration and Customs Enforcement (ICE) detention centers, where Latino migrants are routinely subjected to deplorable and inhumane conditions. While he's at it, Sanders could help organize student protests calling for free public tuition at local Iowa colleges. Perhaps, Bernie might also seek to deploy Latino pop icons at such events which would surely appeal to the youth vote.
To be sure, such tactics are not guaranteed to succeed. However, by thinking creatively Bernie may wind up attracting more scrutiny from Iowa's Latinos. They in turn will be impressed that Sanders is at least willing to experiment and potentially spearhead a movement while breaking out of the narrow and standard confines of a presidential campaign.
Popular in the Community