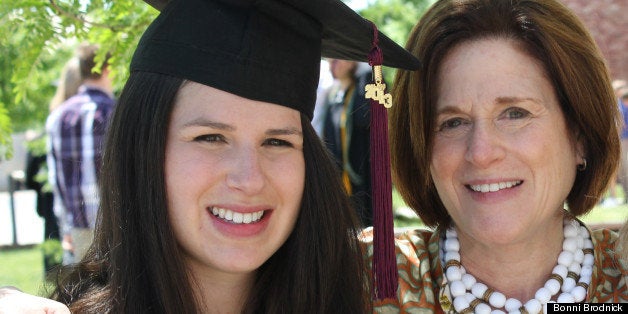 For millions of undergrad and graduate students across the country, their day has come. Graduation weekend, with all the pomp and circumstance, has concluded. This blogger, too, felt great pride as she watched her daughter, wearing a black gown and mortarboard, stroll into a stadium of thousands for a landmark ceremony that will be remembered forever. Students now have in hand a degree that lauds their scholarship and commitment to learning. New chapters begin.
After the festivities of the celebration -- dinners with relatives and a bar crawl with their favorite aunt -- I looked forward to helping my daughter pack up her room in the house she had lived in with four other women during their senior year at college. Undauntedly, I encouraged my husband and son to go home, no problem.
"I'll help clean up," I said.
"It's practically finished anyway," said the new graduate.
Famous last four words. As everyone drove off, waving their hands goodbye, I put on rubber gloves and began the task. Leaving in good grace with the landlord might possibly help cover 5-minutes of tuition at this Ivy League college.
And so I began. As other parents of my daughter's roommates trudged up and down the stairs with boxes of ephemera, I grabbed a broom and dustpan and thought we'd be done in no time.
What was I thinking? To start, there was some crud that needed to be scraped off the floor.
"I hope this isn't what I think it is," I said to my daughter. It was a sticky white blob in the corner. Surprisingly, it emitted a floral scent. Finished guessing what it was? Candle wax.
Other interesting things I found while cleaning up: lots of change. Everywhere. In floor cracks. Between sofa cushions. Hiding in dust bunnies under a faux-Renaissance crushed-velvet chair in the living room. (I made a bonus 83 cents in found pennies, nickels, dimes and quarters that afternoon.)
"Is this a real pearl?" I asked when I found a stud earring under the bed. I leaned over, picked it up and put it between my teeth. Since the pearl made a scratchy sound, I knew it was, indeed, real.
"Oh, yeah, that's the one I lost," my daughter said.
"I'll hold onto it so that we don't lose it while cleaning," I said as I stuck the single pearl stud in my bra for "safe-keeping."
I never saw the earring again. I have no idea where it went. It would probably have been better if I never found it in the first place because now it's like it never was found.
My daughter's room was a haven for many things: single socks and mittens. Shoes that needed soles. Laundry that needed washing. Empty water bottles that needed to be recycled. Index cards with notes from prelims taken ages ago.
"Isn't this mine?" I asked when I found a throw blanket that looked familiar.
"I brought it from when I was home for winter break," my daughter said. "It was freezing here. You can have it back now, if you want."
I noticed it had tar stains.
"We used it on the roof for a picnic last week," my daughter said.
Along with the stains, it smelled like beer. I rescinded the invitation to "take it back." In my mind, the blanket was on a new journey that I didn't want to disturb.
I continued to sweep. And vacuum. And dust. And lug. I wasn't the only parent picking up their son or daughter and wondering why clean up hadn't been initiated during Senior Week. What is "Senior Week"? That is when classes and final exams are over and seniors have a lot of time on their hands to party but not enough time to get boxes and plastic bags and packing tape to help get a jump on moving out.
"It's sort of gross, isn't it?" my daughter said as she looked around. We finally began to see sunlight with the haz-mat cleanup.
I caught myself using her famous four words, ""It's practically finished anyway."
Which it was. Sort of. We still had the disaster zones of the bathroom and kitchen. Large plastic garbage bags were helpful. After all, who would want leftovers from a casserole the girls made two months ago on St. Patrick's Day? (I see no hands raised.)
At the top of the stairs was a big blackboard filled with notes the roomies had written to one another throughout the year. "You guys rock!" "Have a great weekend!" "Can somebody please take out the garbage?" "Everyone meet at Ruloff's at 11 tonight. K?" "CTB (Collegetown Bagel) anyone? Sign up here." "True love 4-ever." "Live. Love. Laugh. Ha ha."
In an extra-credit effort, I erased the blackboard with a scrunge-y sponge from the kitchen. The roommates' senior year was now a smear of colored chalk on the floor. The vacuum cleaner sucked up the rainbow dust that documented their two semesters.
When the house was as broom clean as it ever would be, everything was in its place. The kitchen counters were scrubbed. Glasses half-filled were emptied and washed. Old ice cream in the freezer and soggy vegetables in the refrigerator were discarded. Sixteen bags of garbage and broken items were tagged for pick up and placed on the front lawn, just as the other seniors at neighboring houses had done.
The dwelling that was well lived in by five college roommates was now almost too neat. Venetian blinds hung level, no longer higher on one side. Corner lamps with shades turned up to the ceiling were now facing down in an orderly fashion. Sunglasses, socks and lost keys were no longer hidden under sofa cushions. The water in the humidifier that was last filled in February was finally emptied. Uneaten cans of tuna and bags of instant quinoa were loaded into the family station wagon. The empty wine bottle collection lined up on the top molding in the living room was discarded. Bureau drawers were finally closed. Not a pair of underwear was lying on the floor.
As our energy waned, my daughter cried, "I don't want to go."
"Yeah, sure. Now that the place finally looks habitable," I thought.
"I completely understand" is what I said instead. "Let's eat."
We went for a mother/daughter lunch at CTB. She reminisced about professors, courses, friends and the future. For me, too, a new chapter was beginning. Four years of college had had its ups and downs, but in the end, there was triumph. Along with the graduation gown and mortarboard, my daughter was donned with four honor cords. She beamed with the sense of hard-earned accomplishment. Her family beamed with love and pride.
The house on Catherine Street neatly awaits a new set of roommates who will leave their dishes in the sink because there wasn't enough time to wash them before going to class. The blackboard in the hallway will be filled with new and corny messages. Dust balls will polka dot the floors. The house will be filled, hopefully, with a renewed sense of collegiality and a new cast of students. Another academic year will begin.
The future is launched for my daughter. After graduating on Sunday and arriving home at midnight on Monday, she packed for a two-year stint in Hawaii with Teach for America. There was barely enough time to relax post-graduation weekend before we were at the airport on Tuesday morning at 8:00 a.m. To this mother, Oahu feels very far away from New York.
A new chapter begins for the graduates and their families.
As David J. Skorton, president, said in his 145th Cornell University commencement speech, "Hold fast to your dreams. Include others in them. Have confidence in your skills. With optimism, forward thinking and empathy, you can create a meaningful, fulfilling future -- and also a better world."
A final note to the newly graduated: Don't shy away from your aspirations and remember, always, how hard your parents worked to help you move out of your house in Collegetown.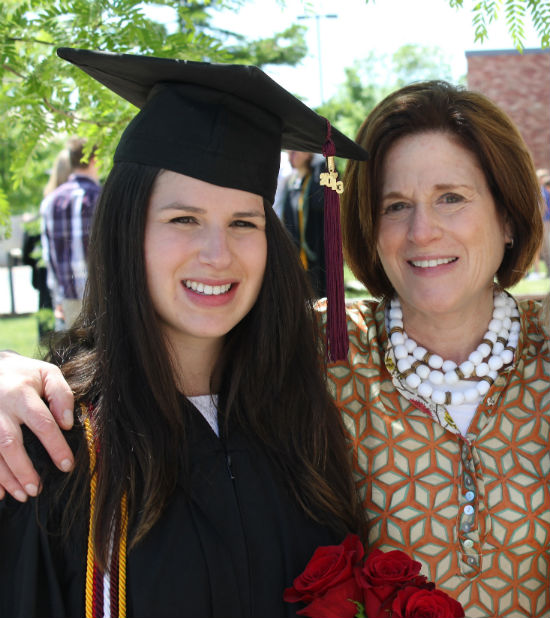 Related