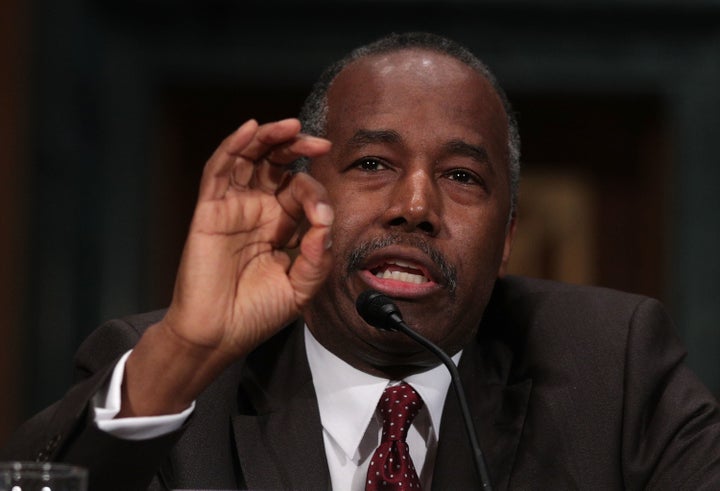 At the end of last month, the Senate Banking, Housing and Urban Affairs Committee voted to approve the nomination of Dr. Ben Carson for the position of U.S. Secretary of Housing and Urban Development. Among the Senators who cast a "yes" vote to recommend the nomination for consideration by the full Senate were Democrats Elizabeth Warren of Massachusetts and Senator Sherrod Brown of Ohio.
As far as I'm concerned, their votes were inexcusable. How any self-described progressive could put their seal of approval on such a dangerous, right-wing nominee is a betrayal of progressive values. At least Brown could argue that he needed to vote "yes" for political reasons ― he's up for re-election next year in a state that went heavily for Trump last November.
Warren, however, tried to make the argument in response to the fierce criticism about her vote that you sometimes have to "pick and choose your battles"― that you can't just oppose every single nominee because they were nominated by Donald Trump.
I agree that opposition just for the sake of opposition is a bad idea. Her argument, however, might be more effective if she were talking about a less controversial nominee. Ben Carson is among the most extreme, risky, reckless nominees that Donald Trump has put forward since he won the election- and that's saying something.
First of all, Ben Carson has no experience in the areas of housing or urban development, except that he grew up in Detroit, one of the "inner cities" that Trump talked about as "a complete disaster" during his campaign. Not only that, but when there was speculation earlier on that Carson might instead be nominated to run the Health and Human Services Department, his spokesman came out and said that Dr. Carson felt "his background didn't prepare him to run a federal agency".
No, I'm not kidding; that's the actual quote. Ironic, considering that Carson ran to be President of the United States, but now apparently feels he's unqualified to serve in a lower-level cabinet position?
I guess Dr. Carson is under the impression that the Department of HUD is somehow less complicated or difficult to run than HHS, but he is sorely mistaken. HUD, in fact, is one of the most complex departments to run in the entire federal government ― its offices are spread out across the country and it has an annual budget of over 30 billion dollars. Some of the most vital programs that millions of Americans rely on are administered by the Housing and Urban Development Department, many of which Carson vowed he would try to cut and/or eliminate if he became President.
At a time when the shortage of affordable housing stock in this country is more severe than ever (and I know, having served on the Board of Directors of the West Hollywood Community Housing Corporation for the last two years), and millions upon millions of Americans are spending more than half of their income on rent each month, we need to be expanding these programs, not cutting or eliminating them. Ben Carson is the very opposite of the kind of person we need to be running HUD; he is an existential threat to the department and we as progressives and as Democrats must do everything in our power to prevent him from taking office.
I understand Senator Warren's position that we need to pick and choose our battles carefully. But Carson is definitely one on which we should fight, and very hard. I strongly urge all Democratic Senators (including my Senator, Kamala Harris!) to please vote against him when his nomination is voted on by the full Senate. The vote on this nomination should be considered a litmus test when it comes to the progressive bona fides of each Democratic Senator- it doesn't get any more important or fundamental to our values and principles than this decision.
Popular in the Community