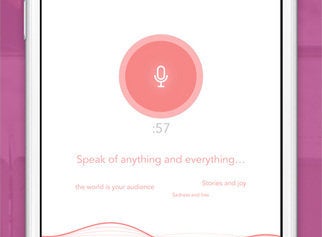 Campuses are increasingly paying attention to the issue of sexual assault, but it's not a subject everyone feels comfortable talking about in public. 
Jared Wolens, a senior at Stanford University, has thought of a way where people can share messages about sexual violence, in their own words and voices, anonymously, using an app called Flyy.
The voice recorder app enables users to record and post messages anonymously, even changing the pitch of their voice to ensure anonymity and tagging them to a particular community or topic. Wolens worked as a designer on the app and used it to launch a "100 Voices Strong" campaign.
Wolens and his collaborators -- Serena Pham from the University of San Francisco, Melinda Yeung from UCLA, and Flyy CEO Natasha Saraf, a Columbia University graduate -- set a goal of getting messages by the end of 2015 from 100 prominent universities with active federal investigations against them for how they handle sexual assault cases.
"I hoped that this campaign would allow victims around the country, and the world, to feel comfortable voicing their stories," Wolens said. 
We were so impressed with the amount of support and empathy that was received.
Anyone can join in by posting under #100VoicesStrong on the app -- and everything is submitted anonymously. Wolens' team contacted students they knew at schools including San Francisco State University, New York University and Yale University to start collecting messages in October.  
Some of the messages are as short as "No means no." Others are a bit more profound, like one that describes sexual assault as "someone is taking over their identity and essentially saying 'I own your body, your body is my property.'"
One message discusses a woman's personal guilt on how she might've contributed rape culture, "by not setting the boundaries and laughing it off when a guy friend of mine slapped me so hard on my behind and acted like it was really funny when actually inside myself I was really upset and did not like his action."
"The messages that were left were incredible," Saraf said. "More and more people started 'coming out' and voicing themselves. The first girl to do it was from Harvard. We were so impressed with the amount of support and empathy that was received. Honestly, we had too many to count and it's still continuing."
Below are a few examples from the "100 Voices Strong" campaign on the Flyy app. More can be found on the Flyy app, available in the iTunes store.
From Harvard University: "It doesn't matter that he was drunk too. The person that initiates sexual contact is the person that is responsible for getting consent."
Yale University: "We need to make sure we understand the blame is for the abuser and not the victim."
Columbia University: "Sexual abuse silences the potential of people. Sexual abuse should be reprimanded on our campuses."