 The 2014 World Cup has gotten its first glimpse of Messi Magic.
With the No. 10 on the back of his Argentina shirt and the hopes of a nation on his shoulders, Lionel Messi delivered a mesmerizing goal in a 2-1 win over Bosnia-Herzegovina at Estadio do Maracana in Rio on Sunday. Argentina held a slim 1-0 lead over the resolute Dragons in the teams' opening match in Group F when Messi doubled the advantage with a signature scoring run in the 65th minute. Coming nearly eight years since his lone World Cup goal for Argentina, this mesmerizing surge and strike flashed the brilliance that has already made the 26-year-old a legend at Barcelona.
Like so many Messi goals at Camp Nou, this one began with prescient run from a deep position and was preceded by quick interplay with a teammate. Like so many of Messi's scoring runs for Barcelona, this one left defenders tripping over one another.
After weaving his way through the Bosnia-Herzegovina defense until he found space at the edge of the penalty area, Messi ended his goal-scoring jaunt with, of course, a left-footed shot. The low drive beat Bosnia-Herzegovina goalkeeper Asmir Begovic and pinged off the goalpost into the net.
#ARG on Twitpic">(GIF via @br_uk)
"Messi majestic at the Maracana," ESPN announcer Derek Rae hailed after the goal. "Magnificent Messi bamboozles Bosnia at last."
There was only one key way that this goal differed from those Messi has racked up in Spain while being named the Ballon d'Or winner as the world's best player in four of the last five years: Unlike all those goals Messi scored for Barcelona, this one ended with him tugging on an Argentina shirt.
Before You Go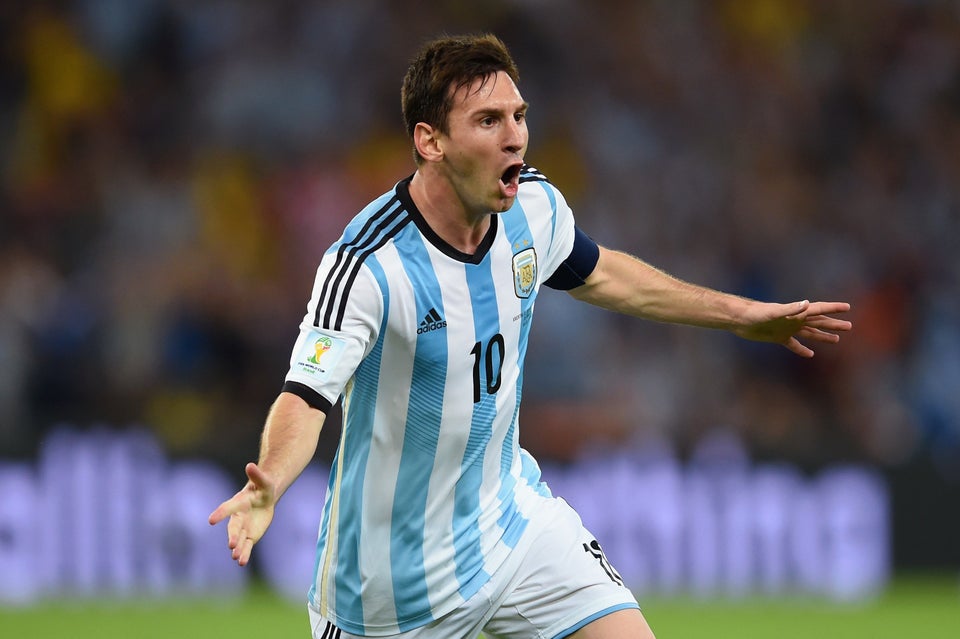 PHOTOS: Argentina vs. Bosnia-Herzegovina