"We're up all night to get lucky" now that spring has graced us with her presence. But hanging out way past our bedtime takes a toll on our morning beauty routine. That's why we're on the lookout for no-fuss hairstyles we can do if we're running a tad bit late.
In the video above, Birchbox staffer Whitney shows us how to master the messy French twist in under two minutes. This classic yet fresh hairdo is perfect for those of us who want to look pulled together when we're really just trying to pull it together.
To get this version of the messy French twist, you'll need dry shampoo, salt spray, pomade, bobby pins, hairspray and a brush. Start by using the dry shampoo to remove excess oils from your strands. Next, backcomb your hair at the crown to build volume. For added texture, spritz the salt spray directly to the midsection and use a dryer to soak up extra water. Then scrunch your hair up into loose, tousled waves.
Take a quarter size amount of pomade and work it through the midsection and ends of hair. Roll your locks around your finger toward your head and secure with bobby pins. Gently pull hair pieces apart for roughness, and then finish the style with a blast of hairspray.
Related
Before You Go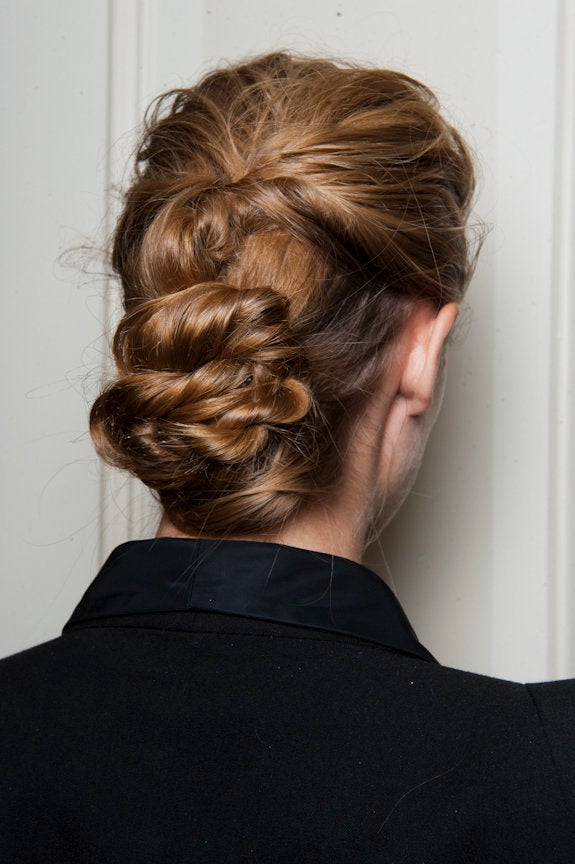 Updo Hairstyles At NYFW