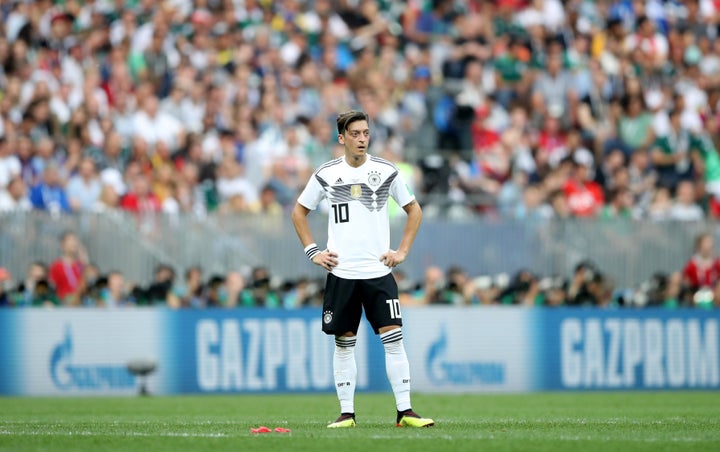 On Sunday afternoon, German national soccer team star Mesut Özil announced that he would no longer play for his country, thanks to the "racism and disrespect" he experienced from fans and top German soccer officials before, during and after a World Cup in which the defending champions left sitzmarks all over Russia.
Özil was far from Germany's worst player at the tournament. He led all World Cup players, in fact, in goal-scoring chances created per 90 minutes, and he served up seven such chances in the team's final match, against South Korea. But no player has faced more vitriol from German fans since the team's disappointing finish, and finally, Özil, a Muslim of Turkish descent, got fed up.
"I am German when we win, but I am an immigrant when we lose," Özil said in the Sunday statement announcing his retirement. "I was born and educated in Germany, so why don't people accept that I am German?"
Özil's retirement brought a sudden end to an abbreviated national team career that now serves as a microcosm of Europe's shifting stance on immigration and the continent's growing anti-Muslim, anti-immigrant hysteria. Özil was born in Gelsenkirchen, Germany, and was a pivotal piece of the golden generation that powered the national team's resurgence. He was a key player on the team that won the 2014 World Cup ― even before that, he was given an award that recognized him as a model for integration in the country. Now, like immigrants in Germany and so many other countries, he's a convenient scapegoat.
Özil's accomplishments for club and country have never shielded him from unfair criticism that he is "lazy," "unmotivated" and he lacks the gung-ho body language of a proper footballing man. But a World Cup staged in the midst of far-right German demagoguery about immigration turned all subtext into text, and turned Mesut Özil into the xenophobes' favorite symbol of everything wrong with modern Deutschland.
I am German when we win, but I am an immigrant when we lose. I was born and educated in Germany, so why don't people accept that I am German?

Mesut Özil
That vitriol stems largely from a controversy that erupted before the World Cup, when Özil appeared in a photograph with Turkish President Recep Tayyip Erdoğan. Erdoğan, an autocrat who has cracked down on political dissent in his country, then used the picture in his re-election campaign, prompting criticism from many Germans that Özil had helped legitimize an authoritarian figure.
Özil answered the criticism on Sunday by saying that his decision to appear in the photograph next to Erdoğan was apolitical, and that he would have taken a similar picture with any president of the country of his ancestry. There's ample room to criticize that approach: The statement makes Özil look like a political naif for thinking that picture could ever, as Özil wrote, have "no political intentions," especially in an election year, especially after the NBA's Enes Kanter, an ardent Erdoğan critic, was briefly detained in a Romanian airport because his passport had been canceled by the Turkish government. Özil is free to respect the institution that is the Turkish presidency; he also should have anticipated that the man occupying that institution has no respect for him as anything more than a convenient PR prop.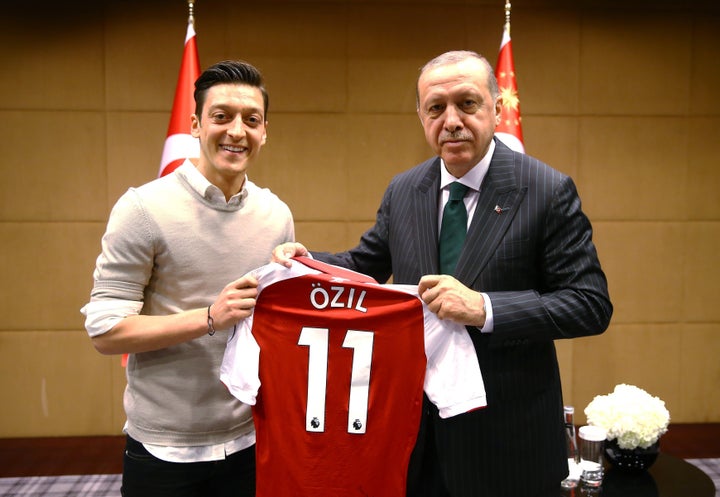 But to paint Özil as the chief problem is to assume that much of the criticism leveled at him was made in good faith, when so much of it obviously was not. For high-ranking German political officials and members of its ascendant right-wing party, the AfD, the photograph was also a prop, a bludgeon they could use to beat the message into Özil, and other German Muslims, that they were not and never would be sufficiently German.
Before the World Cup began, members of the AfD and Germans sympathetic to their cause used the controversy the image created to argue that Özil didn't belong on Germany's World Cup squad, or at least should be demoted from the starting lineup to the bench. A member of the German legislature called him a "goatfucker"; another, according to Özil's statement, said he should "piss off to Anatolia."
After Die Mannschaft's lone win of the 2018 World Cup, against Sweden, a fan called Özil a "Turkish pig," the player wrote in his statement, adding that he's since been besieged by "hate mail, threatening phone calls and comments on social media."
The attacks were not the only reason Özil quit. He was also mad that the German national soccer federation and its president, Reinhard Grindel, were less than eager to defend him from that sort of bigotry. Grindel was particularly incensed over the photograph, and spent the weeks before the World Cup demanding that Özil apologize and stewing over his exclusion from Özil's meeting with German President Frank-Walter Steinmeier, during which the pair attempted to smooth over the controversy.
Özil recounted this in his statement. He had receipts, too, that the controversy was an exercise in race-baiting. Grindel, the player noted, has his own history of making anti-immigrant statements, and as a member of the legislature he voted against legislation that would benefit immigrants. He's faced no censure for it, and the German federation, as Özil also pointed out, has not raised its voice at all about one of its top officials cheerily appearing with noted authoritarian Vladimir Putin during the World Cup.
The federation made more of a mess of the situation in trying to respond to Özil on Sunday, when it issued a statement that ultimately blamed Özil for much of the backlash and played up its own anti-racism efforts.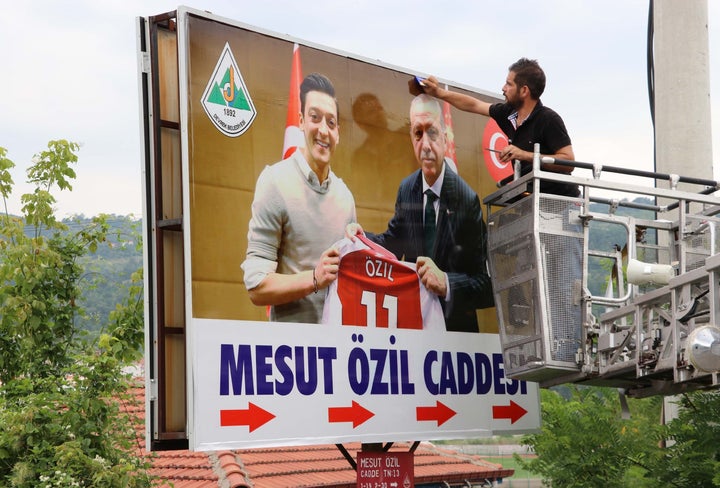 The German media, too, is partially to blame, especially after large swaths of it spent the last month insinuating that the photo controversy is at least partially responsible for Germany's poor World Cup performance. The media hasn't exactly covered itself in glory over the last 24 hours, either, choosing to pile onto the player instead of considering his concerns. Bild, one of the country's largest newspapers, blasted Özil for "whining."
That pooh-poohing of Özil's worst accusations has only further emboldened the player's worst critics. Members of the AfD reacted to the statement by reiterating their claims that Özil is, as one AfD politician said Monday, "a typical example of the failed integration of far too many immigrants from the Turkish-Muslim culture."
Other players from immigrant backgrounds faced similar backlash during the World Cup. Swiss players Granit Xhaka and Xherdan Shaqiri ― both of whom are of Albanian-Kosovar descent ― were blasted by Switzerland's right wing and parts of the country's media as "not Swiss enough" after they celebrated goals against Serbia by making pro-Albania gestures. And though Belgium's Romelu Lukaku was largely hailed for his performances in Russia, it is impossible to ignore how similar Özil's statement is to one Lukaku made before the World Cup began.
"When things were going well, I was reading newspaper articles and they were calling me Romelu Lukaku, the Belgian striker," Lukaku wrote for The Players' Tribune. "When things weren't going well, they were calling me Romelu Lukaku, the Belgian striker of Congolese descent."
Simply highlighting this reality is enough to draw the ire of the critics, and to illustrate the point, Ozil's claims of racist treatment made Bayern Munich president and 1974 World Cup winner Uli Hoeness so mad that he went on an inexplicable rant Monday. "He's been playing crap for years," Hoeness said. "The last tackle he won was before the 2014 World Cup. And now he is hiding himself and his poor performances behind this photo."
That's nonsense. A review of statistics from England's The Sun ― which isn't exactly renowned for its coverage of players from racial minority groups ― showed that Özil averages as many tackles per game for the national team as 2014 World Cup hero Mario Götze, and others have shown that his defensive work is similar to that of other attacking midfielders of the Premier League. This is the code exposed. Just look at how easily AfD politicians switch between it and their overtly racist criticisms: The AfD member who criticized Özil to HuffPost Germany also railed against the midfielder for "only play[ing] safe passes" and "having no attractiveness, no leadership qualities."
The racist backlash he has faced, Özil said in his statement, "represent[s] a Germany of the past, a Germany not open to new cultures, and a Germany that I am not proud of."
But at a time when the AfD is steadily gaining seats in Germany's legislature and polling shows high rates of disapproval for policies that would bring in more Muslim immigrants and refugees, it is representative of the Germany of the present, too. In that Germany, the photo wasn't the problem. It was just the pretext Germans needed to scream the quiet parts as loudly as they could.
Calling all HuffPost superfans!
Sign up for membership to become a founding member and help shape HuffPost's next chapter
BEFORE YOU GO