NEW YORK -- Dark vs. light. Past vs. future. Masculine vs. feminine. The extremes straddled by fashion designer Alexander McQueen in his work, inspiration and, seemingly, in his life, fit together like a jigsaw puzzle in a new museum exhibit called "Savage Beauty."
The study of contrasts in the exhibit at the Metropolitan Museum of Art's Costume Institute shows McQueen, the artist and intellectual, as he was celebrated during his career – and even after his suicide at age 40 in February of 2010.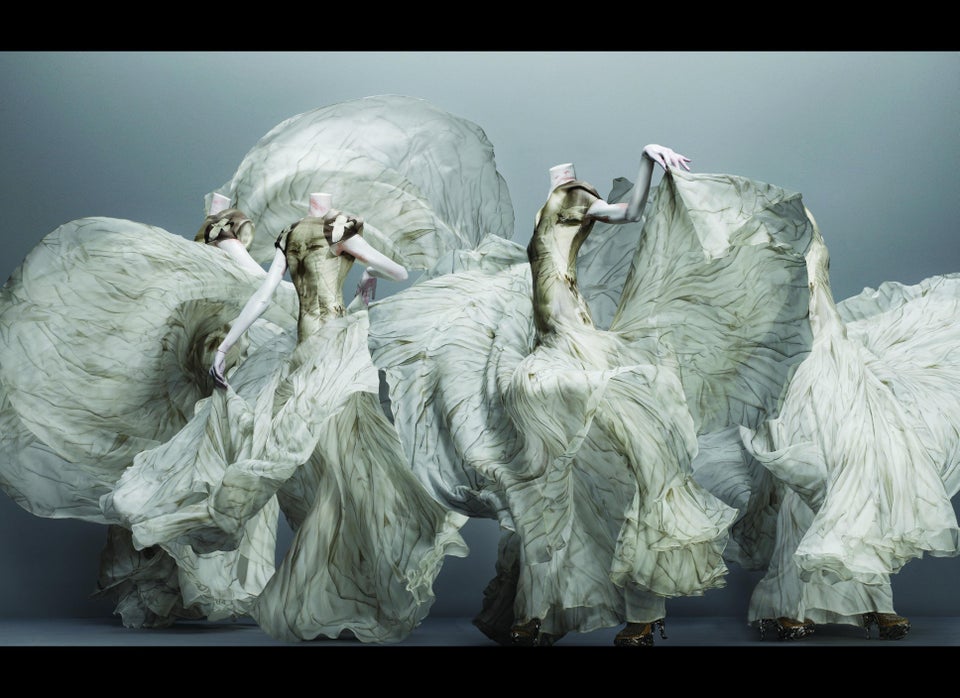 Alexander McQueen 'Savage Beauty' At The Metropolitan Museum of Art
McQueen was always drawn to a challenge, especially when he could question normal conventions of beauty and fashion, says exhibit curator Andrew Bolton.
Bolton cited a Shakespeare quote that McQueen had tattooed on his arm as a starting point for the show: "Love looks not with the eyes, but with the mind."
At Monday's press preview, Bolton explained that in "A Midsummer Night's Dream," those words are said by Helena, someone who believed that love could transform something grotesque into something beautiful.
McQueen was a believer, too, he said. "All of McQueen's collections were fashioned around elaborate narratives, and the exhibition is intended to evoke a gothic fairy tale, a fairy tale that is pushed forward by McQueen's imagination."
Stella McCartney, a close friend of McQueen's, and Sarah Burton, his longtime deputy and designer of the current McQueen collection, attended the opening, both saying that they were there to honor him and his contribution to their industry. Many more of the world's top designers, models and movie stars were expected to pay similar homage Monday night at a gala celebrating the exhibit.
McQueen had a fine tailor's touch and a sense of humor that was "cheeky and filthy, in the best sense of the words," said McCartney, wearing a crisp menswear-style suit.
Burton, who made her own headlines last week as the designer of Kate Middleton's much-heralded wedding dress, said that McQueen put "emotion, passion and attention to detail in everything that he did."
In her remarks, Burton's work for the label and her triumph as the wedding gown designer, was never explicitly referred to, but Met Director Thomas Campbell briefly mentioned that "we're in a McQueen moment, and we're thrilled to be a part of it."
One featured outfit could rouse comparison to the Duchess of Cambridge's gown, although this was a lilac lace top with black cashmere-and-fleece trousers. The structure of the bodice, with strong shoulders, a nipped waist and just a hint of sexiness in a narrow V-neck, was very similar to the shape of the gown.
Better examples of McQueen's dramatic and creative flair, however, are the show's two opening gowns, a dress made of red and black ostrich feathers with tiers of glass medical slides painted red to mimic blood, and another dress made of razor-clam shells stripped and varnished. Both were from the Voss collection of 2001.
Burton remembered McQueen's London studio as he worked on the shell dress. It smelled of the sea, she said.
The Dante coat, a half-sided military coat with gold embroidery from 1996, spoke to McQueen's commitment to his vision, Bolton said. His seamstresses had told him the coat couldn't be made in time for an upcoming runway show, Bolton said, but the designer was determined to do it. He stayed up all night, and his employees found him the next day curled up sleeping on the couch.
Museum visitors shouldn't miss the over-the-top feather dresses, antler heads, molded torsos and floral embroideries, said Mark Holgate, Vogue fashion news director. A stiff skirt made of balsa wood that looks like the wind could pick it up at any given moment and send it soaring is another must-see.
"They all are spectacular in the truest sense of the word," Holgate said.
McQueen's runway shows were consistently highlights of the fashion calendar; he always pushed the catwalk to the edge and found a way to surprise, and sometimes shock, the normally jaded fashion crowd. A model's movements were restricted by a metal contraption like a puppet for the La Poupee collection in `97; robot arms painted Shalom Harlow in graffiti in 1999; and a giant mirror uncomfortably tracked the movements of editors, stylists and retailers in the audience of his Voss collection of 2001. All are incorporated into the exhibit in video displays.
Kate Moss, in a stunning, frothy, cream-colored gown, was beamed onto the runway as a hologram in `06 in the Widows of Culloden collection, and "Savage Beauty" recreates a Tinkerbell-size version of that – with the real gown displayed nearby.
Also, there are several examples of his signature tartan plaid, impossible heels and his famous low-slung "bumster" silhouette, which Bolton said during a walkthrough last week emphasized McQueen's skill and understanding of the female body.
With "bumsters," McQueen said in a quote posted in the gallery, "I wanted to elongate the body, not just show the bum. To me, that part of the body-not so much the buttocks, but the bottom of the spine – that's the most erotic part of anyone's body, man or woman."
Seeing the show's 100 McQueen ensembles all in one place – including some of his looks for Givenchy – makes it easy for visitors to connect the designer's favorite themes, including romanticized historicism, exoticism, nationalism, primitivism and naturalism. Even though he's often referred to as a forward-moving visionary, McQueen could also move seamlessly between collections inspired the 18th-century Jacobite rebellion in Scotland, a shipwreck and "Harry Potter."
Bolton said he purposely didn't set up the items chronologically because he wanted visitors to see instead ideas that were near and dear to McQueen, especially his manic expressions of love and romance.
He was never about trends, although he was considered a commercial success, and he was very disciplined, not a diva designer at all, Bolton said.
"McQueen conveyed through clothes much bigger concepts. He loved being a craftsman and he loved the avant-garde, but everything was done with such deep emotion that you didn't know how to feel afterward," Bolton said, recalling the first McQueen show he attended, which was called "No. 13," and seeing on the faces of the crowd both approval and discomfort.
In his own words, in another example of gallery text: "I oscillate between life and death, happiness and sadness, good and evil," McQueen said.
"Savage Beauty" runs through July 31.