*SCROLL DOWN FOR PHOTOS* It would be an understatement to say that Sarah Burton, the Creative Director of Alexander McQueen, had a big weekend. After it was revealed on Friday that she had designed not one, but two wedding gowns for the newly-minted Duchess Catherine, the British designer ascended the steps of the Metropolitan Museum on Monday night in her own bridal-like sheath to pay tribute to McQueen, the designer behind the eponymous label she now runs.
The theme of this year's Costume Institute exhibit and Monday's gala is "Alexander McQueen: Savage Beauty," honoring the British couturier who ended his own life last year.
"I miss him terribly," Madonna told a row of red carpet reporters. "Not only as a person but as a designer. I think the profession is a little bit dull without him and I loved his punk rock attitude. I think his designs are brilliant, I think he was brilliant and I hope he's having fun wherever he is right now."
A handful of guests were clad in McQueen creations. Model Karen Elson donned a dress she once walked in on the runway a decade ago, telling The Huffington Post, "I haven't worn it since. It's been in the archives. It's maybe the last time it could possibly be worn...it's falling apart. It's really a special dress."
Vogue Japan's Anna Dello Russo picked a more recent offering -- a tuxedo by Burton, topped off with one of Dello Russo's famed headpieces (usually taking the form of a slice of watermelon or two cherries). This time, she chose a glittery egg, because, she said, "it was Easter a week ago. I thought it was good to stick pieces of Easter to my head."
Musician John Legend was ostensibly one of the only lads in the label. When we notified him of this and asked him how he felt, he told us, "I feel good. I must have good connections."
Other attendees opted to interpret McQueen's legacy, such as designer Rachel Roy. She told us, "At first I was going to go with something that honored him a little more to scale and to the dramatics that he normally designed in but then I figured everyone would, so I wanted to show his more ethereal side which he definitely had, so that's why I chose one of my column dresses."
And of course, everyone was buzzing about Kate Middleton's wedding dress, made by Burton -- everyone, except for HuffPost favorite Crystal Renn. She admitted, "I spent the whole weekend away from a computer and have not seen it yet. I am the only one, I know." We didn't want to spoil it for her, so instead we asked her how she envisioned it to be. "White," she told us. Spot on.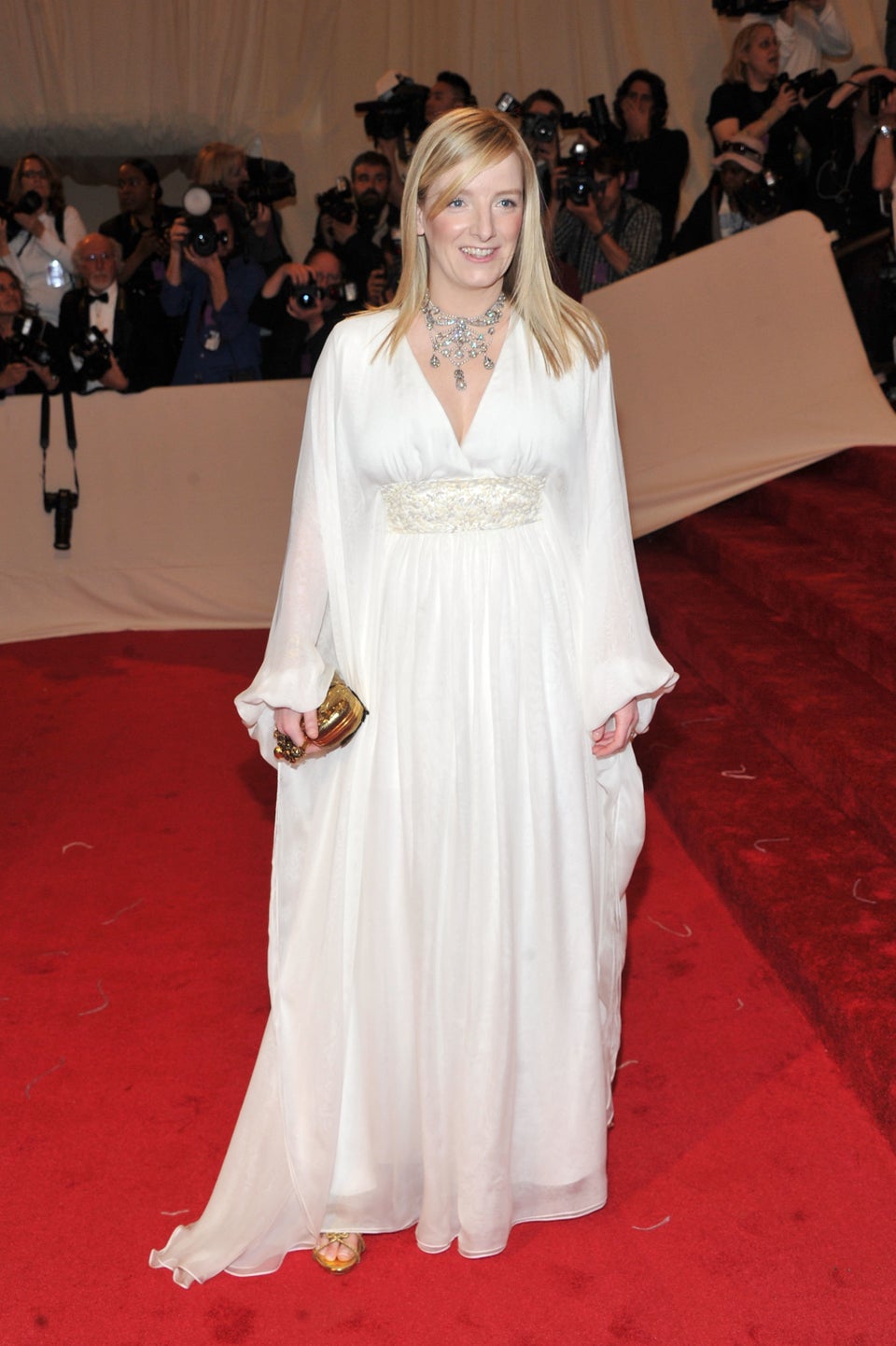 Popular in the Community