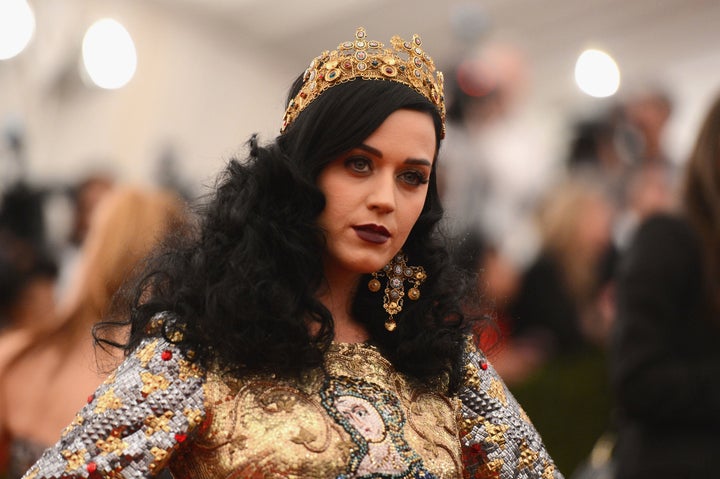 The announcement came just a couple of months after it was first rumored the exhibit would look at the relationship between fashion and religion. Right off the bat, outlets noted the theme could become the museum's most controversial and provocative yet, Catholicism's dogged history of sexual abuse aside.
It's worth noting the Vatican is on board with the exhibit, which will feature religious items — papal robes, accessories and the like — alongside 20th-century fashions from major design houses. The modern clothing will be displayed alongside ancient art in the museum's Medieval and Byzantine galleries "to provide an interpretative context for fashion's engagement with Catholicism."
There's a risk of offense that comes when separating religious symbols from their context and treating a meaningful symbol as an accessory, as we'll likely see in the modern fashions that appear in both the exhibit and on the Gala's red carpet. (It wouldn't be the first time the Met has been accused of courting appropriation. The outfits seen at the museum's 2015 Gala for its "China: Through the Looking Glass" exhibit sparked plenty of conversation about the topic.) Seeing religious art and symbols on tight-fitting clothing, presented in a more sexualized way, might ruffle feathers as well.
David Gibson, director of the Center for Religion and Culture at Fordham University, offered an interesting take on potential controversy from the church's point of view.
Gibson explained to HuffPost that the exhibit and gala "might be seen as glorifying a kind of Catholicism that the church has been trying to move away from for at least 50 years," citing a kind of decadence that has been out of fashion with the church's current leader, Pope Francis.
Met president Daniel H. Weiss didn't sound concerned about the potential controversy when speaking to The New York Times last week.
"We have confidence that the exhibition will inspire understanding, creativity and, along the way, constructive dialogue, which is precisely a museum's role in our civil society," he said.
Andrew Bolton, head curator of the Costume Institute, told the Times that the exhibit will avoid focusing on theology and will instead look at "a shared hypothesis about what we call the Catholic imagination and the way it has engaged artists and designers and shaped their approach to creativity."
Regardless of how the exhibit, which will feature designs by both Catholic and non-Catholic designers, presents its thesis, the theme is open to interpretation by the stars and models who'll step foot on the red carpet on the first Monday of May.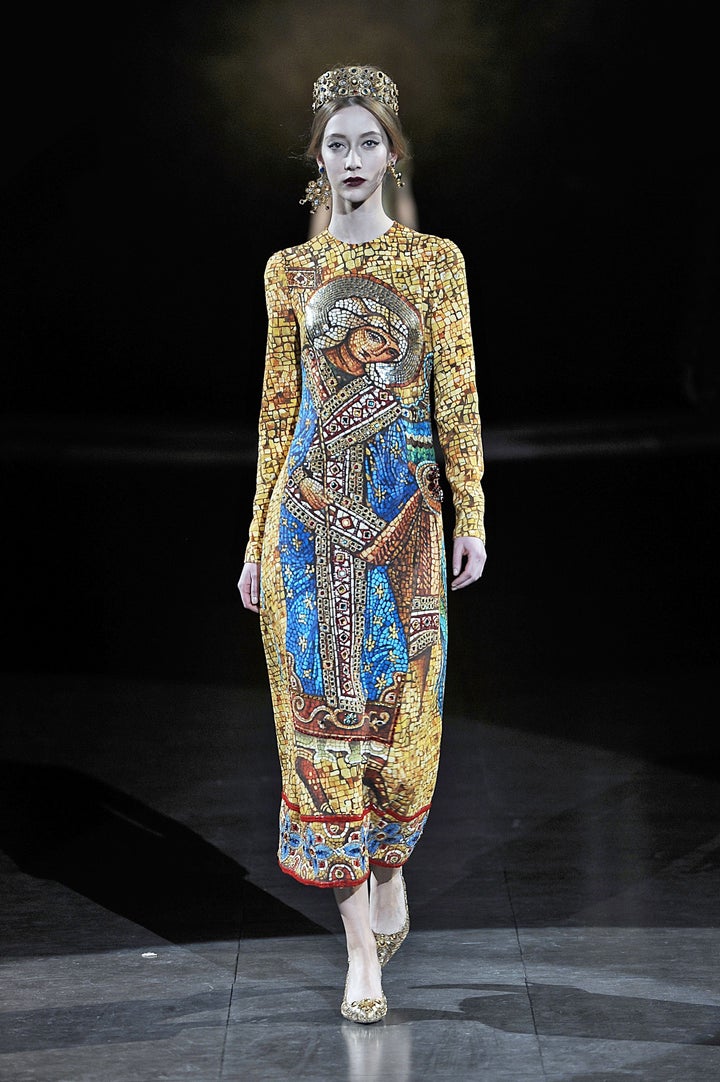 Religious References In Fashion Are Nothing New
For years, fashion designers, specifically Western fashion designers, have been inspired by and have adopted religious symbols for use in their collections.
There was Dolce & Gabbana's Fall 2013 ready-to-wear collection, which featured gilded dresses printed with the mosaics of Sicily's Cathedral of Monreale ― a nod to the designers' Catholic upbringings. Katy Perry, who was raised by Christian parents, wore a dress from this collection to the 2013 Met Gala and landed on Vogue's Best Dressed list.
Other designers, such as Guillaume Henry of Carven and Pierpaolo Piccioli and Maria Grazia Chiuri, who worked together at Valentino, have sent religious-inspired garments down the runways to positive reviews. So, while it's possible to wear religious symbols or iconography without necessarily offending, there's always a line to cross.
The biggest issue in terms of wearing religious symbols, as Gibson noted, occurs when individuals fetishize or appropriate symbols from religions to which they don't belong. Take Jeremy Scott's Spring 2013 ready-to-wear collection inspired by the Arab Spring uprising, when he sent models down the runway in sheer or sequined burqas and outfits that were the opposite of modest. Celebrities, too, are guilty of this same religious appropriation in the name of fashion ― Lady Gaga once opened Philip Treacy's runway show wearing a sheer, bright pink veil resembling a burqa while Kendall Jenner, Selena Gomez, Vanessa Hudgens and yes, even Madonna, have worn bindis on multiple occasions.
Catholicism isn't immune to the occasional borrowing of its images for pop culture, either ― remember when Kanye West appeared on the cover of Rolling Stone wearing a literal crown of thorns? The New York Times recently referenced the image as an example of the magazine's "power to shock," while a Village Voice columnist questioned its taste. There was also the time Nicki Minaj attended the 2013 Grammys dressed in billowing red cloak, accompanied by a man dressed as a pope.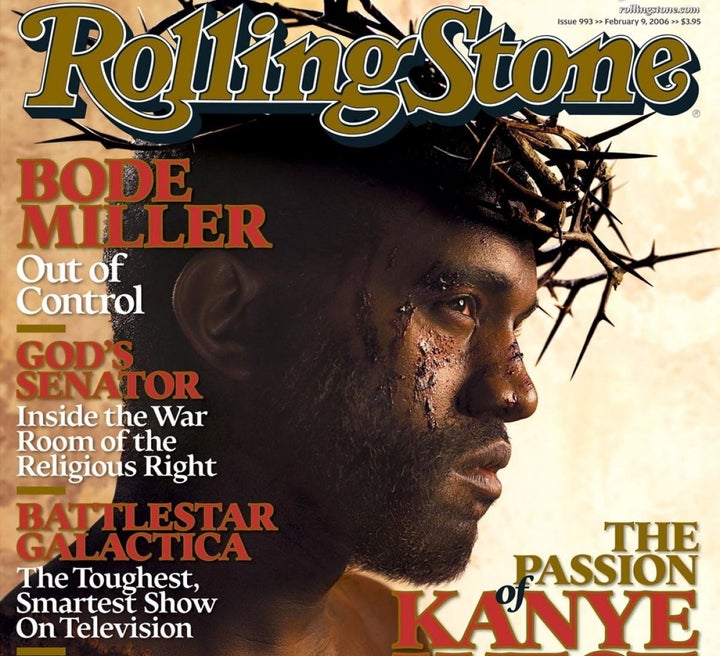 How Does Sexuality Factor In?
The relationship between clothing and Catholicism is anchored by a strong gender divide.
"Ecclesiastical fashion, or any kind of religious garb for men [...] signals authority and power, whereas traditional garb for women often signals submission and obedience and modesty," Gibson told HuffPost.
Gibson also noted that, in various traditions, especially for women, clothing becomes a tool for "covering up one's sexuality."
The Costume Institute's exhibit will be anything but modest in size ― it's set to be the biggest one yet ― and it will likely feature a large collection of womenswear by designers like Dolce & Gabbana and Versace, two houses that highlight female sexuality. It wouldn't be surprising to see any of the attendees donning corseted Dolce & Gabbana dresses or body-hugging Versace ensembles emblazoned with ornate crosses.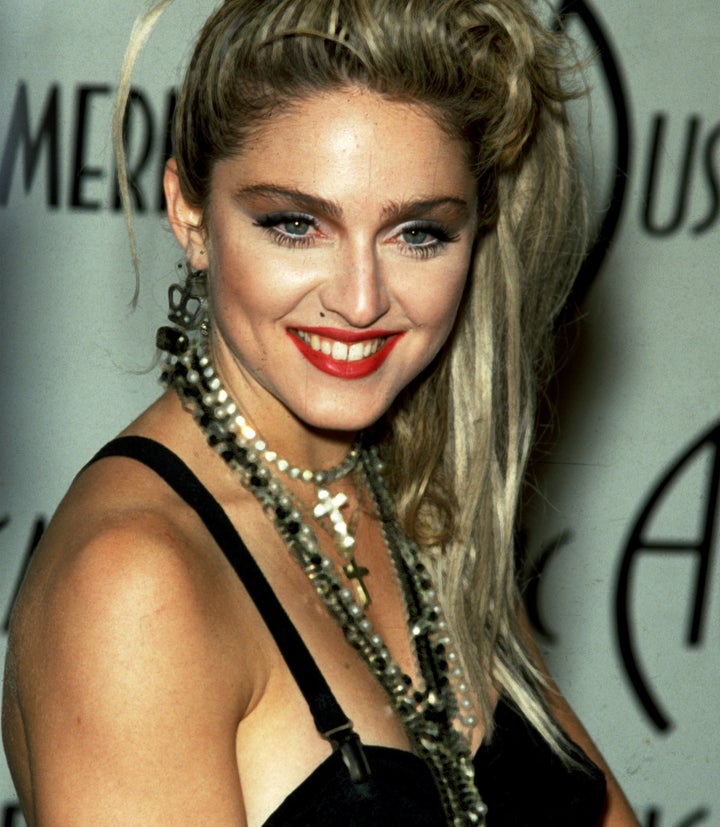 Then there's the idea that religious tokens can be worn as a sign of resistance or subversion: think of Madonna wearing a rosary in her "Like A Prayer" music video, which also featured images of stigmata and burning crosses and was later condemned by the Vatican.
Madonna had also adopted the crucifix and rosary as accessories in her regular wardrobe (as seen in the photo above). In 1985, the singer told Spin, "Crucifixes are sexy because there's a naked man on them. When I was a little girl, we had crucifixes all over the house, as a reminder that Jesus Christ died on the cross for us. Crucifixes are something left over from my childhood, like a security blanket."
As Gibson told HuffPost, "For a woman, in many places, to wear a hijab says something powerful. For Madonna or Lady Gaga to use Catholic symbols of their youth is a powerful statement, not just of rejection but also of appropriation. It becomes something different and sort of reverses the dynamic of what clothing and symbols mean."
Fashion Within The Catholic Church
A glamorous gala during which fashion and Hollywood's most beautiful people arrive wearing expensive clothing and jewels seems in opposition to the modesty the church is currently trying to cultivate under Francis.
In the past, Gibson said, "the papacy and the church adopted a kind of monarchical pose in society" that was reflected in various practices, such as the pope being crowned with a three-tiered tiara. In the 1960s, however, Pope Paul VI famously abandoned the tiara, signaling a move in a less extravagant direction for the church.
"You see Pope Francis shunning many of the more elegant and typical vestments associated with the papacy and even shunning the grand Apostolic Palace to live in the simple House of Marta," Gibson explained, pointing out that former Pope John Paul II followed similar guidelines. "[Francis'] predecessor, Pope Benedict XVI, was much more traditional."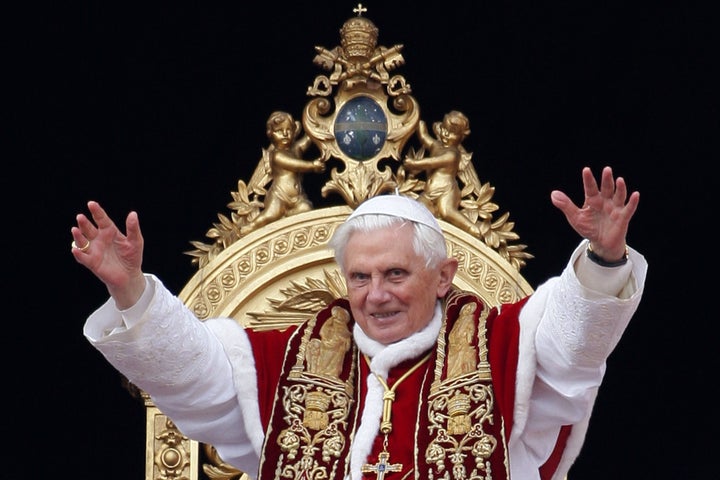 Benedict, Gibson pointed out, often wore a red velvet cape reminiscent of those worn by Renaissance popes, much different from the simple white robe seen on Francis. Benedict's choice of vestment was controversial, as some Catholics believed the garment represented the Catholicism of the past and signaled a move backward.
There are, of course, more traditional Catholics who put a great deal of emphasis on vestments ― "the more elaborate, the better," Gibson explained. The museum's exhibit then, he noted, could also have the potential to tap into the controversy between traditionalists and those who practice Pope Francis' more modest ideals.
The Bigger Picture
Aside from all that, as Amrou Al-Kadhi at The Independent pointed out, putting fashion's use of Catholic iconography on display in a museum like The Met, and celebrated with the elaborate Gala, "might only enforce constructs which tell us that Western ideas are success by default ― even when it comes to faith."
Bolton acknowledged the potential controversies that may come as a result of the exhibit, though he didn't seem too bothered.
"There will always be viewers who want to reduce it to a political polemic," he told The New York Times.
There are likely a number of reasons Bolton decided not to incorporate other religions into his show. As he explained in that same interview, he chose to focus on Catholicism after finding that most Western designers had used the religion in their work and so many of these designers were, themselves, raised Catholic. (Bolton himself is also Catholic.)
It is admittedly difficult to imagine the Costume Institute hosting a Gala for an religion-focused exhibit that wouldn't spark outrage in some way; focusing on Catholicism might have felt like the least controversial route.
Either way, the Gala red carpet and the Costume Institute exhibit will get people talking.
As Gibson explained when discussing papal dress to HuffPost, it's not just the clothes that hold the power to provoke. It's about what they symbolize.
"With Benedict XVI, he was a fancy, liturgical dresser and for many that signaled a church that was going backwards, whereas you have Pope Francis, who shuns all that sort of thing, and that signals a church that's going forward," he said. "These are powerful things, and that's where the controversy is."