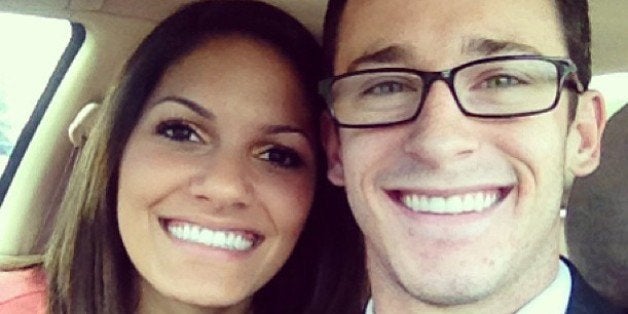 For our Night We Met series, we're asking engaged or married couples to tell us their version of the day or night they first met. Have a good story to share? You can send it to weddings@huffingtonpost.com. Each partner should send us one paragraph telling the story from his/her perspective. Meet our latest couple below!
Brigham Young University students Sarah Rajani and Ryan Bills met on Tinder -- a matchmaking iPhone app similar in concept to Hot or Not -- in March 2013 after their friends pressured them to join. Neither Rajani nor Bills had very high expectations, and they certainly never expected to find a serious relationship this way. But they were wrong. After they became a match -- meaning both parties had given the other their stamp of approval -- they began chatting through the app, which eventually gave way to a phone number exchange and a first date. More on that later...
Fast forward a few months to July 2013, when Bills popped the question to Rajani in the car (his original plan to propose during a romantic bonfire in the canyon was foiled after some bad weather rolled in). Now the couple is putting the finishing touches on their December 21 wedding in Dallas. For more on their first in-person encounter, read on.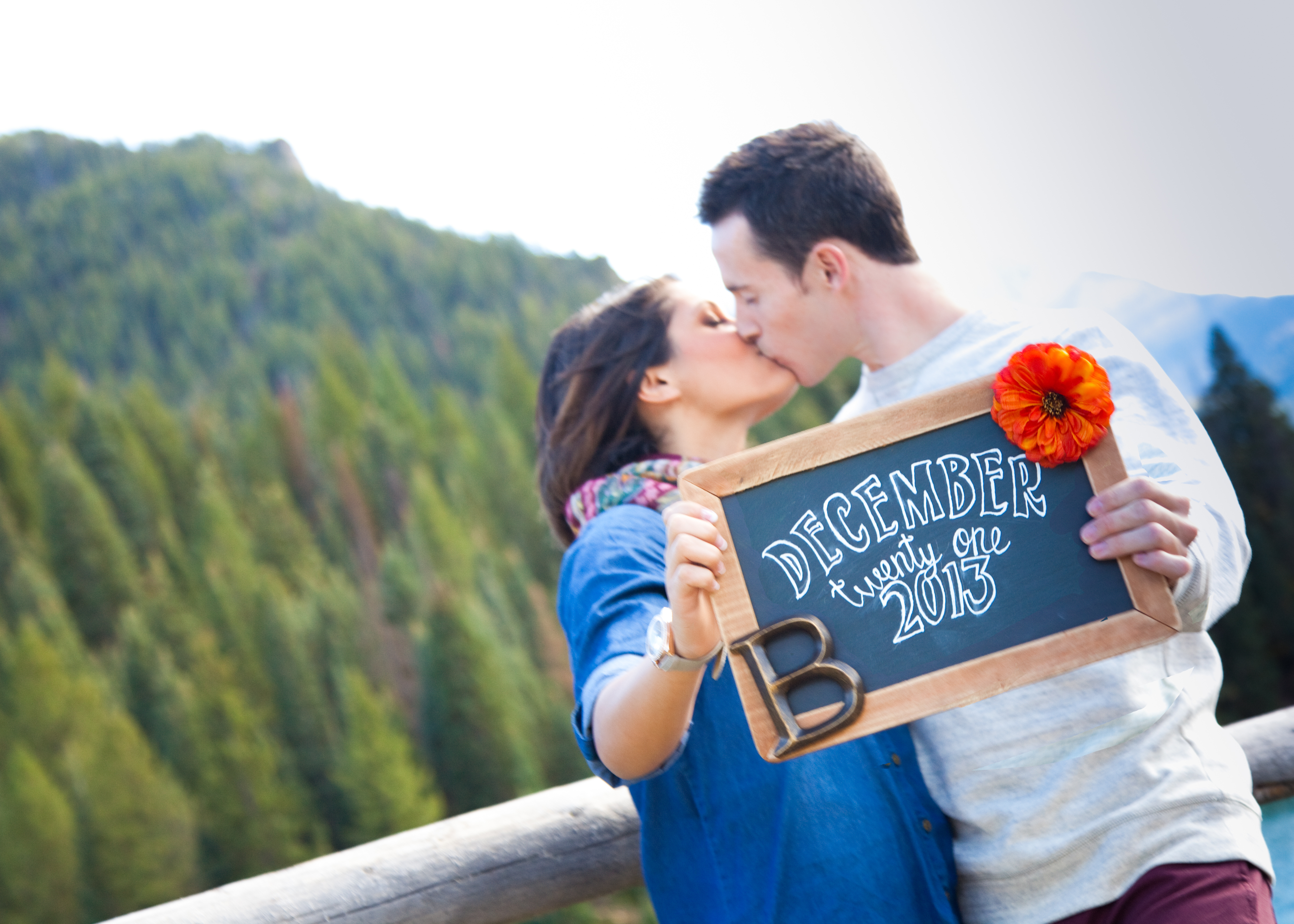 Credit: Madison Larsen Photography
On my way home from work one morning, I got a surprise phone call from Ryan. I had never talked to him on the phone before and was definitely nervous to pick up. He asked me to lunch, and I accepted. We ended up going to Pita Pit, right next to the BYU campus. I can still remember every detail of that first date.

I pulled up into the parking lot and anxiously scanned it looking for Ryan. Then I saw him. I remember my first thoughts being, "Oh, wow, he is so cute!" I was in heaven. He stood up from where he was sitting on a bench, and greeted me with a hug. After breaking the ice, we couldn't stop talking to each other. It was as if we had been best friends all this time and were just catching up. We ended up sitting for close to two hours just talking and talking. Well, actually, Ryan did most of the talking and I just listened.

When we left Pita Pit, I gave Ryan a ride home, and he asked me to go with him and some friends to a dance party that night. I was overjoyed that he asked me on a second date before the first one was even over. At the same time, I was nervous because I knew how outgoing you needed to be at dance parties and I'm pretty shy. So I wasn't too keen on the idea of dancing like a fool in front of a cute guy I just met, but I sucked it up.

By the next day, I could already see myself marrying this guy. Crazy, I know but my prediction ending up being true.
I was super nervous to ask Sarah out. If you know me, I don't get nervous. I haven't really been nervous for anything in years -- not since my sophomore year of high school during a regional swim meet, honestly. For me, this was a good sign.

I was extremely excited once I actually mustered up the courage to call her (after I'd gone through the nerve-wracking experience of mustering up the courage to ask for her phone number) and she said "yes" to a lunch date at Pita Pit.

Watching her get out of her car and walk across the parking lot towards me that day was one of those moments where everything slows down for a few seconds and you have a terrible, and yet exhilarating, moment of clarity. Not unlike the moment when you realize that you may or may not have forgotten to zip your fly. And you went to the bathroom an hour ago.

But then I said to myself, "Forget it. I might screw this up, I might not. Either way, I have nothing to lose because if this works out, my life will never be the same and I will look back with no regrets. I'll be truly happy." Yeah, that's how it felt. And I loved it.

Everything about her was captivating and made me interested to know more. She was the most graceful woman I had ever met. The way she carried herself, introduced herself, smiled and walked. Everything about her was serene and graceful. She could have walked into Pita Pit that day in a ball gown ready for an awards ceremony and she wouldn't have looked at all out of place. Honestly, my expectations of her and what it would be like to meet her for the first time were exceeded beyond anything I could have anticipated.

I just felt amazingly happy and optimistic about everything. I knew that I wanted to be around this girl more. So I invited her to go out with me and some friends that night to a dance party before she dropped me off. She agreed. And the rest, as they say, is history.
For more photos of the couple, check out the slideshow below: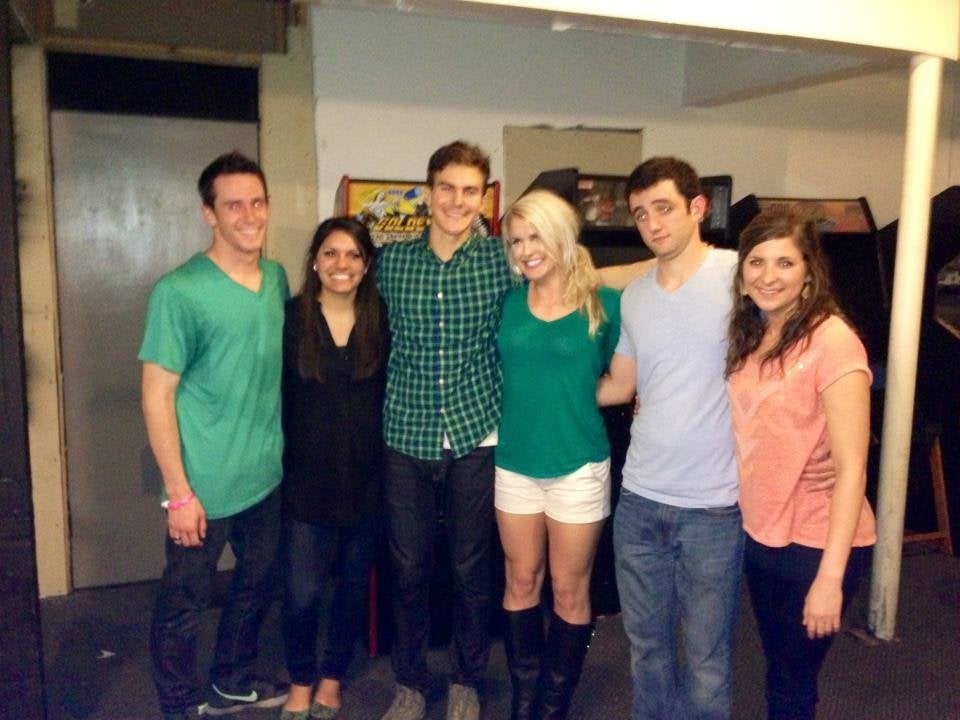 The Night We Met: Sarah and Ryan
Related