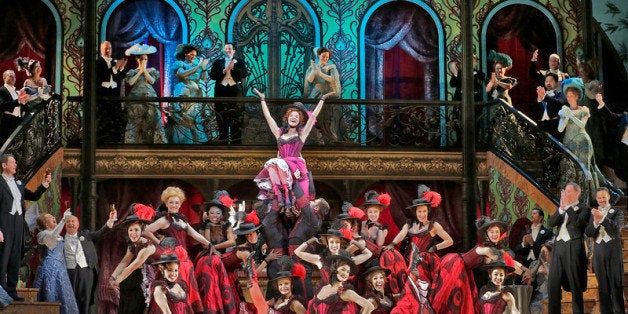 It is hard to imagine a merrier widow than Renee Fleming, and she swirls through the Metropolitan Opera's sumptuous new production of Franz Lehar's popular operetta The Merry Widow with the ease of a woman who knows what she wants and knows how to get it.
Joined by Kelli O'Hara, the Broadway star making her operatic debut, and the reliable baritone Nathan Gunn, the new staging by the acclaimed theater director Susan Stroman is an opulent spectacle that opened with a gala New Year's Eve premiere and will be repeated 13 more times during the season.
It is an eye-popping production that the Met also will make available to audiences around the world on Jan. 17 when the matinee performance is simulcast in more than 2,000 theaters in 69 countries as part of its Live in HD series.
Fleming, who has a penchant for tackling new roles, can now add operetta and Hanna Glawari, the farmer's daughter from Pontevedro who married a banker and inherited his millions when he died on their honeymoon, to her long resume. She teases her reluctant wooer Count Danilo, splendidly sung by Gunn, with the finesse of a gambler and she tosses off Lehar's melodious tunes, especially the "Vilja Song," like they were dollops of cream on a Sacher torte.
O'Hara is a small revelation in her first operatic outing, making the transition from the Broadway stage to the Met opera house seem as easy as a subway ride uptown. Her lovely soprano carries to the family circle and her acting talent brings credibility to the complicated role of the flirtatious Valencienne, the ambassador's wife who dallies with a young French dandy.
Stroman, who has five Tony Awards to her credit as director and choreographer of Broadway musicals, brought in the designer Julian Crouch to re-create a grand set, abounding in chandeliers, for the Pontevedro Embassy in Paris (possibly too grand for a country facing bankruptcy), and a terrace garden with a view of Sacre-Coeur in the distance that morphs into a gilded Chez Maxim nightclub for the final act.
Augmenting this splendid evocation of Belle Epoque Paris are William Ivey Long's costumes, widow's weeds for Fleming like few widows have ever worn, black bare-shouldered dresses dripping with diamonds, and ravishing ball gowns for O'Hara and the ladies and grandiose military attire, complete with plumed tricorn hats, for the Pontevedrian aristocrats.
While the new Merry Widow is breathtaking to look at and a pleasure to hear, the staging is not without problems. The energy level flags at times, especially in the opening act when the exposition of the plot is unfolding, and there are too many pauses in the action.
Operetta, a forerunner of the modern-day musical comedy, needs to move at the pace of a Broadway show, and any lag between the music and dialogue only serves to lessen the audience's involvement or concentration. But these are problems that can be corrected as the overall fine cast performs it more often.
This Merry Widow is best when it is singing and dancing. Stroman's strongest suit is her choreography and from the opening waltzes and polkas to acrobatic folk dances to the shouting, skirt-flinging high steps of the grisettes at Maxim's, including a can-can during the set change, the dancing is one of the show's biggest attractions. And O'Hara is a marvel in the scene where she joins the grisette chorus line.
Like most operettas, the story of The Merry Widow is a simple one. Hanna, now the toast of Paris and pursued by a horde of suitors whether available or not, keeps them all at bay. But the Pontevedro ambassador to France, Baron Zeta, wants her to marry a Pontevedrian in order to keep her millions in her native country and save it from bankruptcy.
The Baron tries to enlist Count Danilo, a profligate playboy attached to the embassy, to the task. But Danilo and Hanna have a history and Danilo is not inclined to marry anyway. And Hanna wants to hear those three little words "I love you" from Danilo's own lips before she will even consider him. Then there's Valencienne's missing fan, with those same words written on them by her would-be French lover, to further complicate Zeta's plan.
It's all froth and frivolity, but so is a lot of opera and most operetta. And that can be fun too provided there are enough bubbles to keep things light and airy. There are times the new Met staging runs short of bubbles. Still, there is much to admire.
Gunn is excellent as Danilo, his rich baritone a familiar fixture at the Met, and his duet with Hanna, familiarly known as "The Merry Widow Waltz," is worth waiting for. Thomas Allen brings the role of Baron Zeta to life and Carson Elrod, in his Met debut, adds some much-needed comic relief to the role of the embassy factotum Njegus.
Andrew Davis conducted the opening performance of the new production, as he did when the Met first staged Lehar's operetta back in 2000.
Related
Popular in the Community