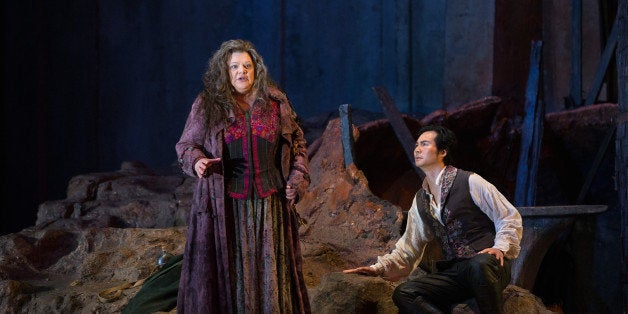 Few operas can be as emotionally rousing as Il Trovatore, and with the stellar cast the Metropolitan Opera has put together for this season's revival of Verdi's grand opus on love, obsession, jealousy, and revenge, the raw passion of the music burns anew.
Trovatore runs the gamut from lustful craving to romantic desire to vengeful fury to selfless sacrifice and the four main stars - the South Korean tenor Yonghoon Lee as the troubadour of the title; Anna Netrebko as Leonora; Dmitri Hvorostovsky as Count di Luna; and Dolora Zajick as Azucena - deliver strong performances that find hidden nuances in each of their roles.
It is a staging audiences around the world will be able to enjoy this Saturday when the Met telecasts its matinee performance to more than 2,000 theaters in some 70 countries as part of its Live in HD series. Those lucky audiences will be able to see Hvorostovsky's last appearance in this season's revival before he leaves for London and medical treatment.
The great Russian baritone, who has been a favorite with Met audiences in more than a dozen roles over the past 20 years, announced this summer he had a brain tumor and would undergo treatment this fall. He is singing the first three of six fall performances of this Trovatore, including the one for Live in HD on Saturday, and will return in February when the production is reprised four more times.
In a moving tribute, the audience, podium, and pit all broke into extended applause when Hvorostovsky walked onstage during the first two performances, and at his curtain call white roses were hurled at his feet from the pit, flowers he then shared with Netrebko and Zajick.
Verdi took the plot for Trovatore from a play by the Spanish writer Antonio Garcia Gutierrez. It has a civil war, swashbuckling swordplay, a daring abduction, a driving obsession, a passionate romance, a beheading (offstage), a suicide (onstage). And then there is the mad gypsy and the little mix-up over which baby was thrown into the fire.
Verdi fought with his librettists for two years before finally getting a script he thought was theatrical enough and composing the music, which he reputedly did in a month. There are thumping great choruses, sweeping orchestrations, tender love songs and duets, resounding calls to arms, and furious vows of revenge. McVicar's stark 2009 staging moves the time from the 15th to the early 19th century.
The Count di Luna and his army are facing a rebellion from forces led by Manrico, the presumed son of the gypsy Azucena. The Count is madly in love with Leonora, but she repulses him, favoring instead a mysterious troubadour who secretly serenades her. It is soon clear the troubadour and Manrico are one and the same, and this only inflames the Count's hatred of his foe even more.
The back story and catalyst for all that takes place - and is explained in an opening aria by Ferrando, a captain in the Count's army - involves the burning at the stake of Azucena's mother many years earlier by the present Count's father and the kidnapping of one of his two infant sons. A small child's body later found on the pyre is presumed to have been the abducted Count's child, but like so much opera Trovatore is full of twists.
As Manrico, Lee cuts a dashing figure and has a pleasing and exciting tenor voice to match. The vocal demands for Manrico can be daunting, but Lee moves effortlessly from the gentle "Ah, si, ben mio" love song to the stirring "Di quella pira" at the end of the third act. This is only Lee's fourth outing at the Met and one hopes to hear more from him.
Netrebko, who is singing her first Leonora at the Met, is a study in contrasts - tender yet earnest in her "D'amor sull'ali rosee" aria and in her love duets with Manrico, then forceful and forbidding in her resolve to rebuff the Count and save Manrico. Her final act "Miserere" was strong and moving and her vocal command is as assured as ever.
Hvorostovsky is a portrait of nobility. One could mistake him for a real Count at any ball. His "Il balen," one of the great baritone arias and one he has perfected, was full of pity and passion, and pretty much brought the house down. Whatever else he takes with him to London, he knows he has the best wishes of all Met Opera fans.
Zajick quite simply owns the role of Azucena. One wonders if she even knows how many times she's sung it (it was her Met debut in 1988), and her familiarity with the character has only increased her mastery of it. There is a fire in her voice that is unquenched and when she sings "Stride la vampa" in the second act one can see the flames and feel the heat of the pyre on which her mother was burned.
The Slovakian bass Stefan Kocan sings a convincing and sonorous Ferrando and Marco Armiliato conducts the Met Orchestra in a sweeping and foreboding reading of the score. And the Met chorus is, as always, excellent, especially during its thunderous "Anvil Chorus."
Calling all HuffPost superfans!
Sign up for membership to become a founding member and help shape HuffPost's next chapter